10 bullet journal tips you must know as a beginner
Are you going to start a bullet journal, but don't know where and how to start? Or you know how to start a bullet journal, but feel a little overwhelmed.
No worries, let me guide you with some tips that will be useful to you as a beginner to bullet journaling. I failed twice before finally establishing a successful bullet journaling habit. As a beginner, it might get some time to get used to the system.
But, as you go through it, you will find your style and have success. Here are some tips to know when you start a bullet journal.
**This post contains affiliate links. I may receive a small commission at no extra cost to you if you make a purchase through my affiliate link**
tip#1. Decide what you want from your bullet journal
Before running to buy those expensive supplies, I will ask you to stop and think.
What do you want from the bullet journal system? What intrigued you to start one? Is it simply because you want to organize your thoughts, your life and be more productive? Or is it because you want to tap into your creative brain and let it flow?
My point is, decide what you want to achieve from the system. If it is more productivity, you don't need many supplies. But along with improving productivity, if you want to keep it fun (which most people like), you might as well purchase some supplies.
tip# 2. What supplies to buy as a beginner bullet journaler
If you have done your research, you must have heard this a hundred times. All you need is a notebook and a pen. And yes, it's true. But as I said above, what 'more' supplies you need depends upon your goals.
I have used three different notebooks for bullet journaling. My first notebook was an unruled notebook I bought from a local store. I bought a gel pen, Staedtler Triplus Fineliners ( which I love and still use) and a set of washi tapes along with it. And I tried to make it colorful and attractive.
Alas, I didn't keep up with it! By the end of the year, I hardly ever wrote in it. And even if I set up weekly spreads once in a while, they remained unfilled. Good thing I bought a cheap notebook. I will advise you to do the same, to test if you are serious with the system.
The following year, I began again with more determination. This time I bought a pre-made bullet journal from Amazon. It had daily columns drawn for a year and some blank dotted pages for bullet journal collections. I regretted the purchase since I didn't have many options to customize.
And I bought my third book the same year, which is a dotted one. I couldn't be happier with the purchase and I am going to stick with it. I find dotted notebooks easier to draw lines and fill in my habit trackers and is easier to work with even if you don't want to draw lines. I bought a cheaper dotted notebook (this one) than the popular ones and I highly recommend it. As for pens, this is the one I use and writing with it is a pleasure.
tip#3. There is no one way to bullet journal
Unlike other planners, with a bullet journal, you are not stuck with one single layout for a whole year. It means there is no single way to design a bullet journal.
For beginners, it can be baffling. Before you begin bullet journaling, I recommend you to learn first from the source. From none other than Ryder Carroll, the creator of Bullet Journal system. When I was a beginner, I made the mistake of not learning from his website first. If you go by his method, bullet journaling is, in fact, a simple system that you fill in as you go and there is no need to prepare weekly spreads in advance.
But as I said, there is no one single way to bullet journal. Since Ryder introduced it, it has come a long way evolving into what you see now. But when you learn the basics, it is easier to understand the myriad ways out there (and less overwhelming).
It's before the third attempt that I read Ryder's website and I understood the system much better. After you understand the basics, you can customize it the way you want. Unlike Ryder, I prefer weekly spreads rather than daily spreads. You can also read the article I wrote on how to start a bullet journal step-by-step even if you are no artist.
tip#4. Start with cheap supplies
The expense of starting the system can turn down many people who want to try. I would suggest to not go after expensive supplies if you are a beginner to bullet journaling.
If you want to customize, start with cheaper options or the ones you have at home like color pencils, sketch pens or highlighters. And focus on making it a habit rather than worrying about buying supplies.
Bullet journaling can do wonders for increasing your productivity and changing habits. Trivial issues like buying supplies should not stop you from starting it. Talking about cheap supplies, this article has more information on cheap bullet journal supplies you can buy for under $12.
tip#5. you do not need artistic skills
Let me tell you something. You DO NOT need drawing skills to start a bullet journal. You do not need any skill for that matter. What you should learn is how to stick with it.
And if you say you have handwriting like chicken scratch, it still isn't a problem. Your skills are not what defines your success with the system. Your success depends upon the customization, that is, how you can tailor it to fit your needs and sticking with the habit.
You don't need to have a Pinterest or Instagram worthy setup. Your journal is to fulfill your needs. Nothing else. I didn't stick with the habit because I felt the urge to beautify it, inspired by the beautiful bullet journals.
I was enthusiastic in the beginning but later it felt like a chore to do it every week. Even though I tried many times, I couldn't keep up with it. That's how I decided to take a minimalistic approach. With a minimalistic approach you still need to make weekly spreads, but no pressure to embellish it. And if you want to, you can do it too. There is no rule you should stick with one style. Here is an example of my weekly spread (I am sorry it's not a clear picture).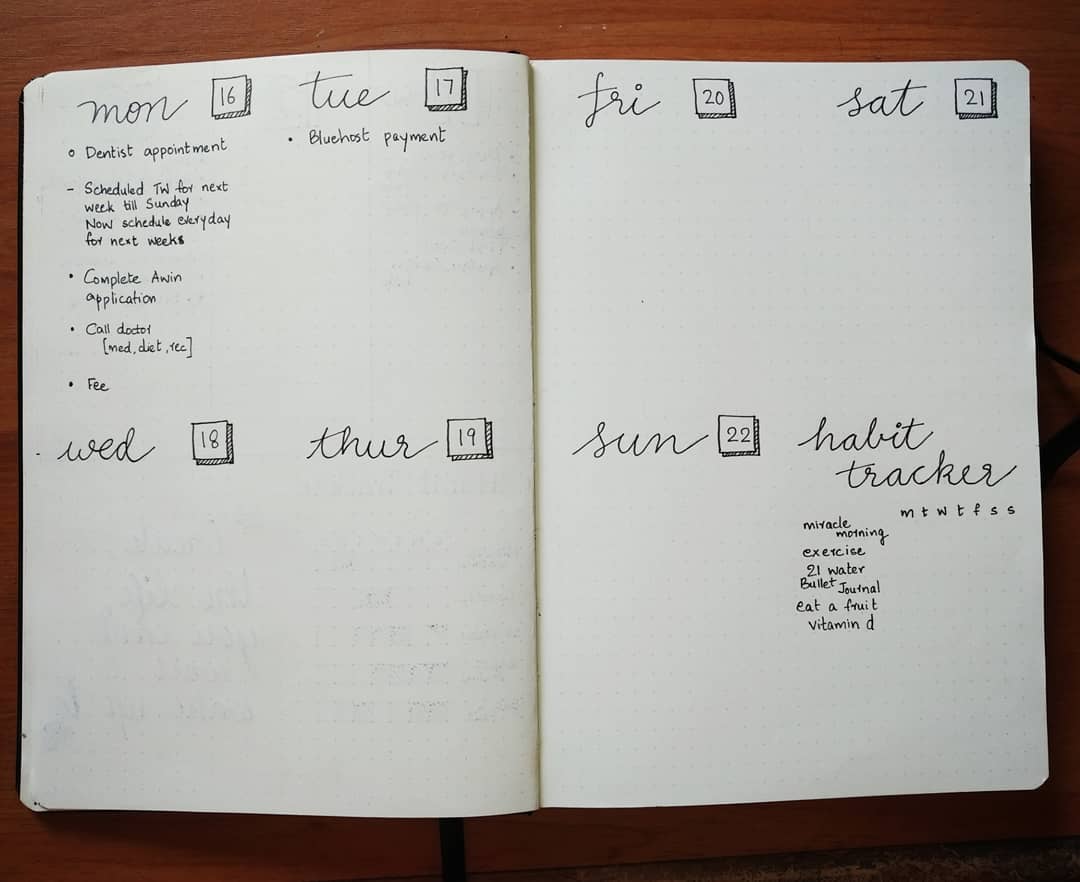 Easy, right? But what if you don't have the skills and still want to make it decorative? You can use stencils, stamps, stickers, etc
Related: 32 minimalist bullet journal weekly spreads to try right now
tip#6. Learn from trial and error
Since there is no one single way to bullet journal, you should find your style through trial and error. You can get inspired by ideas from various accounts on Instagram and Pinterest. Look through them and copy the type you want for each week/day.
Change it up every week and see what fits your needs. After a while, you will find the spreads that suit your style. If something doesn't work for you, change it!
In my first bullet journal, I would write affirmations in my weekly spread every week. But I didn't stick with it. So I don't have it now. I created a separate page for all my affirmations. You get many ideas for bullet journal collections from out there, but you don't need every collection under the earth.
The way I go about it is like this. When I feel I need to note down something in my journal, I create a collection for it. For example, if I think should keep track of the things I purchase online, I create a collection for it.
In case you don't know what a bullet journal collection is, a collection is a page dedicated to a topic. Like 'Books to Read', 'Places to Visit' etc.
Related: The ultimate list of bullet journal collections (121+ ideas)
When setting up weekly spreads, try to be creative each week and bring out new ideas. You never know when you will find the 'most functional weekly spread' that you will keep wanting to make again.
tip#7. use pencil first
As a beginner, it's always a good idea to draw spreads first with pencil, and then use pens. Thus, you won't make many mistakes or lose pages.
tip#8. You can start a bullet journal any time of the year
What I love about the bullet journal system and why it is better than all the other planners is, you can start at any time of the year! You can take page 1 and write, 'August 1, 2018'. And start journaling. Impressive, right?
So if you have been on the fence about whether you should start now or in January, you know the answer!
In a bullet journal, no pages are wasted because you started mid-year. And the best part, when the next year starts you can continue in the same journal notebook.
tip#9. Always have a monthly review page
At the end of each month, take some time for reflecting before creating next month's spread. You can analyze things like,
What schedule works for you and how to tweak your schedule so that you get more work done?

What all did you track last month and whether should they be continued next month too? Sometimes, you find certain things not working and you don't want to include it in next month's tracker and it's okay.

Which weekly/daily layout is the most functional and should be used more often?

Which layout should you use? Daily/weekly or hourly? It depends upon your schedule and you will know the answer after you have used the system for a while.

Which goals you didn't achieve last month and how to accomplish them in the next month? By the end of a month, you get an idea of why you didn't do certain tasks. And if it's important for you, prioritize them for next month again with better insights from last month's mistakes.
See, how a bullet journal can help you even achieve your goals. When you use trackers, it's easier to find out how much you are working on your goals each month.
A monthly review page is important because it helps you where you stand with your goals. And make changes each month. That's the whole point of bullet journaling, right? To have your whole life recorded and improved.
tip#10. it's ok if you don't succeed with bullet journaling at first
As I said, I failed to write consistently in my bullet journal the first and second time. But now I have an established journaling habit (because I tried again and again).
I learned from the mistakes I made in the previous attempts and applied them. I prefer to go with a minimalist style because that motivates me to journal. And this system rewards me with more productivity and better organization of all my stuff. I want that benefit over everything else.
If you have failed once, try again with better tactics. I think for any planner system to work, you must first have the passionate desire to explore your potential, and the determination to not the waste the precious life you have been given.
It's from this innate desire that we want to plan our days or our habits and strive to make them better every passing month. A bullet journal is simply a companion or a tool that will help you in your journey. It's who you decide whether it will be a success or not.
Related: 10 reasons journaling will transform your life
What is your experience with keeping a bullet journal? If you are a beginner and think I have missed any point, please let me know in the comments.
More bullet journal posts:
If you love what you are reading, please take a moment to PIN and SHARE!