13 Cheap bullet journal supplies you can buy under $12
**This post contains affiliate links. I may receive a small commission at no extra cost to you if you make a purchase through my affiliate link**
The items on this list can be bought from Etsy and Amazon. If you want to buy the supplies for yourself or as gifts for holidays, you can get the eligible items delivered via Amazon Prime 2-day shipping. If you don't already have Amazon Prime, you can always grab a free 30-day trial here.
Want to start a bullet journal that won't break the bank?
You are in the right place.
I am going to show you some cheap supplies you can use to customize a bullet journal and where you can get them.
But before that, a question.
Do you even need these so-called "supplies" to keep a bullet journal?
No!
But then why do people go crazy to buy supplies when they start a bullet journal?
Depends on your need.
Because a bullet journal means something to each owner. (Yes, you can grow attached to your journal.)
For many, it's only a system to organize their life and stay productive. They want to remember what they should be doing and do that. Simple!
But for many others, it's also a creative outlet. The artist in you craves to create and you do that in your journal.
If you ask me which type am I, I fall somewhere in between. I am not artistic but I like to create when an inspiration strikes, but it's not a priority for me.
My priority is, of course, to get things done. Mostly, what I want from my journal is it to be neat and organized. I want to find things easily. So I use some supplies to draw lines, highlight and add some color so that the headings stand out.
If you are the first type, the only supplies you need is a notebook and a pen.
But if you want something more from your journal, come let's do some supplies-hunting!
**This post contains affiliate links. I may receive a small commission at no extra cost to you if you make a purchase through my affiliate link**
Cheap supplies for your bullet journal
Bullet Journal Notebooks
If you want to buy a notebook for your bullet journal on a budget, but don't want to compromise much on the quality, you can go for these options.
1. Bullet Journal Dot Grid Hardcover Notebook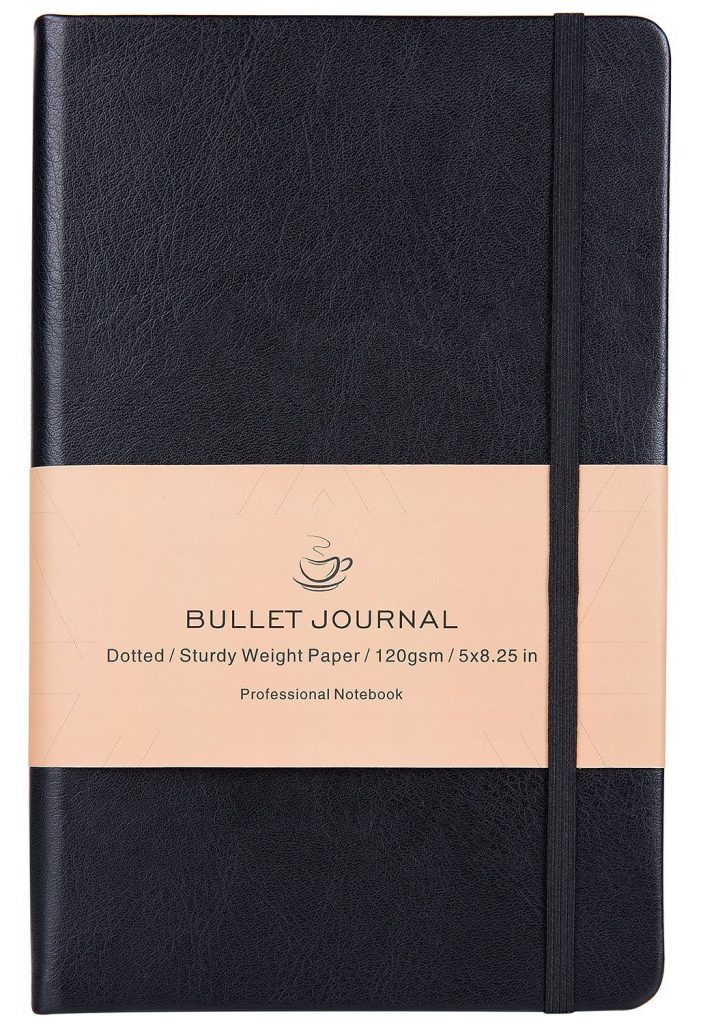 This notebook has acid free sheets, and with a thickness of 120 gsm, it has minimal to NO ghosting or bleeding.
The notebook measures 5"x8.25", has an elastic closure, expandable inner pocket and a ribbon. It also has a smooth faux leather cover and rounded corners. The notebook opens flat, which I love because it is essential for hassle-free writing and drawing.
You can buy this notebook from amazon.com. (It is a best-seller and has great reviews).
I think the only drawback it has is the number of pages. It has only 128 pages compared to other popular notebooks.
2.

Minimalism Art Classic Notebook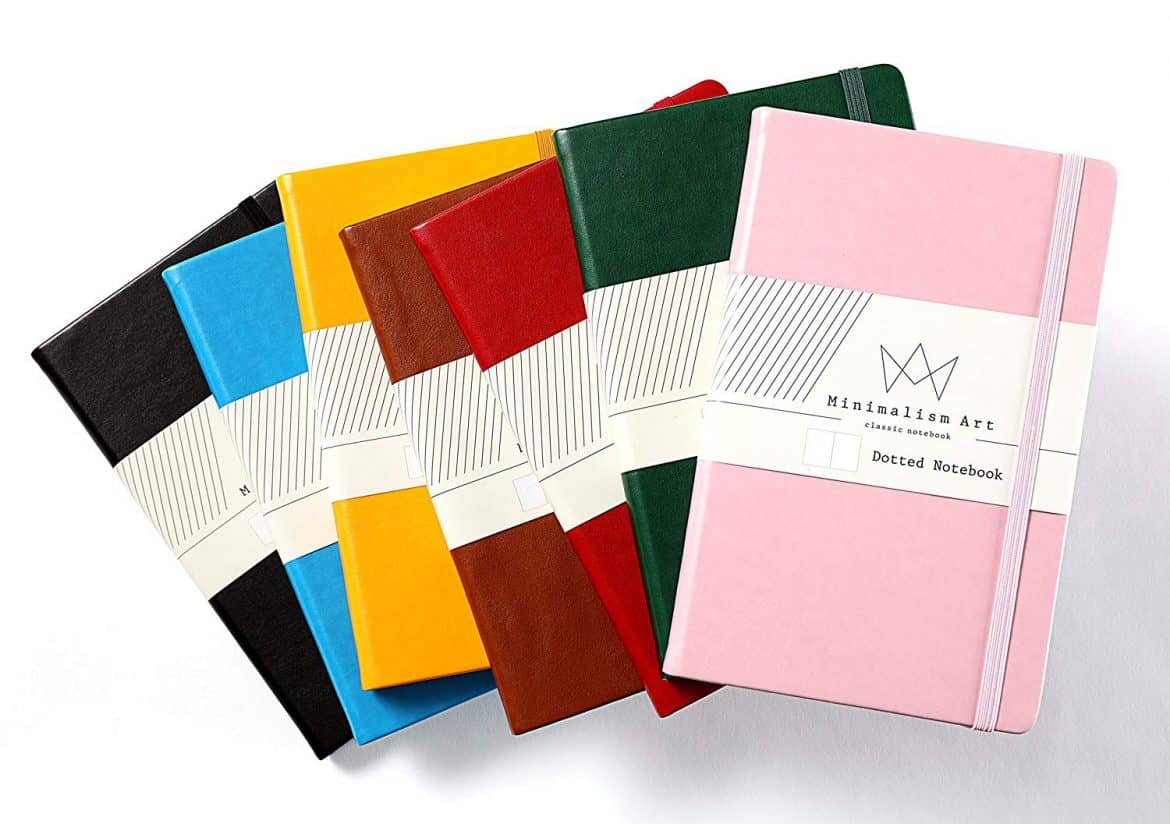 Minimalism Art Classic notebook comes in different sizes (including A4, A5) and patterns like squared, dotted and plain. I love the fact that this brand offers many color choices too.
It has 192 pages with 100 gsm thickness. The quality is good with minimal ghosting and bleeding for most pens.
It's available in smooth PU leather hardcover and softcover. Like many other notebooks, it has elastic closure and back cover pocket as well.
If you are a beginner, you can wet your toes with this journal notebook. I am not a beginner, but I am eyeing this one as my next bullet journal notebook.
Related: 10 bullet journal tips you must know as a beginner
3. Essentials Dot Matrix Notebook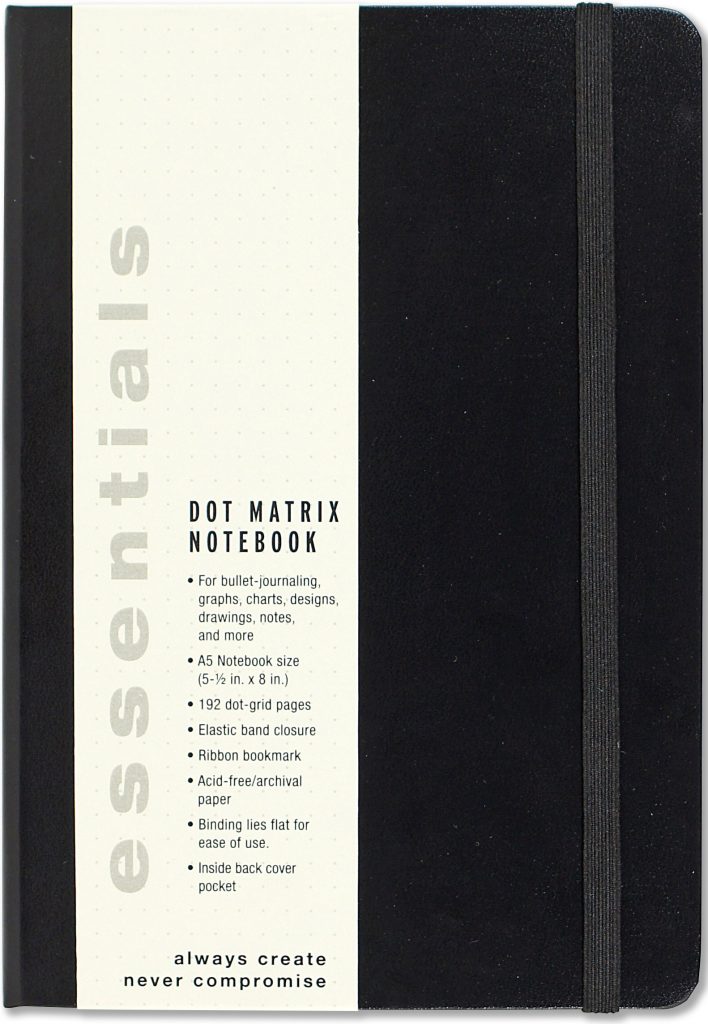 Currently, I am using this notebook for my bullet journal. My previous bullet journal was a cheap notebook I picked from a local store and was a plain notebook.
I love the experience with a dotted notebook, as it helps me to draw lines easily and the dots give a subtle structure to pages without the overwhelming lines.
It has 192 pages which are thick (100 gsm). The notebook measures 5-1/2"x8", has an elastic closure and a back cover pocket like all other journal notebooks.
I have used brush pens, mildliners, and fineliner pens on it and it has minimal ghosting. I am happy with the purchase and would buy again.
4. Staedtler Fineliner Pens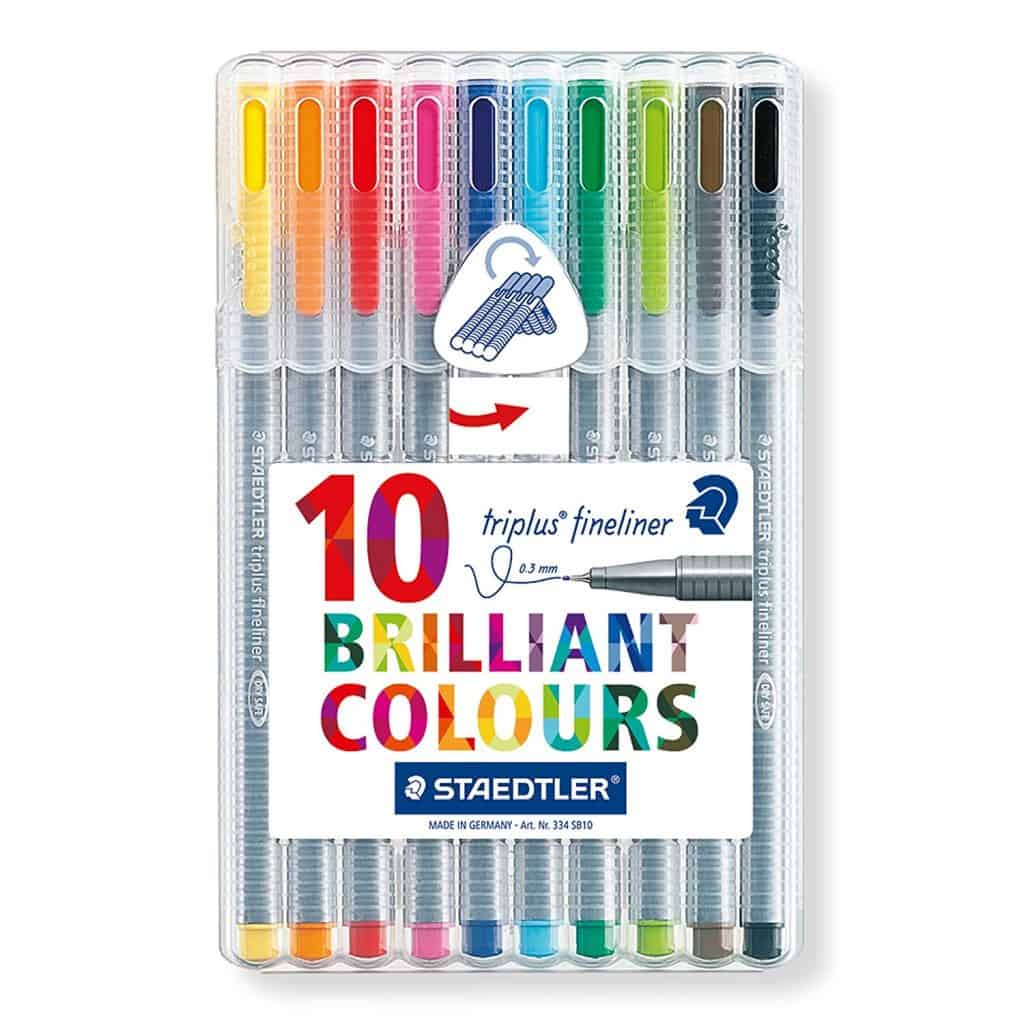 These are amazing pens to add a little bit color to your bullet journal. This is one of the first supplies I bought for my bullet journal, and I love and still use them.
You can use these for illustration, doodling or draw lines and borders in your bullet journal. I use these for writing headings too, or when I need to write some important notes that should stand out.
It's available in different sizes like 5 pack,10 pack, 20 pack etc.
What I like about Staedtler Fineliner Pens is, it has an ergonomic triangular barrel for easy grip and relaxed writing. It also has a sturdy case that can be converted into an easel that helps in grabbing pens.
5. Circle maker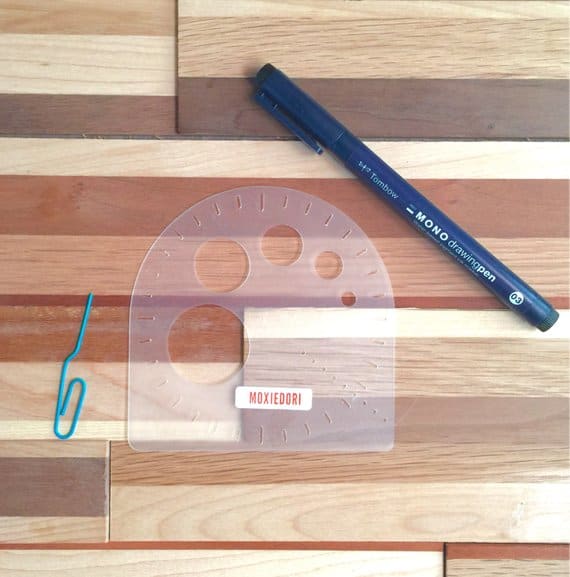 I love circular trackers. If you want to draw circles, this is a handy tool.
I bought this from Etsy. If you want bullet journal supplies on a budget, Etsy has a ton of supplies. I could literally spend days looking at each item.
I bought this from Moxiedori (they have international shipping) and I love how easily I can draw circles with this. There are small circles on it and when you want larger circles you can easily make it.
What I like about Moxiedori Compass Protractor:
Very thin and lightweight, hence easy

to slid into the back cover of my bullet journal notebook. If you don't have back cover, you can keep it in between pages too.

Doesn't make a hole in my notebook like a compass

There are lines around the stencil to make equal divisions like a protractor
They even have a video tutorial on how to use the product. Cool, huh?
Note: It took me a few tries to get perfect circles in the beginning. But I learned with practice.
6. Crayola markers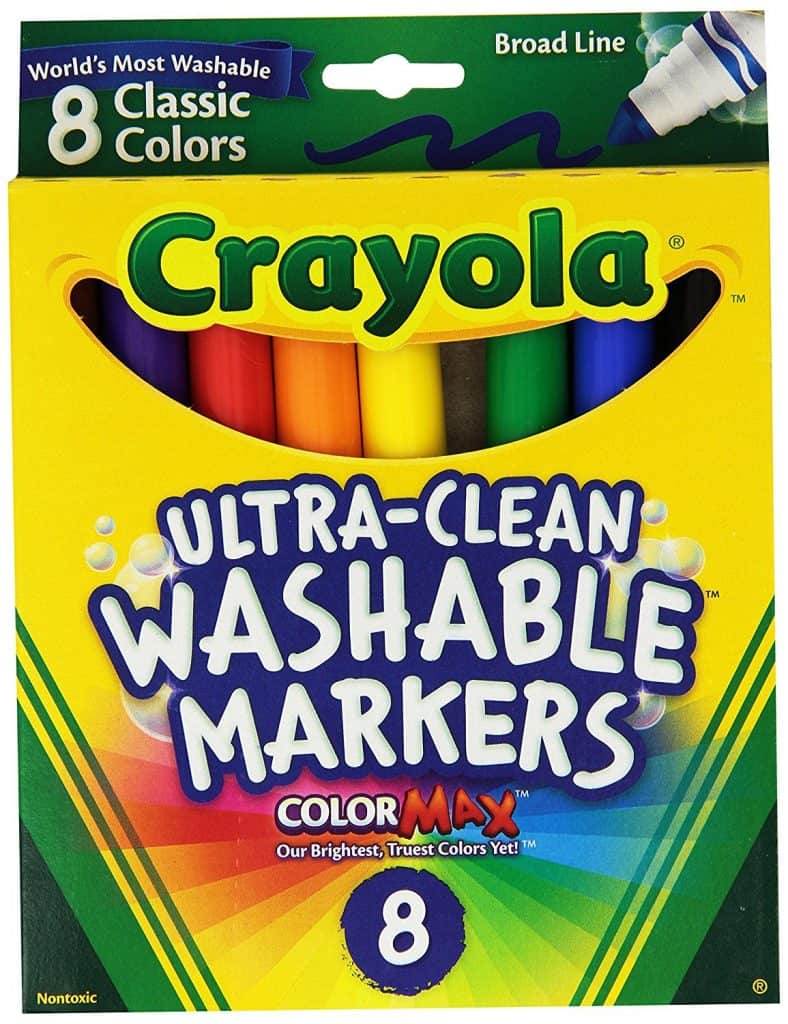 If you are into brush lettering, Crayola markers are a super cheap alternative to Tombow brush pens.
Crayola markers have a cone tip, you can make thick downstrokes using the side of the cone and thin lines with the tip of the cone.
If you want smaller brush lettering, you can go with Crayola Super Tips Markers.
Here is a helpful article from littlecoffefox.com on how to do brush lettering with Crayola Markers.
These markers do the work and an excellent substitute for the expensive brush pens. If you are bullet journaling on a budget, or if you are a beginner, definitely try these.
7. Pencil bag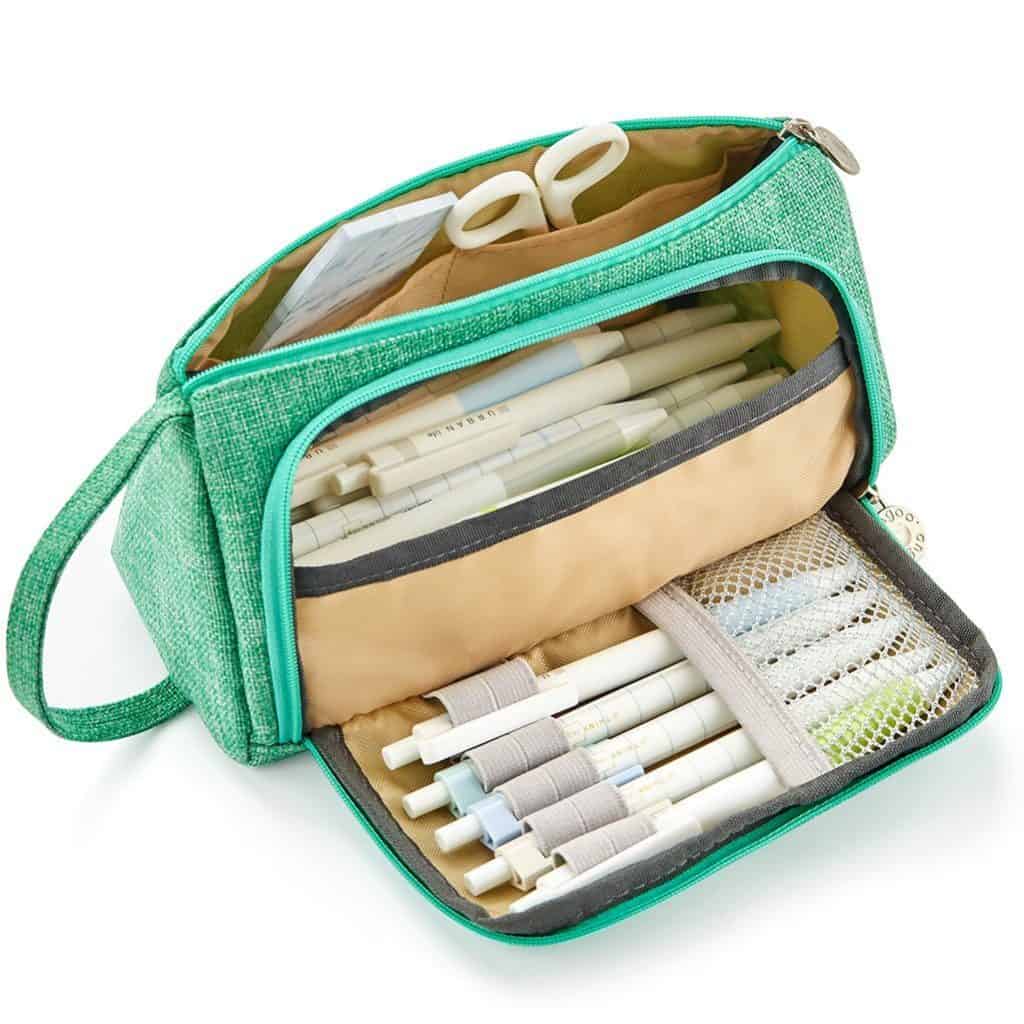 Now if you use pens and other supplies, you definitely need a pouch to store them. It will help you to store your most used essentials in one place and easy to carry around your home or when traveling.
This pencil bag has good storage capacity, and I really love the side zipper fold out and the inner pockets where you can keep small items like paper clips, mini staplers, mini scissors etc.
If you don't have top-notch skills to draw or if you are short on time but still want your bullet journal to be pretty, the following supplies can help you achieve the desired outcome.
The following supplies are meant to add some extra fun and color to your bullet journal.
8. Stencils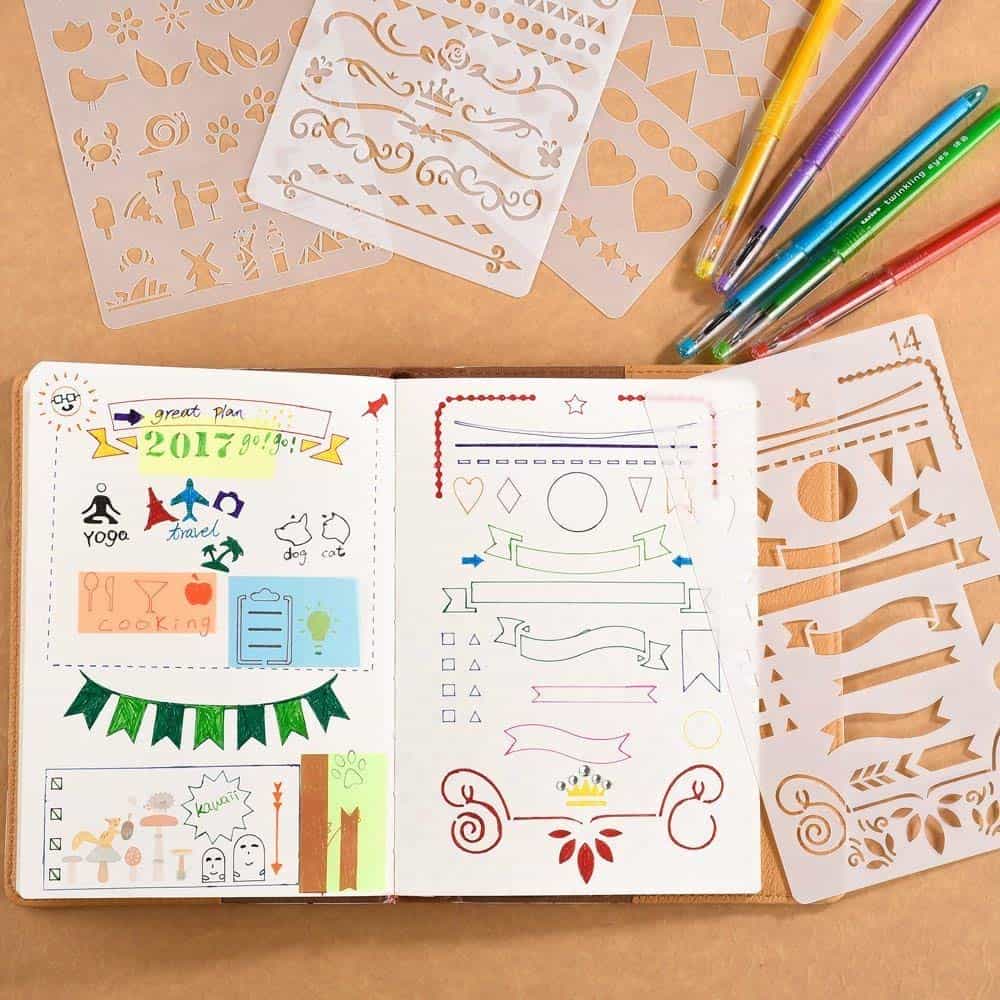 You might not be a good freehand artist, but you can still draw headers, illustrations, figures, icons, banners etc., using this stencil set. It has alphabet and number stencils too.
You can draw little doodles and has many designs which you can add to your spreads.
You get a set of 20 pieces and for the price, it is definitely a steal.
Check out this cool stencil from GoodCreated. It makes drawing checklists a breeze when you are short on time and no need to measure and draw with a ruler. It also has rectangular boxes, that you can draw for weekly spreads or to create a 'note' section.
9.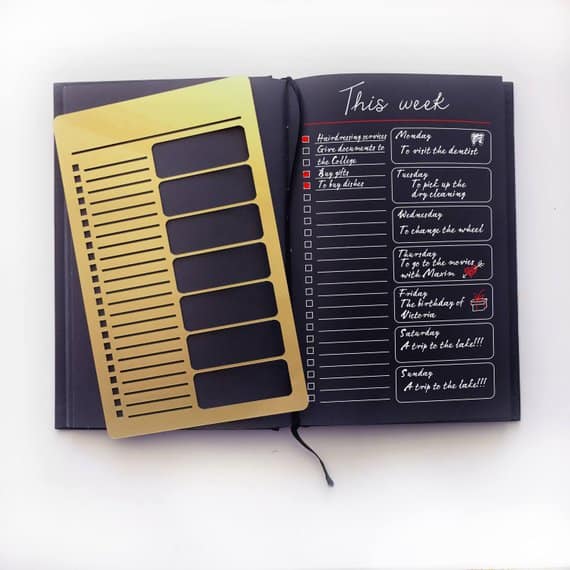 Stickers
You can customise your bullet journal easily with stickers to give a uniform look. And it's also a way to add some colour and beauty to your journal.
Take a look at these stickers.
Sugarloop has this mini date flags that you can stick onto your monthly calendar or even on weekly spreads. I love these pastel colors that go with minimalistic style.
10. Days of the week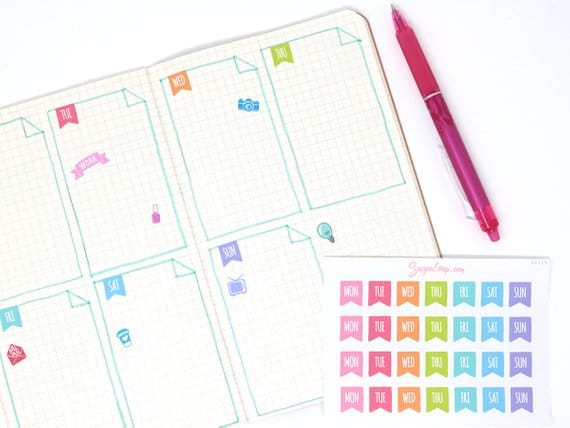 11. Months of the year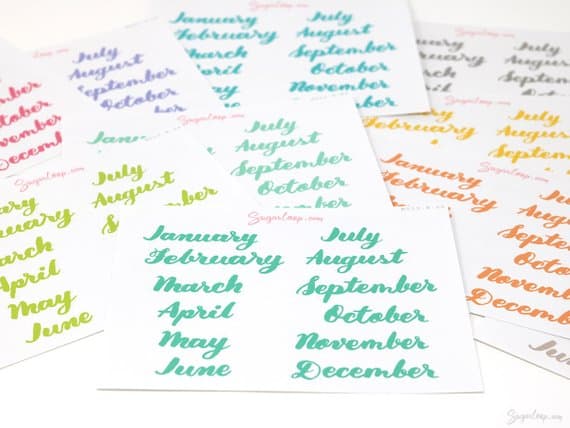 12. Water tracker stickers by JosephineBowDesigns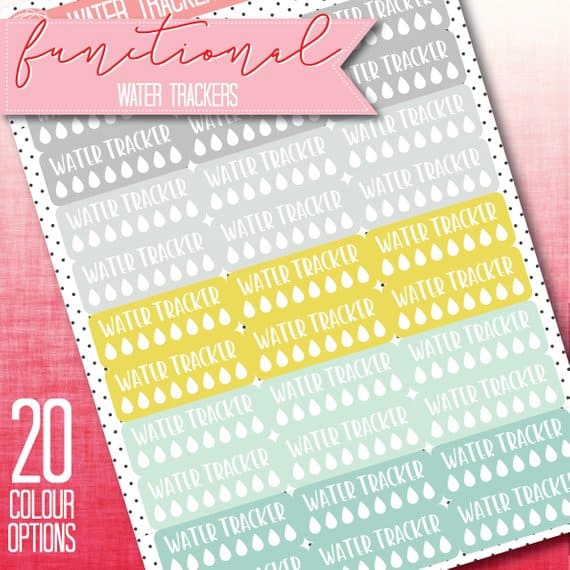 13. Stamps
Now I love these stamps which can add some fun and creativity to your journal. With stamps, you have the added benefit of having the ability to use different colors each time.
What do you think about these supplies? I would love to hear about cheap supplies you have used and loved for your bullet journal. Tell me about it in the comments.
If you find this post useful, please PIN and SHARE 🙂