25 Bullet journal habit tracker layout ideas to help you build better habits
You can use a bullet journal to track literally everything. Out of all the collections that one can use in a bullet journal, my favorite and the one I can't do without is a habit tracker.
Why?
Without habits trackers, I can't even imagine my bullet journal. Being passionate about self-help, it's one of the reasons for me to start a bullet journal.
We all want to have healthy habits in life. But you know, how forming a new habit is easier said than done. This is where a habit tracker can help you.
**This post contains affiliate links. I may receive a small commission at no extra cost to you if you make a purchase through my affiliate link**
What are the benefits of having a habit tracker in your bullet journal?
You can keep track of all your habits in one place.

You don't forget to do your habits anymore. Especially new habits that you want to form.

By the end of each week/month, you can assess how much did you plan to do and how much you did accomplish. It is really useful because we waste so many days in our lives just by wishing away. A habit tracker gently forces you to actually do them. Since you write them down and track every day, your brain knows it is important and it reminds you every day.

Your life gets a new order and a routine.

By looking at the pattern in your habit tracker, you get a visual idea of how your week/month was in accordance with your performance of habits.

You are more motivated to do your habits because you don't want blank trackers. Trust me, it's a thing. Your journal becomes your accountability partner. Sometimes I find myself doing my chores even when I am lazy, just to track in my journal.
Related: 10 reasons for journaling will transform your life
is a weekly or monthly habit tracker better?
I would say, you should experiment with both. Personally, I like monthly habit trackers because once I take some time to set up a monthly tracker, I am done for the month. Then I have to worry about setting up weekly spreads only.
But sometimes I do weekly trackers. When setting up each month's spread, if I am short on time (sometimes, I set up spreads in the last minute), I decide to use weekly trackers. It's not that difficult.
But for some people, monthly trackers may not work. They are more productive when they track habits weekly. It's up to you to experiment.
Or else, you can have both trackers. For the habits you do weekly or twice/thrice per week, you can have a monthly tracker. Habits like exercise, weekly scrub/mask, grocery shopping etc. You can mark them beforehand and it will help you to remember on which days you are supposed to do them.
For the habits you want to track with more details like, how much water do you drink each day, how many hours do you sleep etc, you can have weekly trackers or separate monthly trackers for them (you can see examples below).
A hack to remember to check your monthly habit trackers
Use index tabs, so that you don't forget to check it ever.


25 bullet journal habit tracker ideas to get inspired
Most of the habit trackers fall into these categories: linear, circular and mini trackers.
I have handpicked some habit trackers from each category so that you can get a variety of ideas and inspiration.
Linear habit trackers
If you have many habits to track, you can try linear trackers. You can draw them in one or two pages.
1. Source: @myaugustart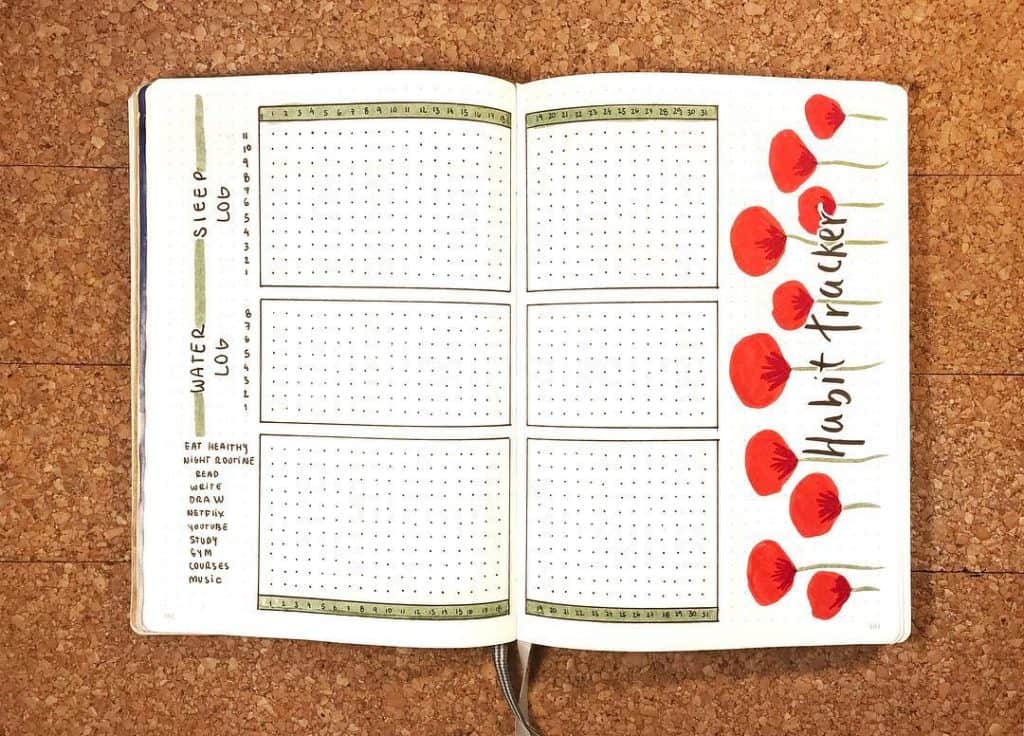 Isn't this tracker beautiful? The poppies give this spread a color pop. Apart from being beautiful, this habit tracker is functional too. It has a general tracker for all habits and separate logs for water and sleep. It is useful for people who want to track the exact numbers.
This tracker is also easy to draw since there are no columns. You can use the dots as the reference.
2. Source: @diemmybujo
This habit tracker is made in two pages and decorated with pictures around. This one is also less time consuming to make since you rely on dots rather than lines. I would make such a tracker when I am in a hurry. If you don't want to draw, you can use stickers like these.
3. Source: @bullett.jo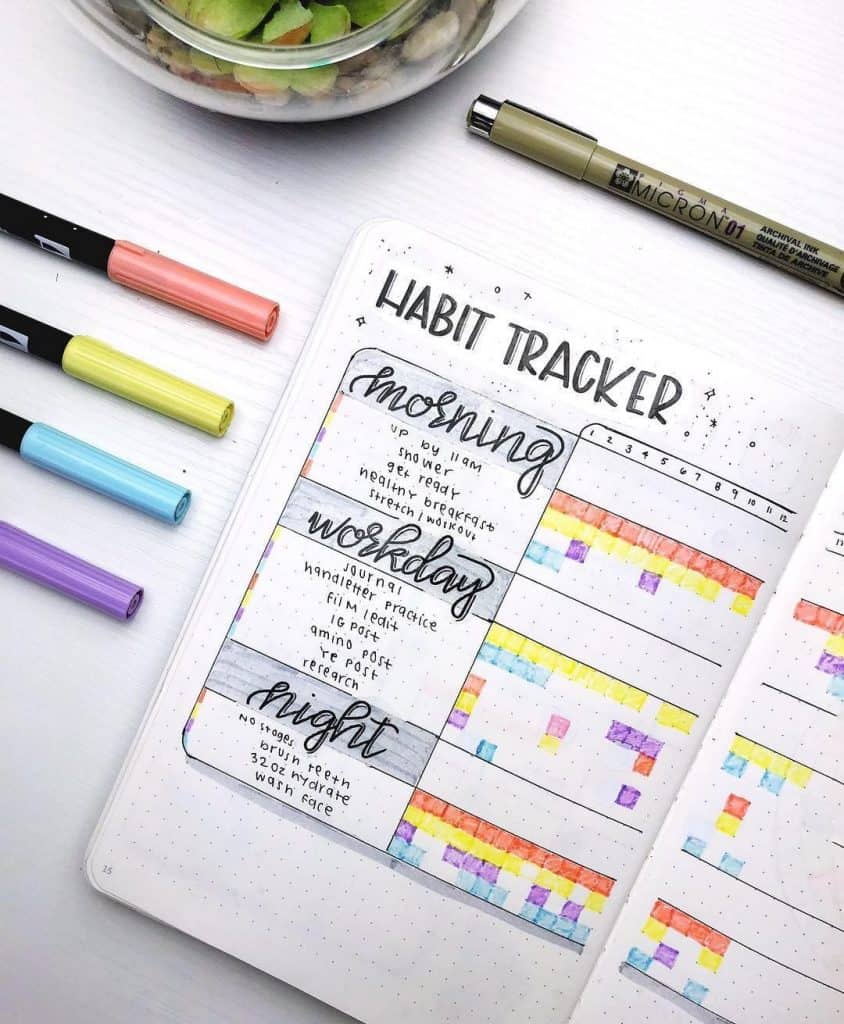 A two-page spread which is divided into morning, workday and night. I love how the spread is divided into three time periods and the color coding.
4. Source: @heyhihellobujo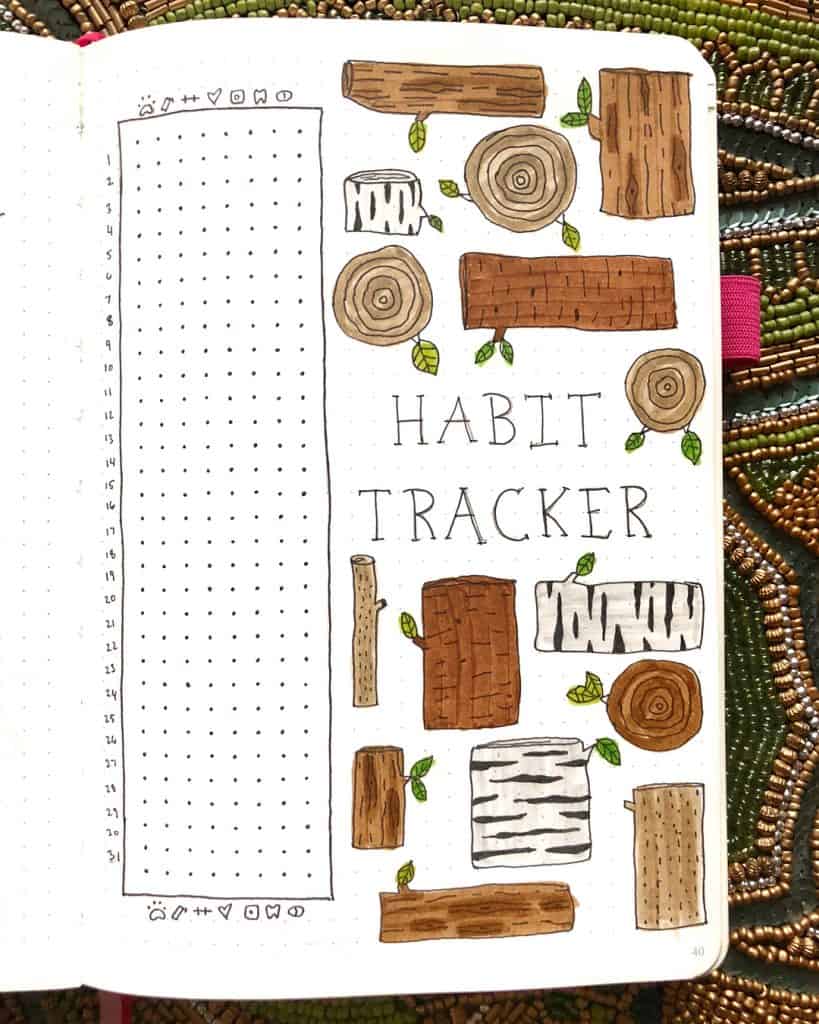 A hand-drawn vertical tracker. Again, a simple one. I am all for simple and easy to draw trackers. What about you?
5. Source: @butterfliesandletters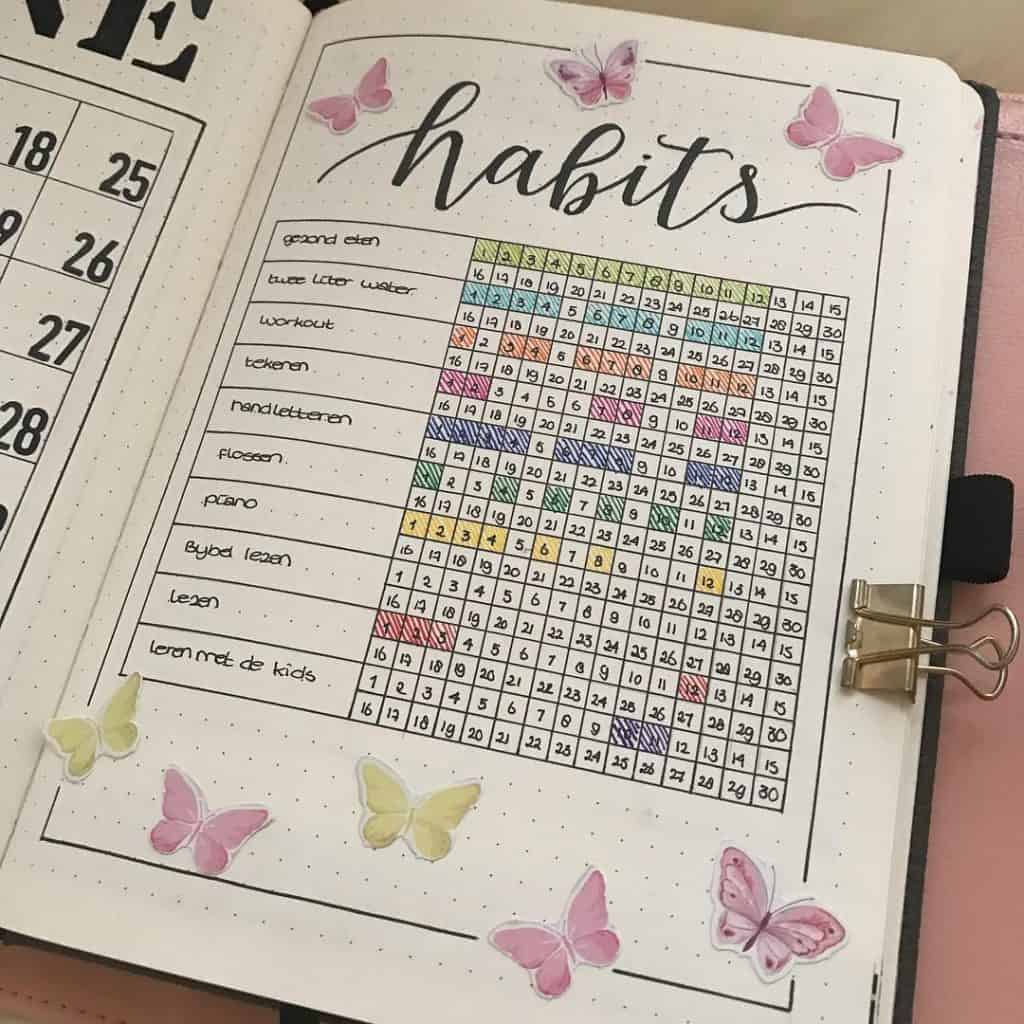 See how this tracker has ten habits included. And each of them is color coded. The butterfly stickers add to the beauty of this spread.
6. Source: @birdybujo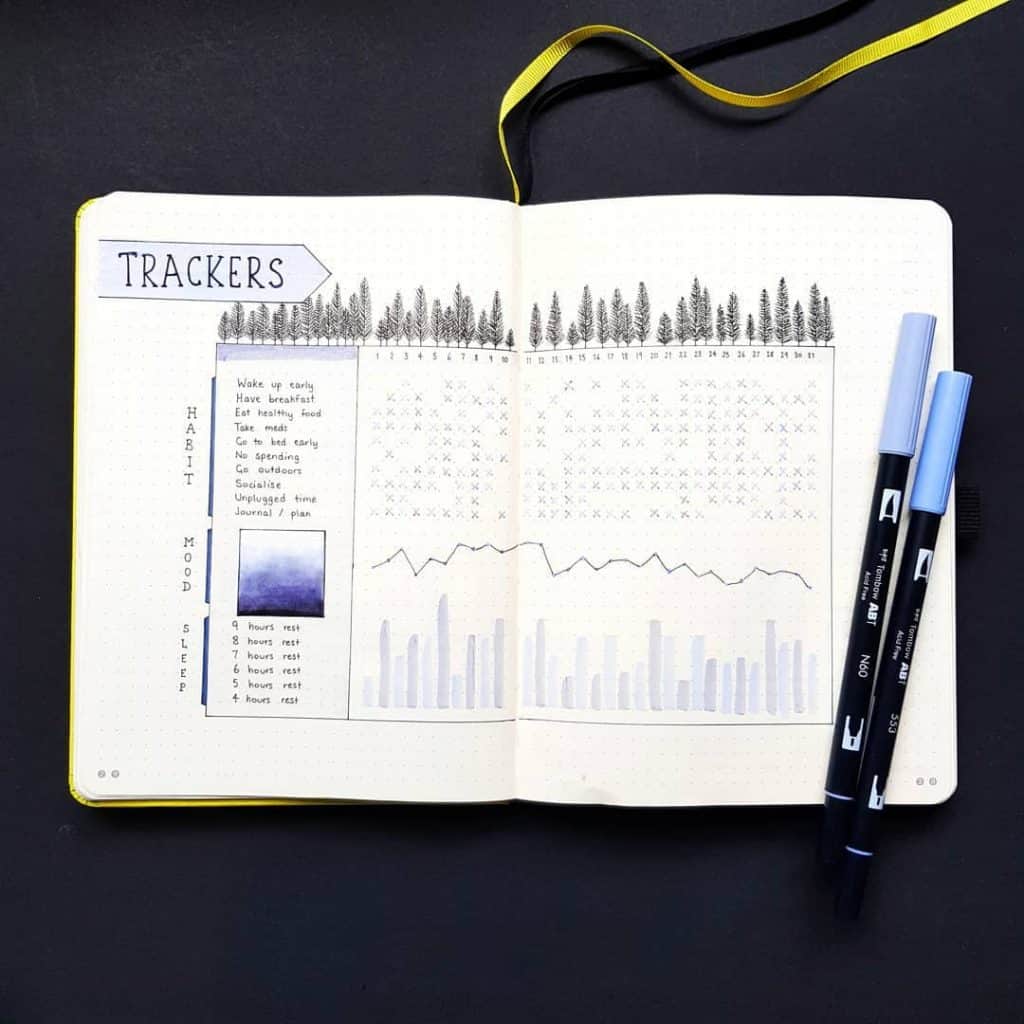 I simply love this tracker. In addition to other habits, sleep and mood trackers are included in this spread. And don't you think the tree doodle on top is beautiful?
7. Source: @seras.bullet.journal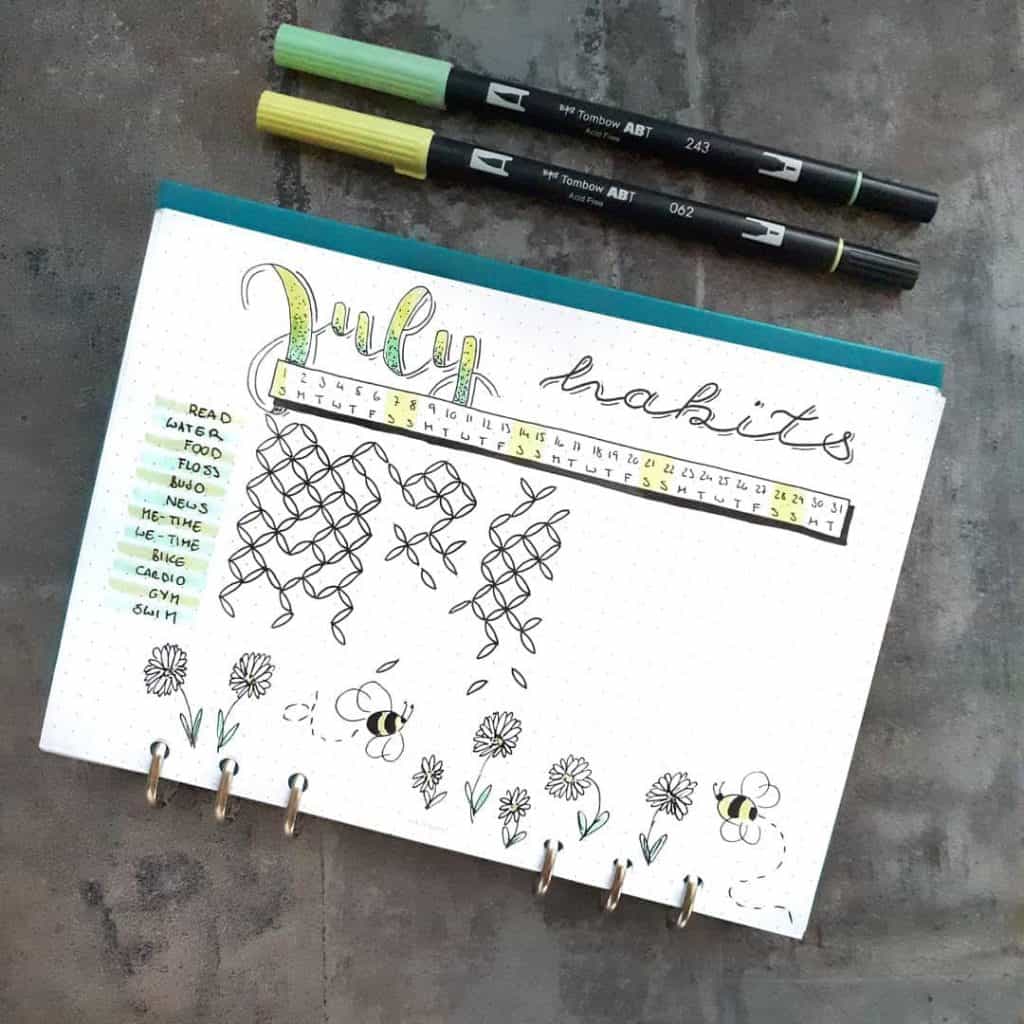 I love the pattern used in this spread. Lovely, isn't it?
8. Source: @bulletbeautiful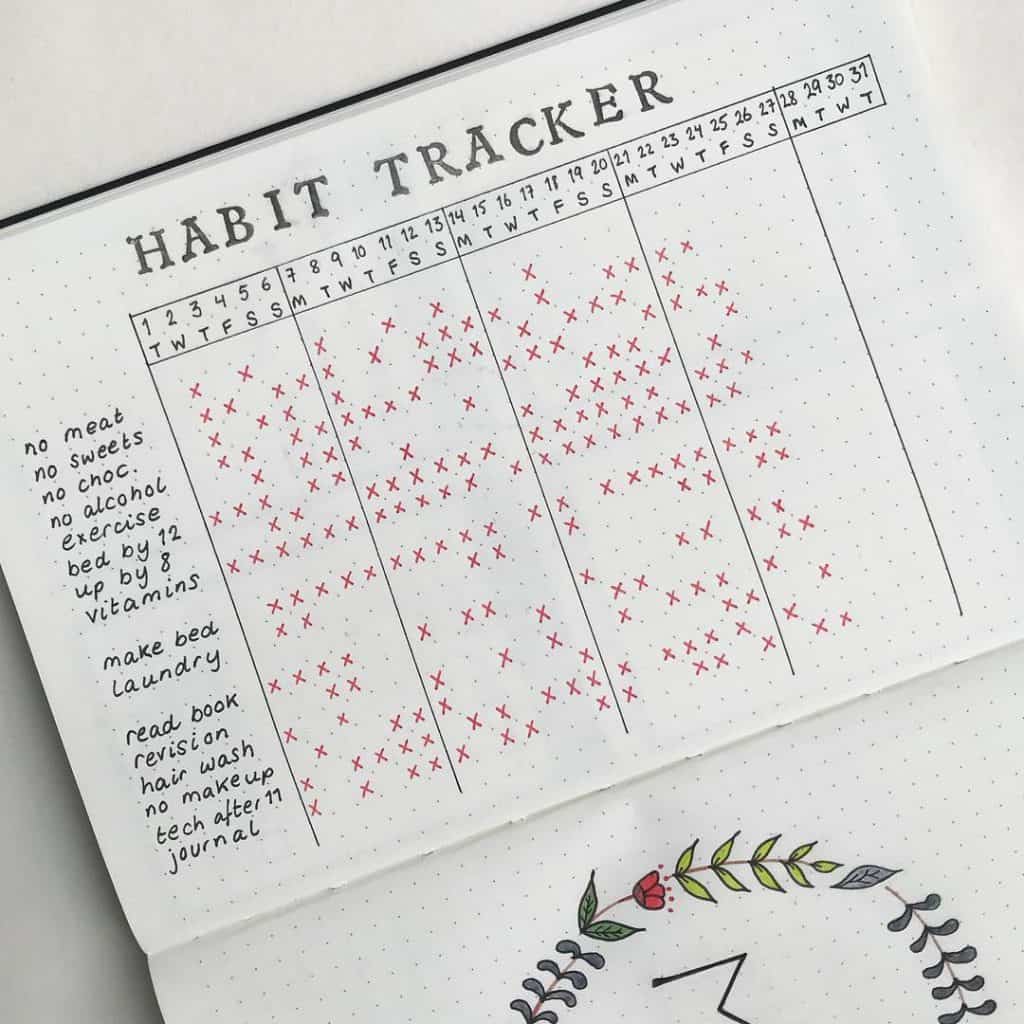 Another simple tracker where each week is separated by a line. I am always attracted to simple spreads in a bullet journal because they are less time-consuming and suitable for non-artistic people (no offense to beautiful bujos).
9. Source: @bujotheminimal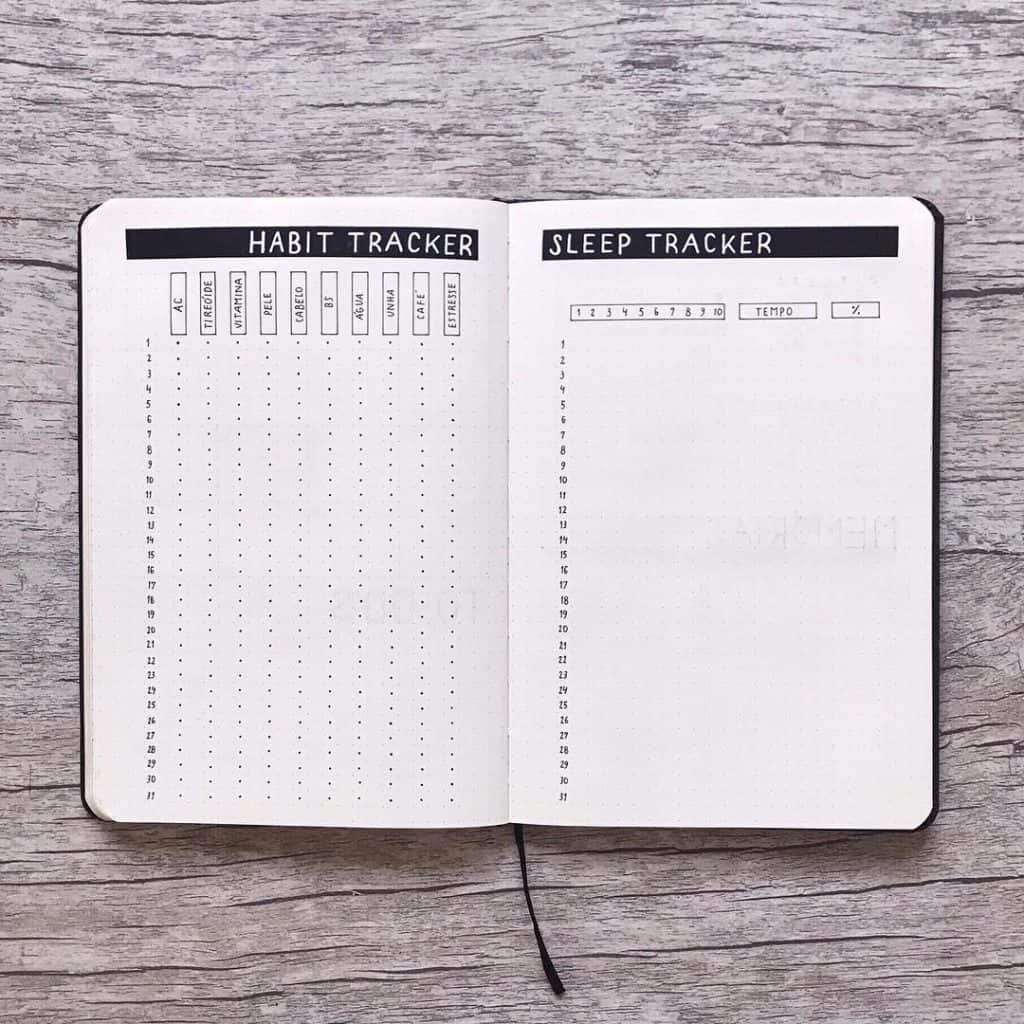 If you have read my articles before, you know how much I adore minimalist bullet journal spreads and trackers. Here is one. You don't need to draw lines as dots serve as the guide (a good reason to buy dotted notebooks).
10. Source: @bujobeyond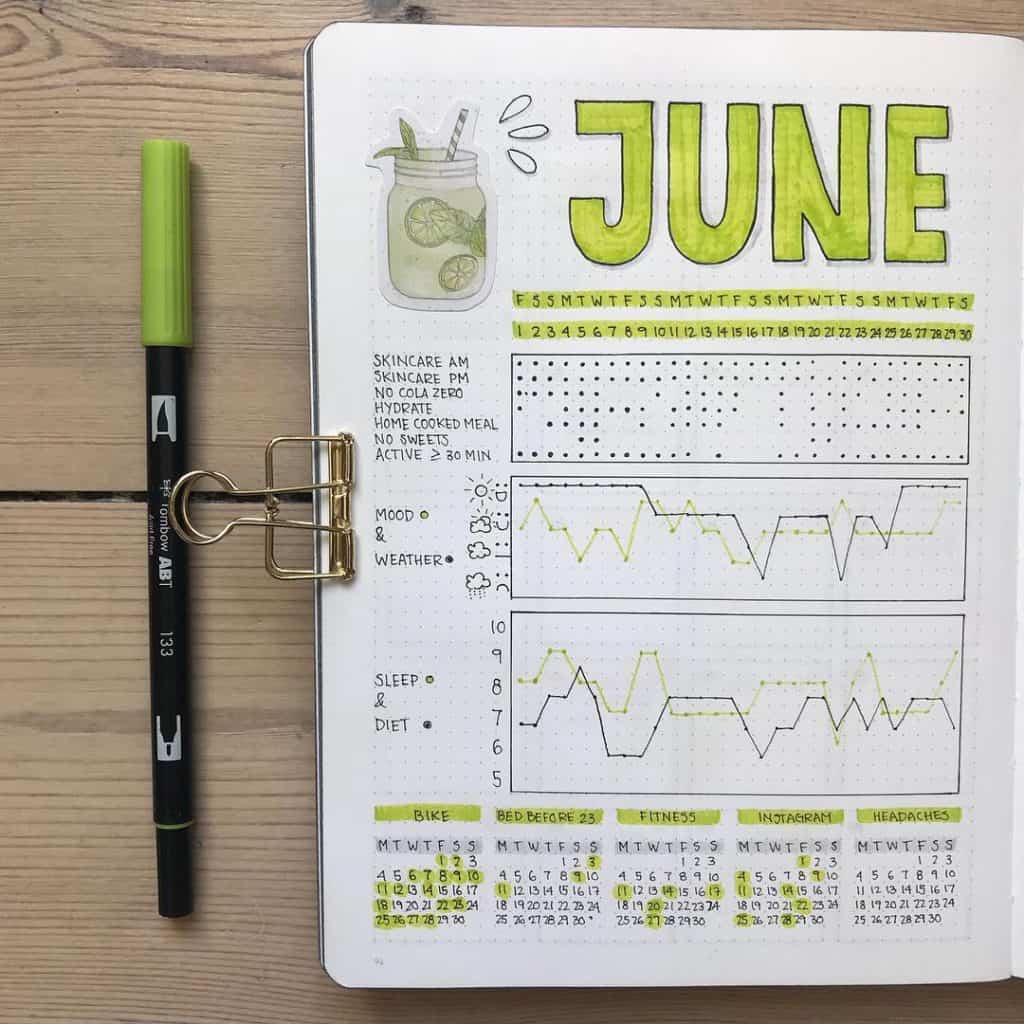 Did you notice how many types of trackers are fit in one single page? Impressive! I will definitely try this one.
If you want to keep getting such ideas, go follow these accounts on Instagram.
11. Source: @tafis_bujo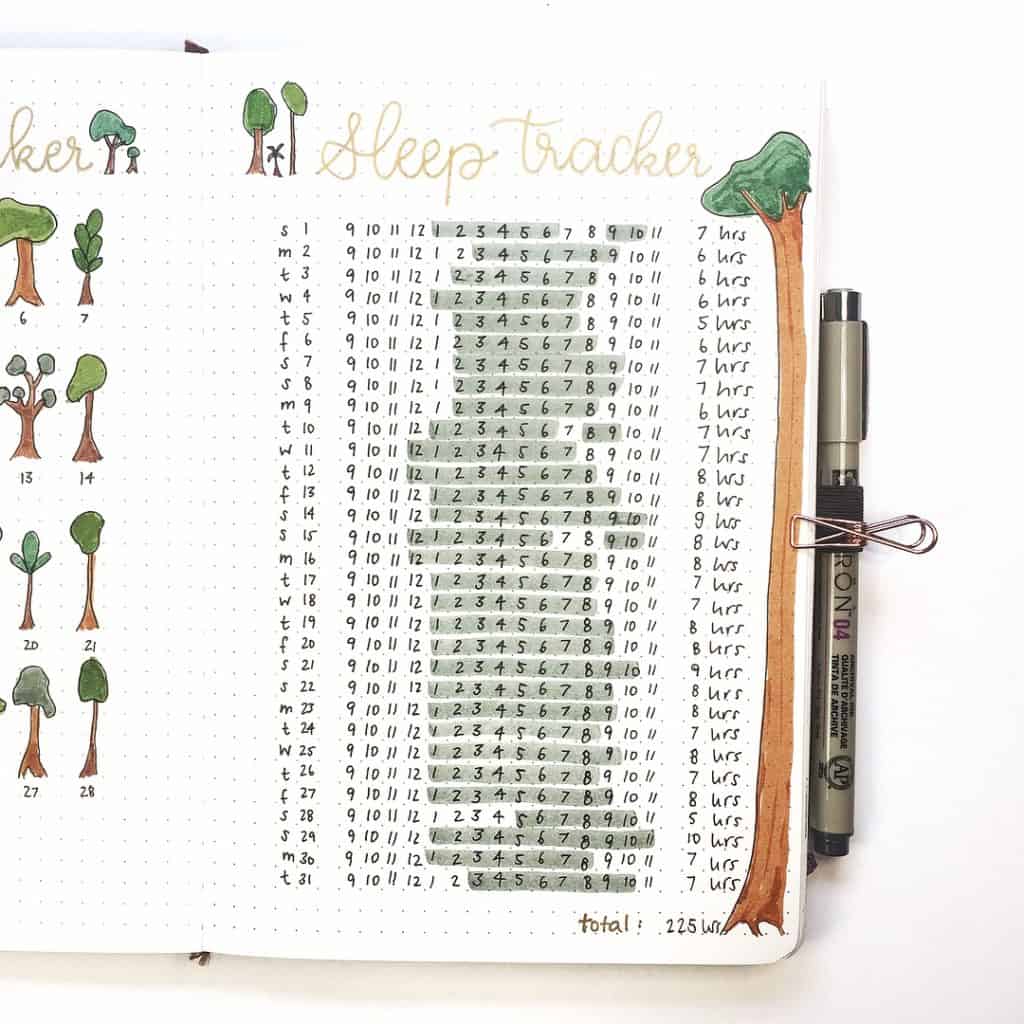 Sleep tracker that tracks the exact time you went to bed and the number of hours of sleep.
Related: 22 bullet journal cleaning schedule layouts to organize your cleaning chores
mini habit trackers
Unlike linear trackers where each habit is tracked along a line, this one has a box dedicated for each habit with 30 or 31 squares. It need not be a box, people use circles and other shapes too. Let's see some examples.
12. Source: @_bujo_beginner_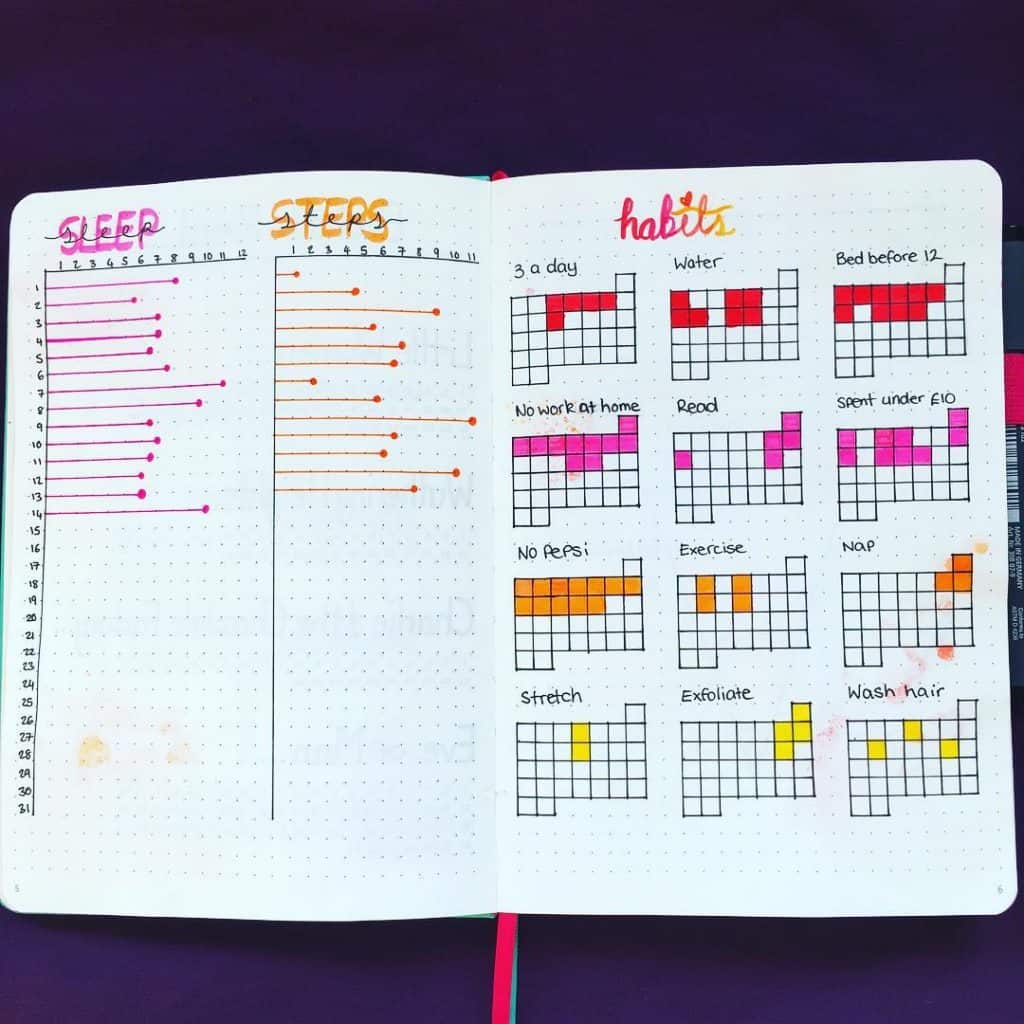 This habit tracker has separate columns for a month for each habit. Using different colors for each row makes it vivid. I love the graphical representation of sleep and steps tracker.
13. Source: @shemeetspaper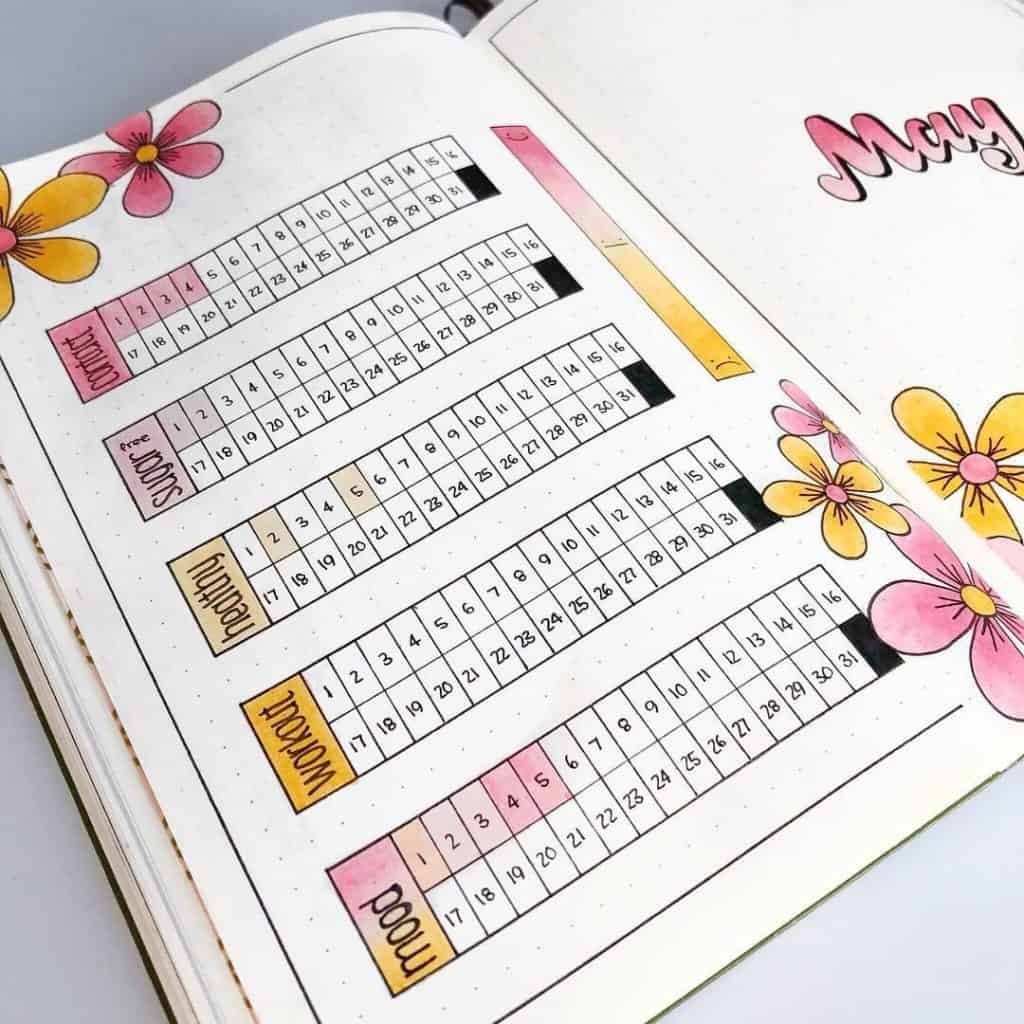 I love the flowers and the colors used in this spread. A beautiful tracker.
14. Source: @spaceandquiet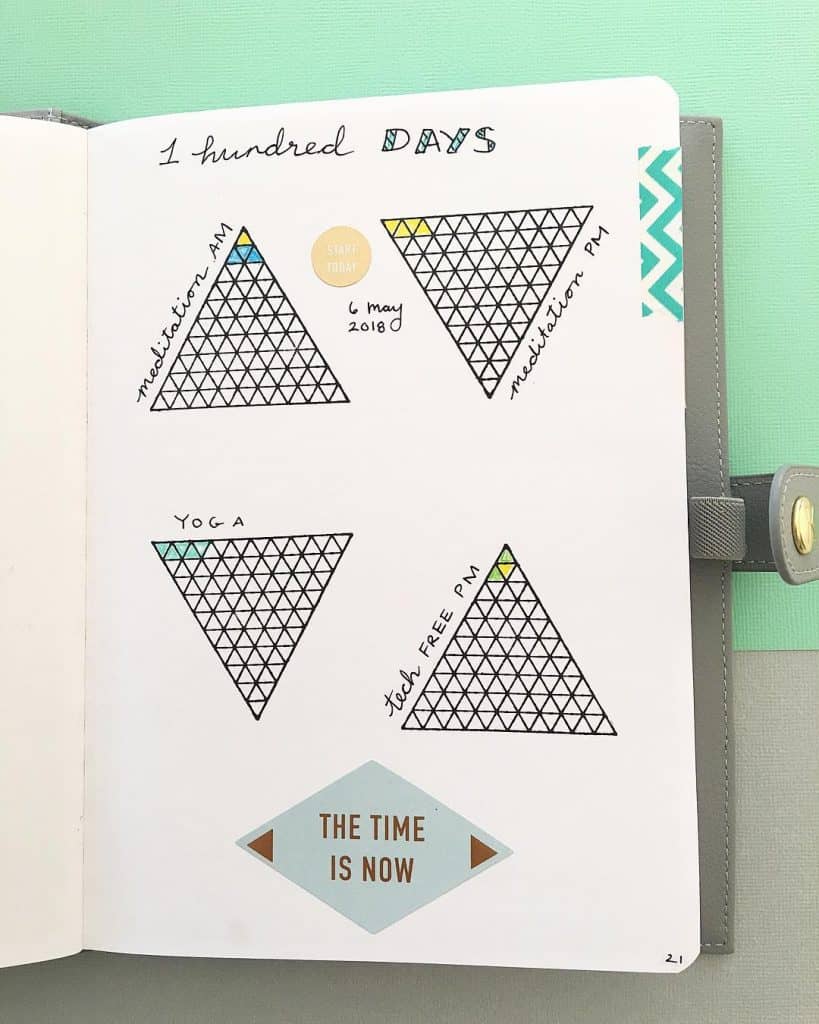 Now this one is different from all the others. While we usually track for a week/month, this habit tracker tracks for 100 days. The starting date is noted on the page. The triangle is colored yellow on the days a habit isn't completed. The only downside it has is, it doesn't have dates. But I think it's meant to see the ratio or pattern over three months rather than individual days.
15. Source: @tt_iines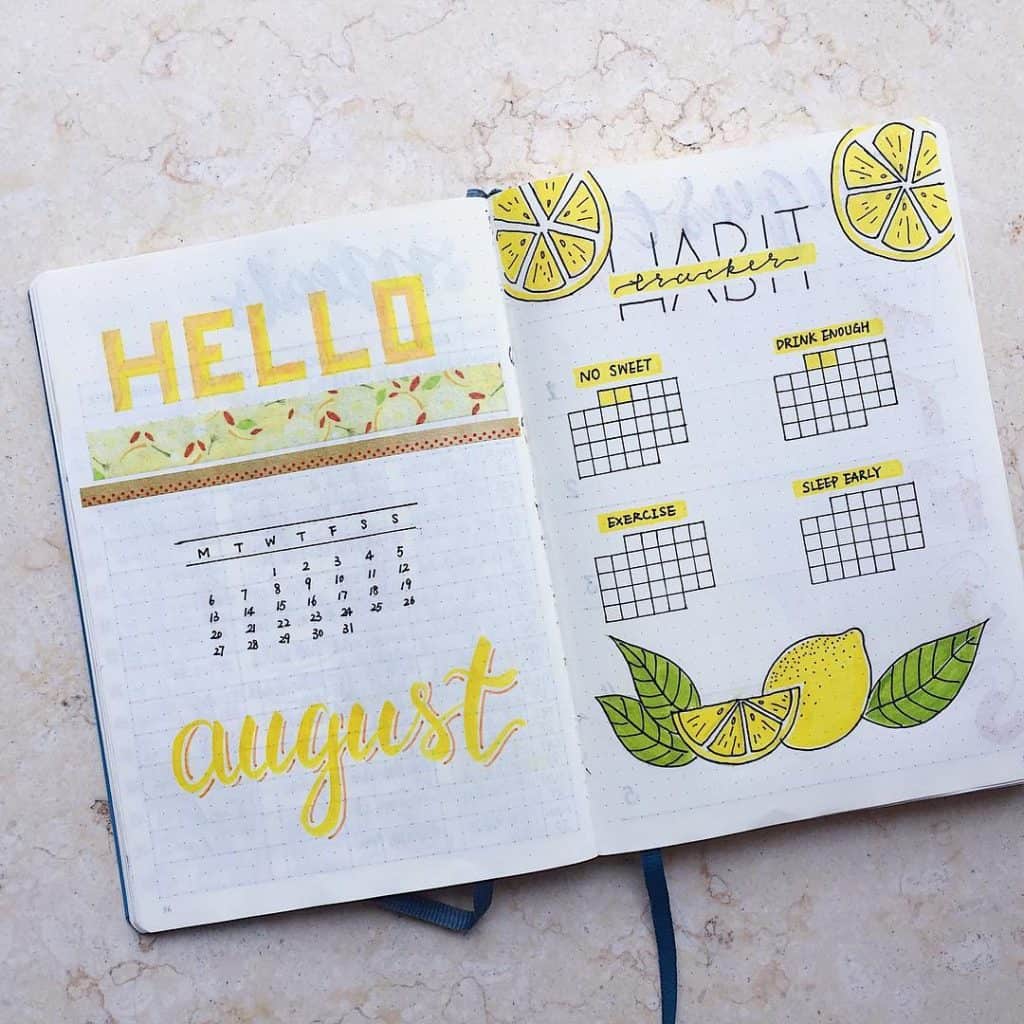 I love yellow spreads. A refreshing one!
16. Source: @plantsthatblossom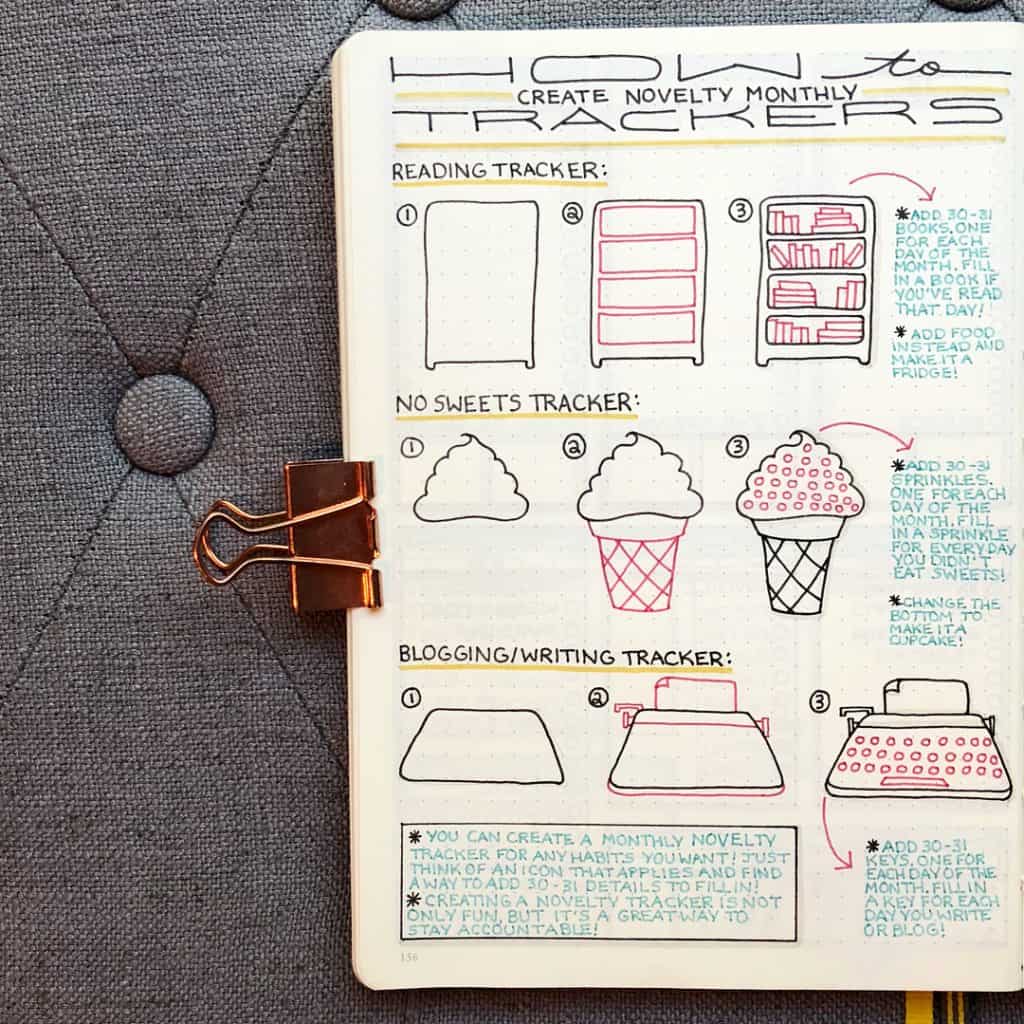 This one comes with a twist. This is a tutorial on how to create novelty monthly trackers. It's a fun and innovative way to track your habits. You know how hard it is to change habits. In the beginning you are enthusiastic, but after a few weeks, it gets monotonous. Changing your habit trackers every month to use fresh ideas as this can kill monotony.
17. Source: @_pandastudies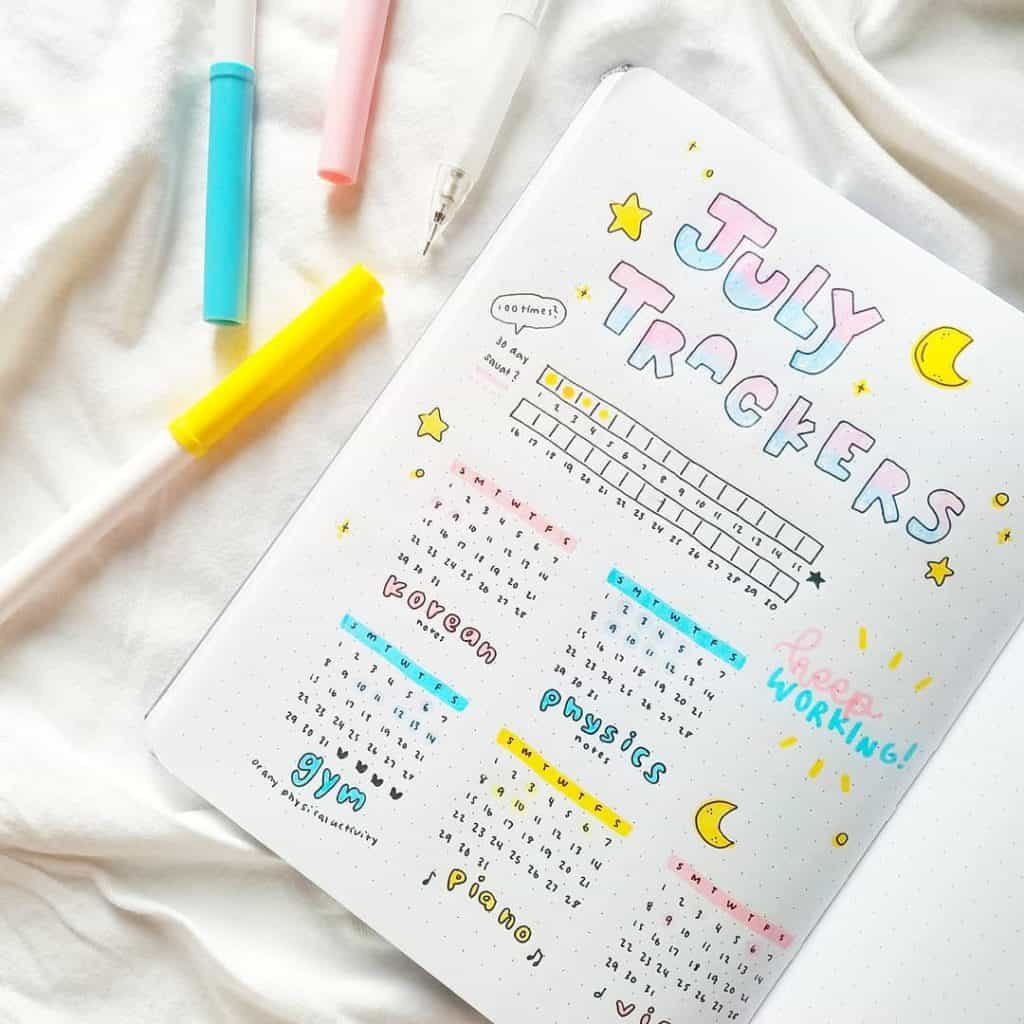 Love the little doodles and bright colors.
18. Source: @rachelbujo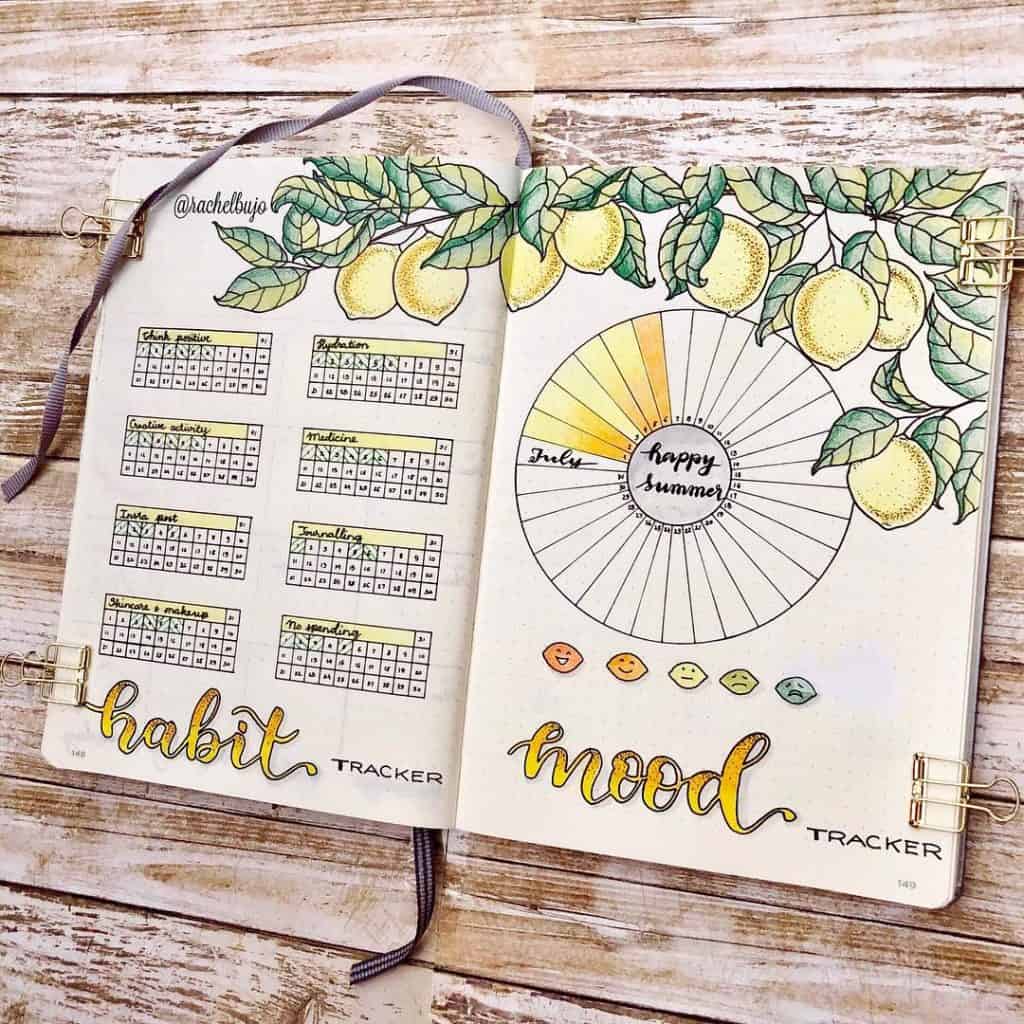 A mini tracker for habits and circular tracker for tracking mood.
What struck me here is the hand-lettering and those lemons. Such a beautiful spread!
19. Source: @baobujo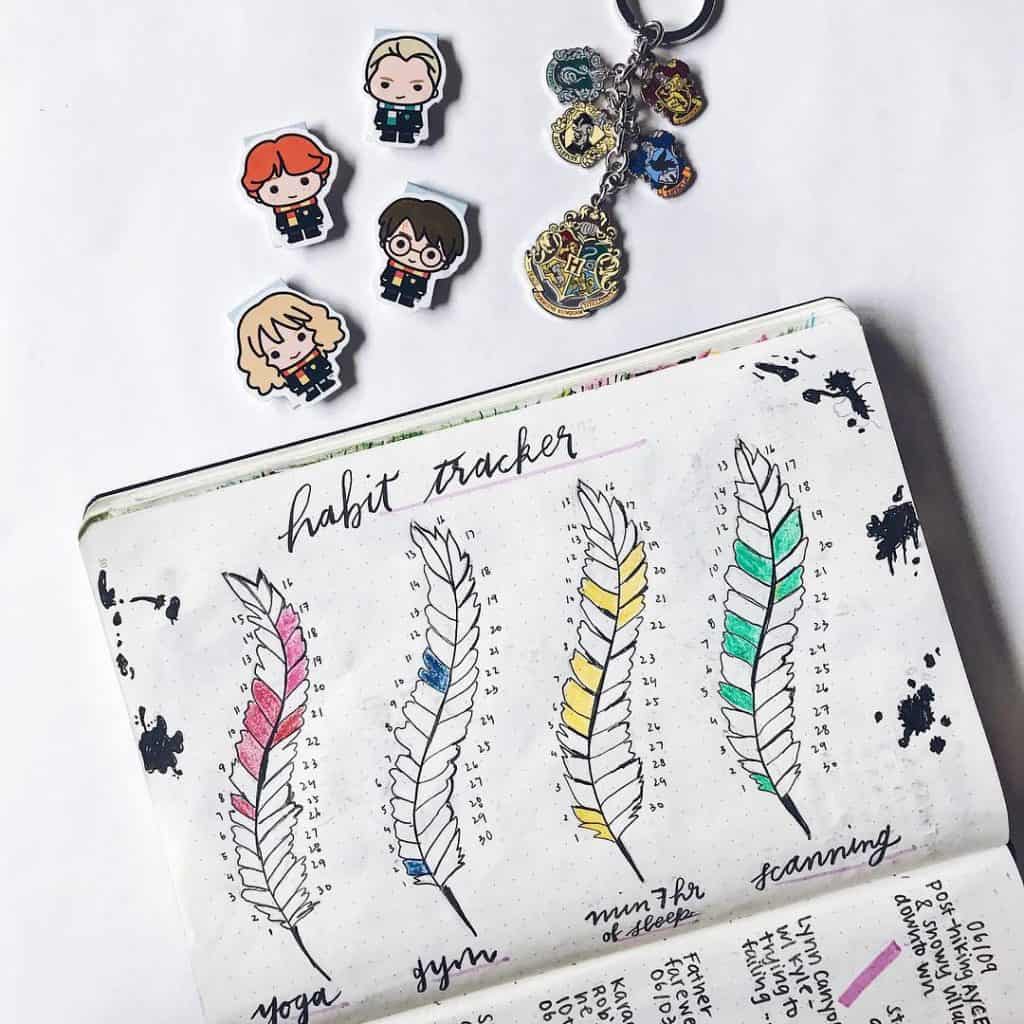 Instead of boxes, we have feathers here. And the tracker is color coded too.
20. Source: @wolkenmeere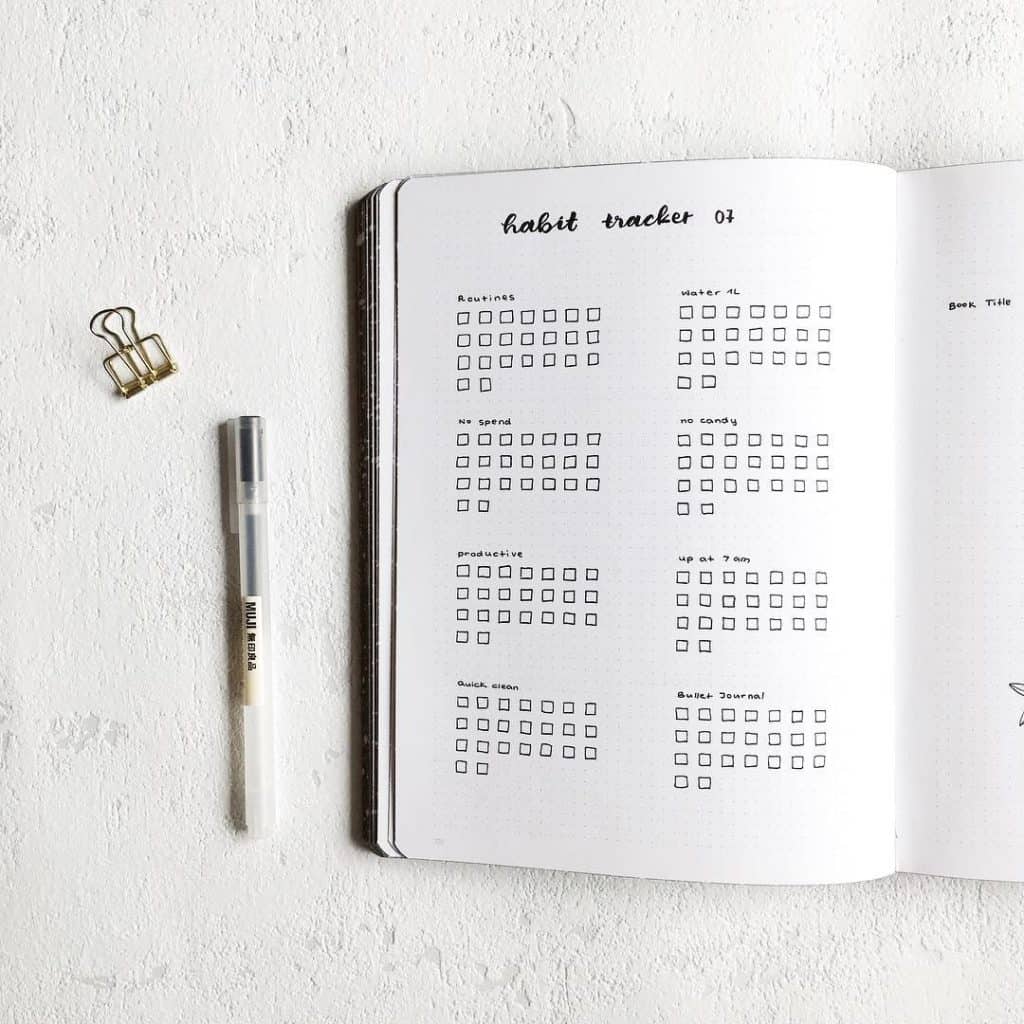 Here is a spread for minimalist bullet journalers. Simple, functional and do not consume a ton of your time.
21. Source: @d.crafty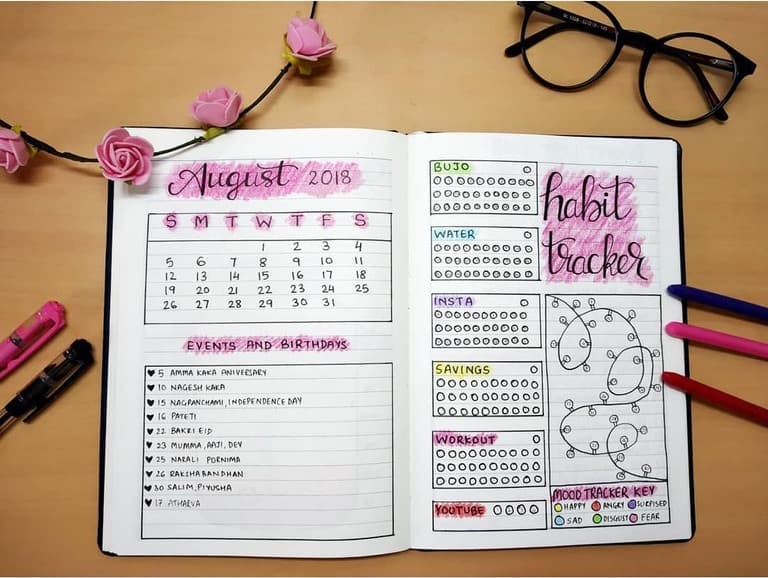 Habit tracker and mood tracker in a page, where circles denote each day. Crayons are used to highlight. An example of starting a bullet journal with whatever inexpensive supplies you have.
Circular habit trackers
I love the look of circular habit trackers. It definitely breaks the monotony and makes your journal beautiful. I use this compass-protractor for drawing circular trackers in my bullet journal. And for filling in, I use Staedtler fineliner pens. I love these pens, the tip is thin enough to fill in the small squares or pies and available in many colors. I like to color code my habit trackers with these pens.
22. Source: @teaandcreate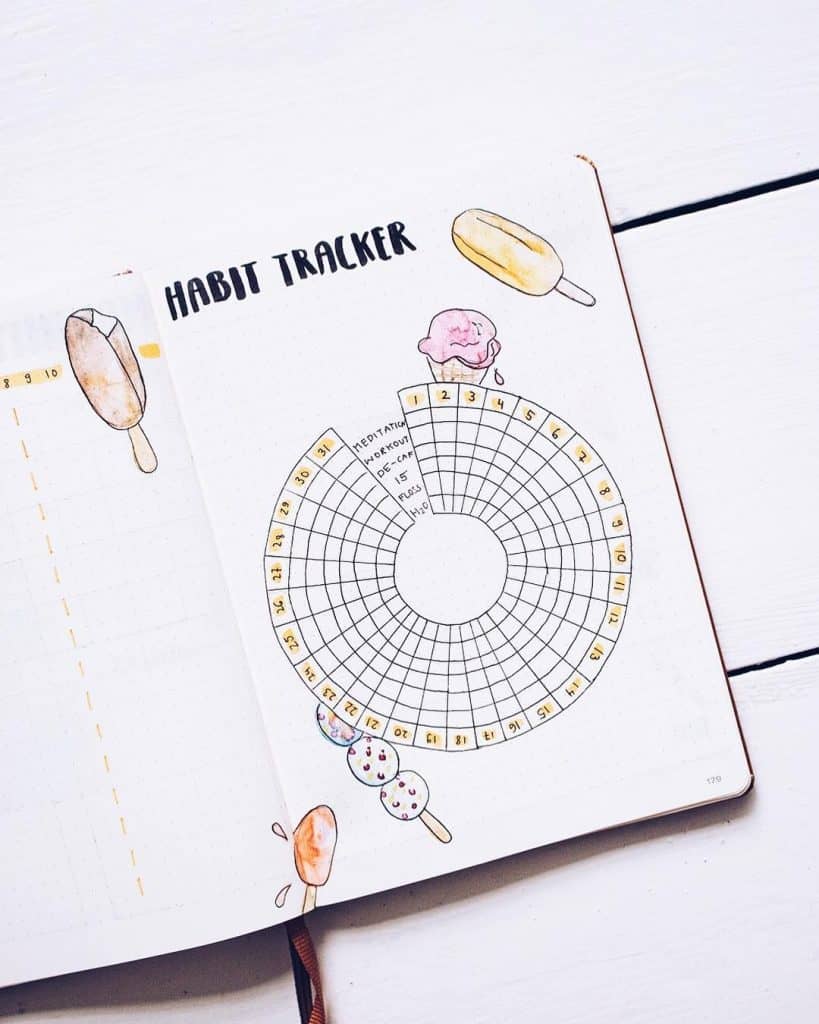 You can use circular habit trackers when you have fewer habits to track. Like this one.
23. Source: @seras.bullet.journal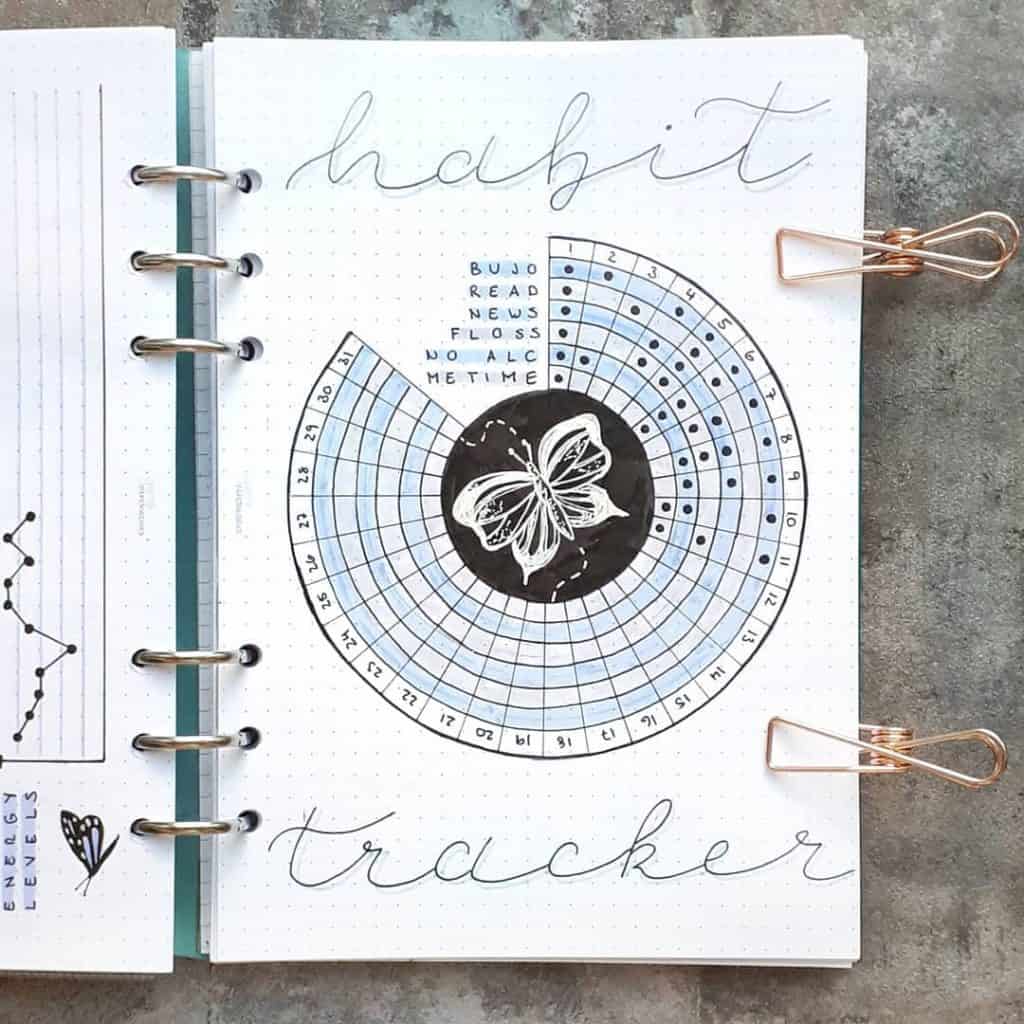 If you love doodling or illustration, the center portion of a circular habit tracker is an ideal place. Ain't that butterfly beautiful?
24. Source: @bujo_baloe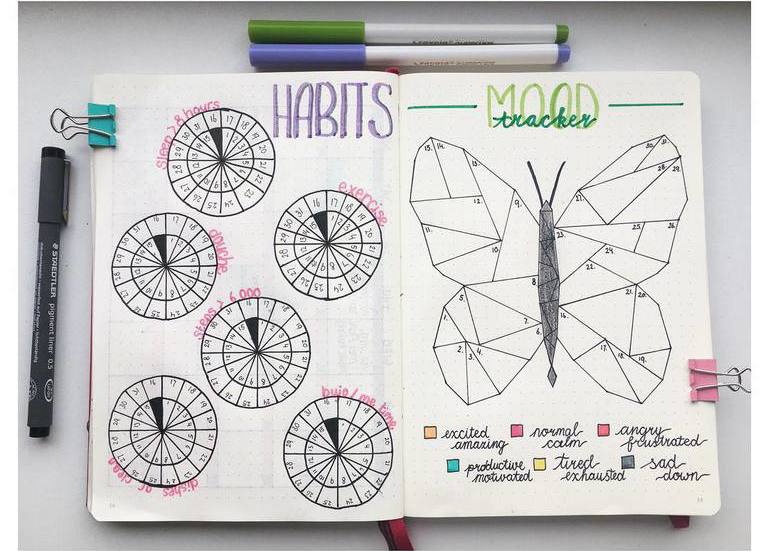 Mini circular trackers and butterfly mood tracker.
25. Source: @allthingsbujo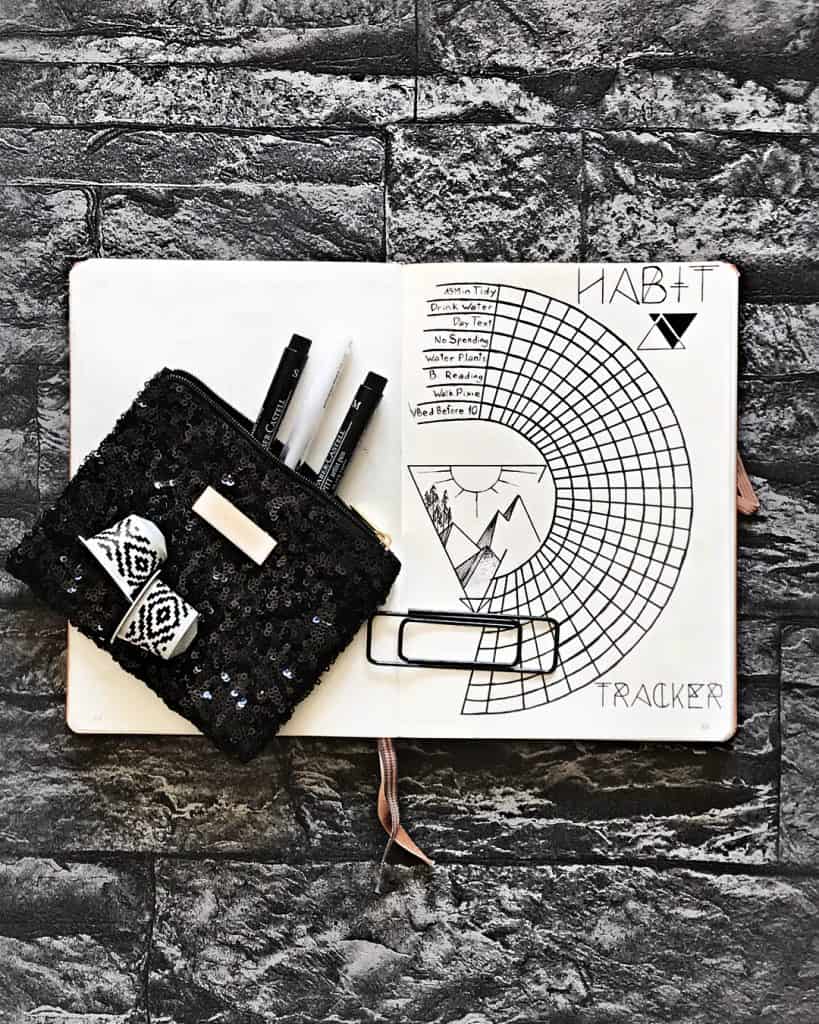 I love the look of this simple half circle habit tracker.
There you are. I hope you liked the collection.
Do you have a habit tracker in your bullet journal? How have you benefited from it? I'd love to know. Please comment below.
More posts on bullet journal:
PIN this post to come back whenever you need inspiration!