32 minimalist bullet journal weekly spreads to try right now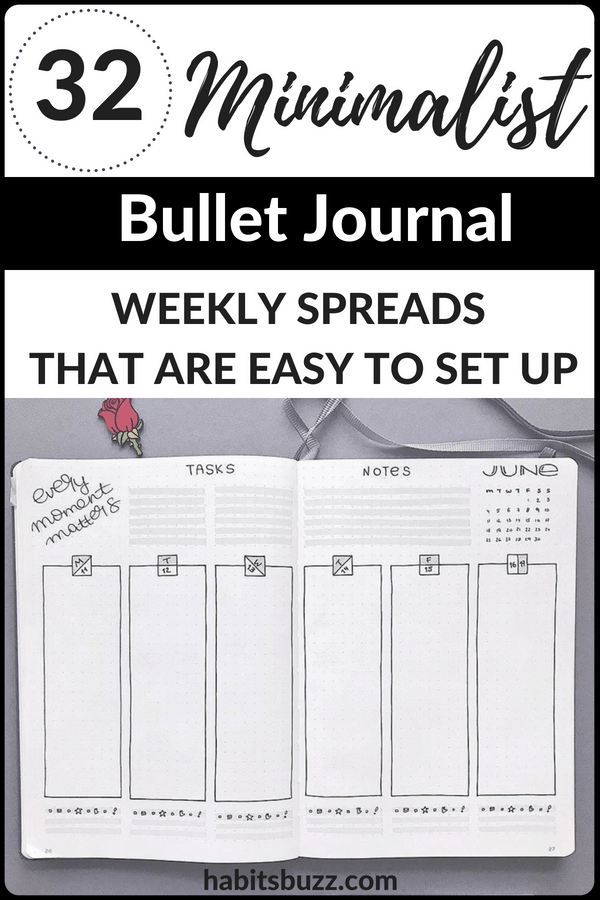 I love minimalist bullet journals. And I love embellished bullet journals too.
I prefer to keep my journal minimal most of the time because I want it to be functional. I use a bullet journal to increase my productivity and dump my random thoughts in one place.
So a minimalist journal works for me. But, sometimes I take a look at all those beautiful bullet journals and admire them. Though I love to keep my journal colorful, I don't feel like spending more time on decorating because when I am short on time, I don't want it to be another chore.
So it's "productivity" over "beautiful" for me.
A minimalist bullet journal works for all those who are busy, those who can't draw, a beginner in bullet journaling or even the people who follow minimalism in life.
If you want to start a bullet journal, I would advise starting with a minimalist approach, as all you want is to try it out. And the effort it takes to beautify it might put pressure on you, and if you can't keep up with it, it can force you to leave the habit altogether.
You don't want that and you want to stick with it for whatever reasons you decided to start a bullet journal. Once the habit is formed, you can think of embellishing it.
Note: A lot of people think a bullet journal should be colorful and decorated. And it turns them off from starting. Please understand it's not the case. If you want to learn the basics of bullet journal I would recommend Ryder Carroll's website, the creator of bullet journal.
Or, you can read the article I wrote, How to start a bullet journal even if you aren't artistic.
But if embellishing your bullet journal is what makes you happy, by all means, go for it. Because that's your style. Bullet journal is such a forgiving system that whoever using it can style it in their own unique way. There are no rules.
What is a weekly spread/layout of a bullet journal?
A weekly spread/ weekly layout of a bullet journal is where we plan a week in advance. You can draw the weekly layout before each week begins and add tasks corresponding to each day. It suits people who want to have a visual idea of their week.
You can either have a weekly layout or daily, or both, depending on your needs.
Here are some minimalist weekly layouts I picked from Instagram for you to try.
**This post contains affiliate links. I may receive a small commission at no extra cost to you if you make a purchase through my affiliate link**
Minimalist Bullet journal weekly spreads
1. Source: @vestiblr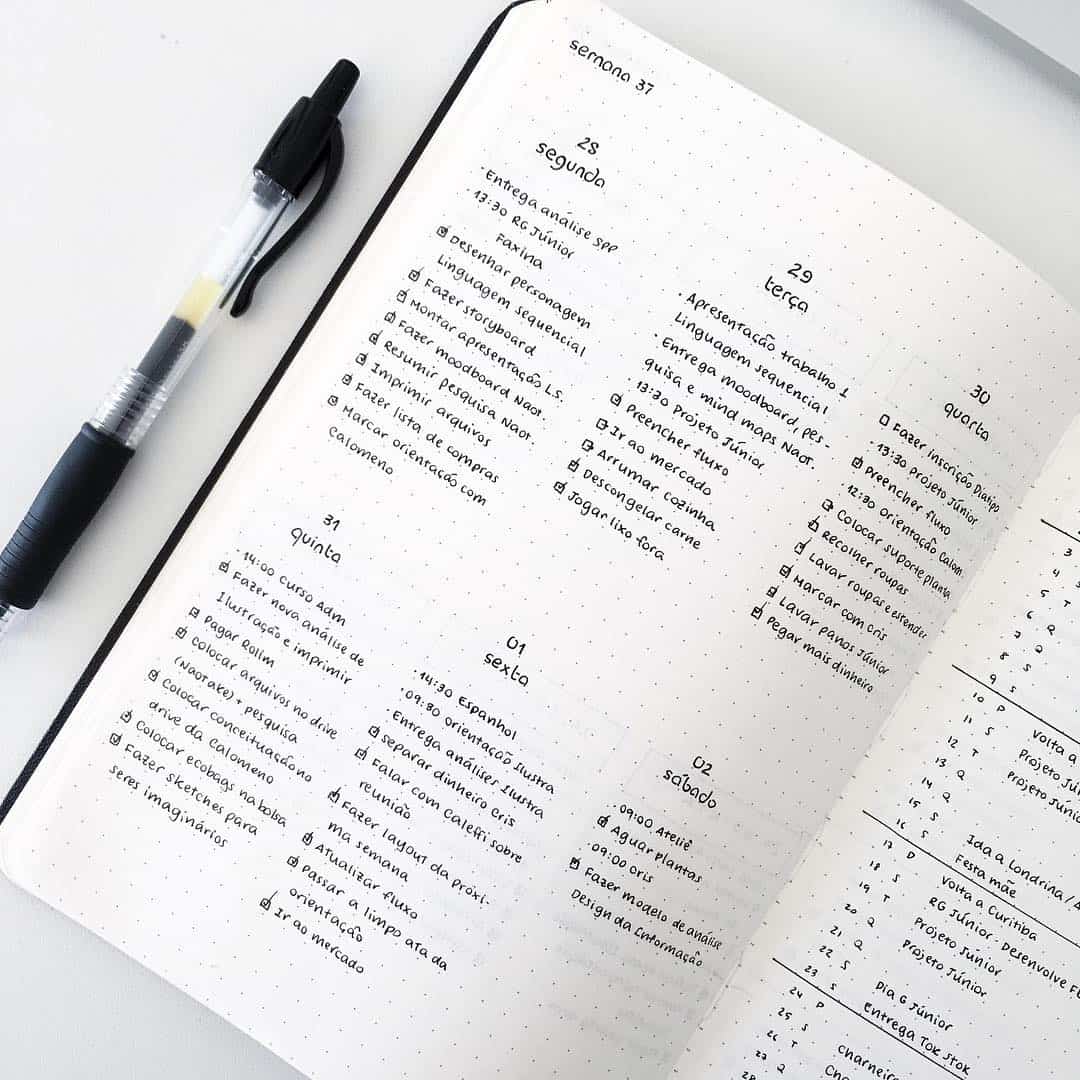 I love the simplicity of this layout. She has divided the page into three columns to accommodate space for six days in a page. It is done neatly without the need of drawing lines.
2. Source: Lizzie @paperandlists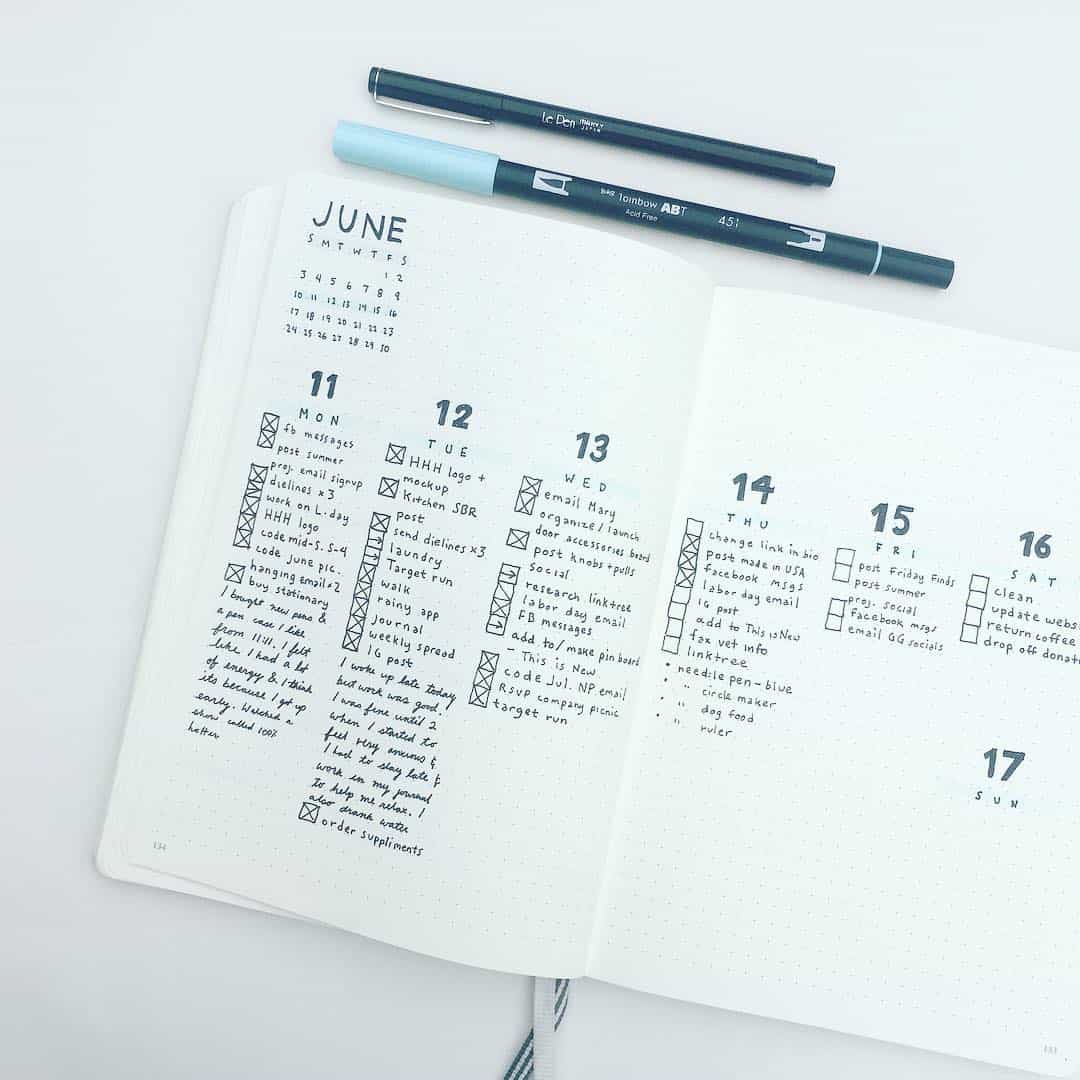 Supplies in image: Le Pen, Tombow Dual Brush Pens
This one has a vertical layout, a calendar on top and has used two pages for a week. I love the way she has drawn the checkboxes and what I love most is the space dedicated for journal entries below each column, corresponding to each day. I definitely want to try this for my journal.
3. Source: Fiona @mindbodyjournal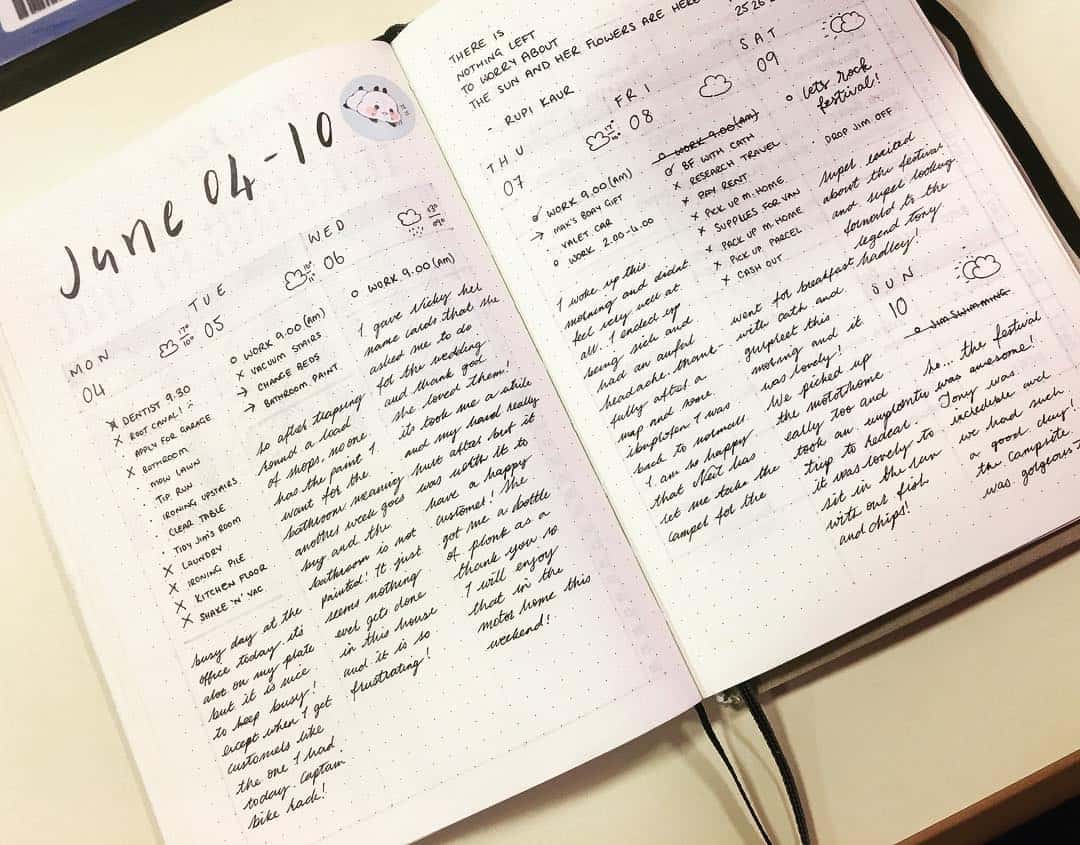 Supplies in image: Leuchtturm 1917 Dotted Notebook
This one also has a vertical layout and space dedicated for daily journaling below each day's tasks.
4. Source: Marie @journalspiration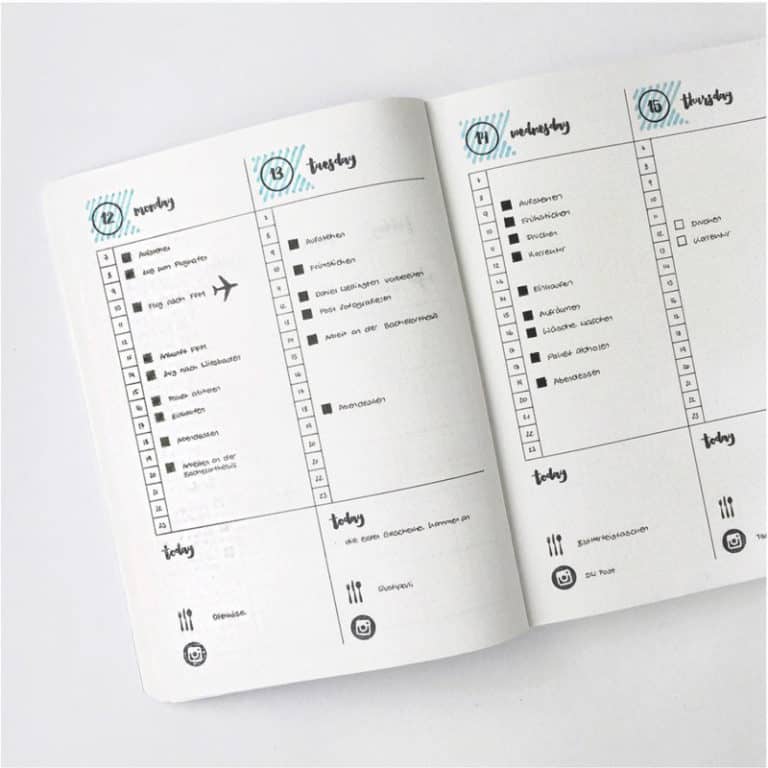 Marie from @journalspiration has this brilliant idea of creating an hourly layout in her weekly spread. It is useful if you have busy days or need to track your activities on an hourly basis. You can check out her Youtube channel here: journalspiration.
5. Source: @tangledblissbujo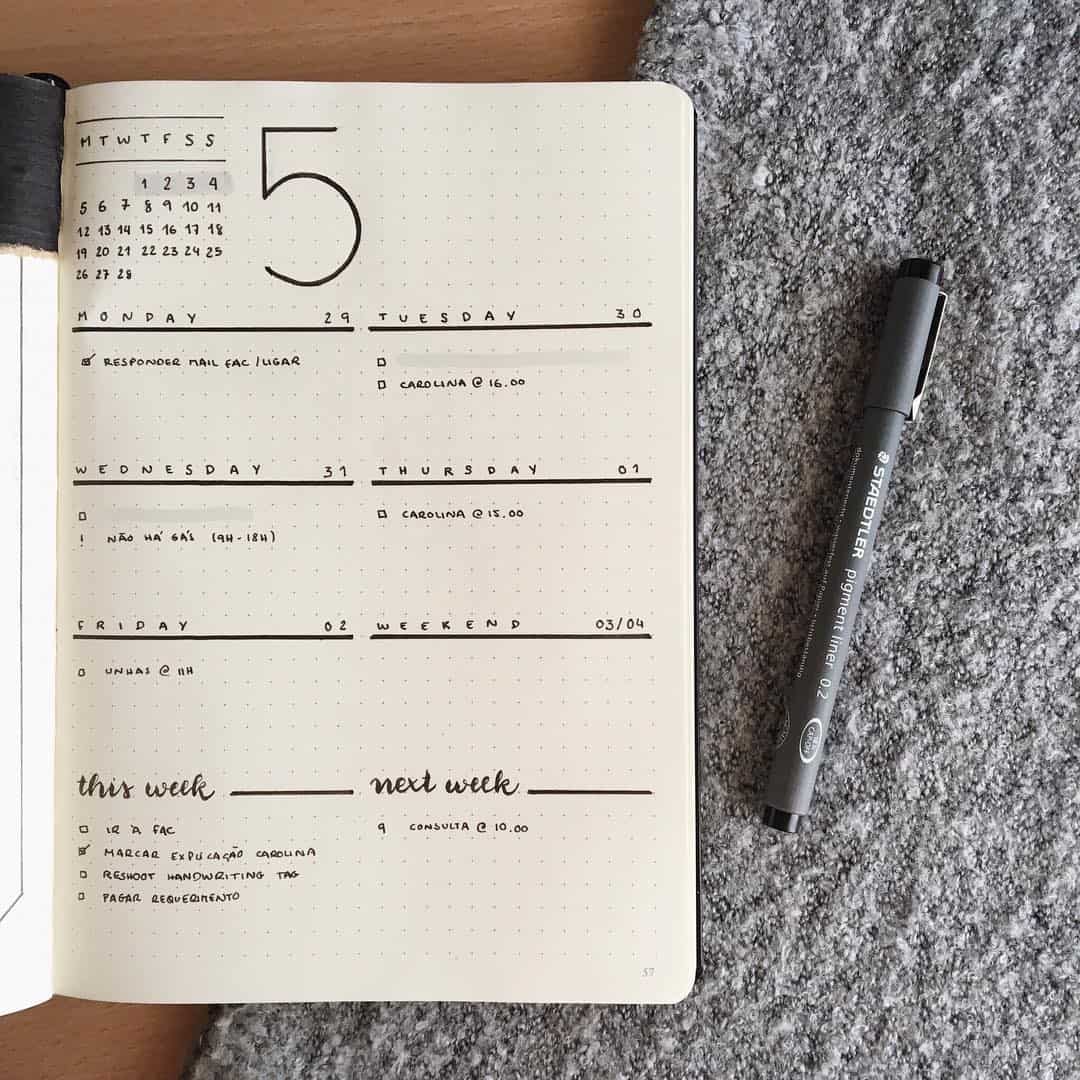 Supplies in image: Leuchtturm 1917 Dotted Notebook, Staedtler Pigment Liner Pen
A simple yet beautiful, minimalist one-page layout for a weekly spread. I would use this layout for weeks when I don't have many activities going on. A great way to save your notebook pages as well.
5. Source: Julia @bulletbyjulia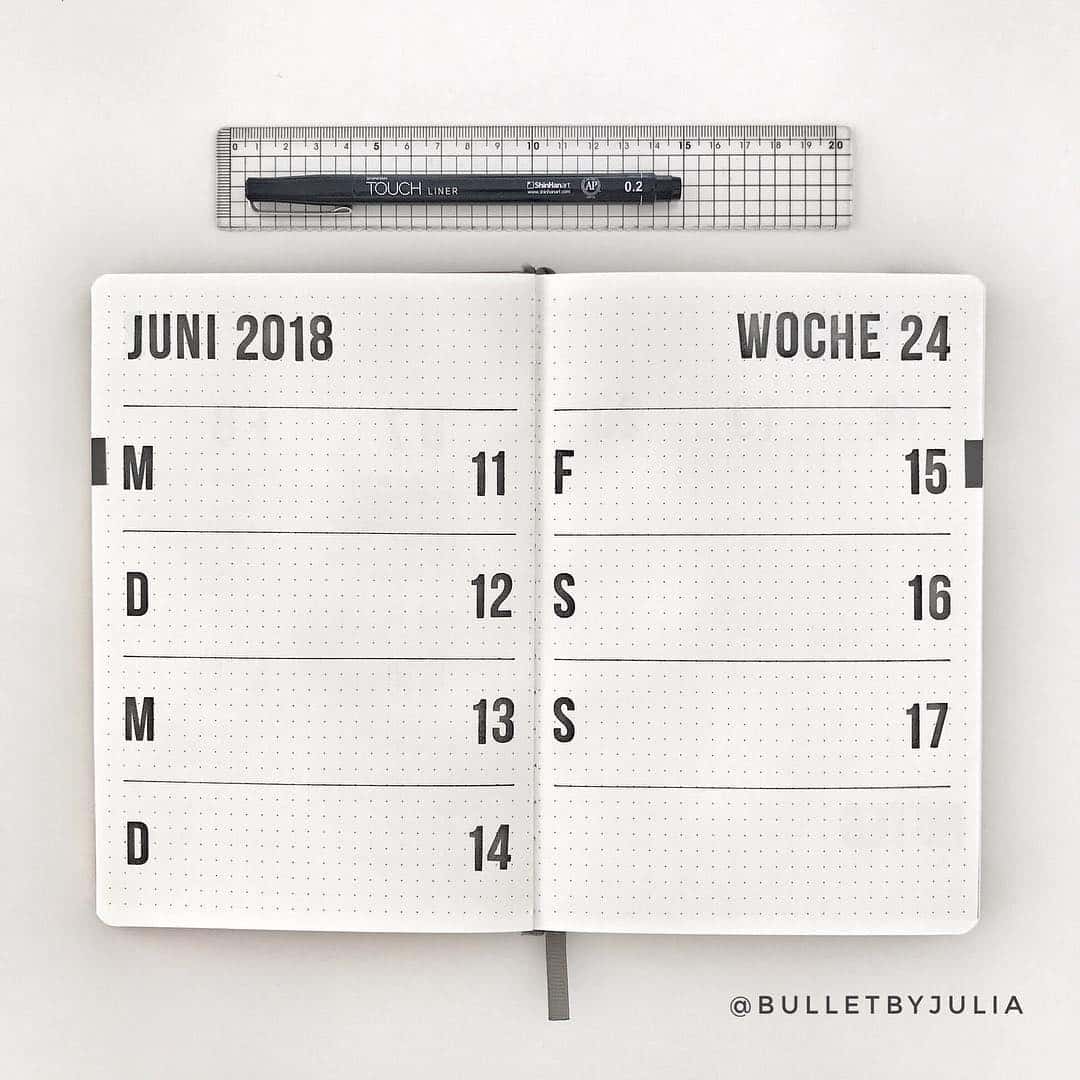 Supplies in image: Shinhan Touch Liner Pen
A horizontal minimalistic weekly spread. Minimal, but functional. The use of stamps gives this spread a uniform look.
6. Source: Christina Kay @steepedinbooks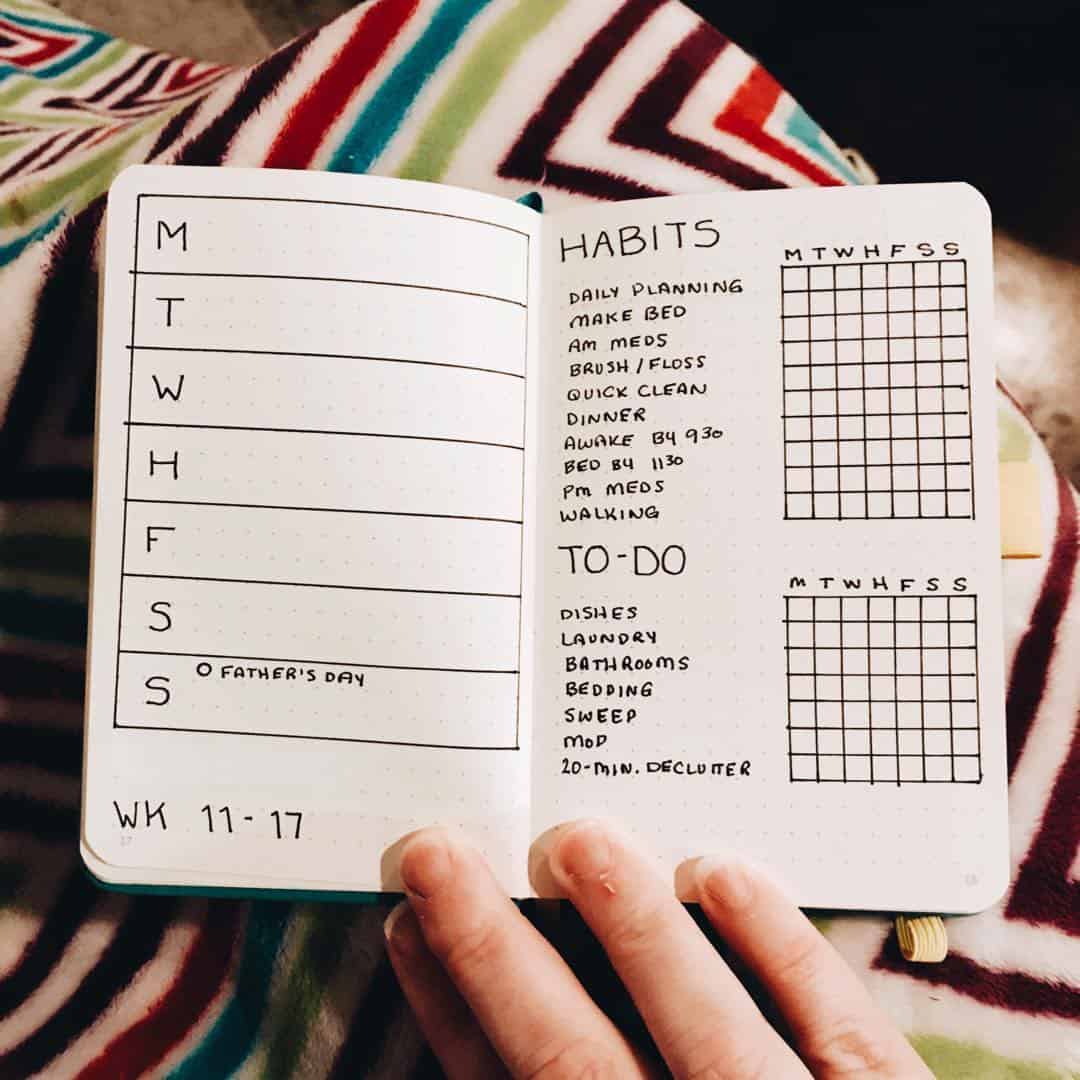 Supplies in image: Scribbles That Matter Pocket Notebook
Christina has used a pocket notebook and I love how she has included everything in small space. And yes, it is minimalistic too. She has a weekly spread, a habit tracker and a to-do list tracker.
In this one, you can write down the important tasks in the weekly spread. All the other daily chores and daily habits are tracked in the trackers on the left page. Clever idea!
7. Source: Olivia @flyingpaperwords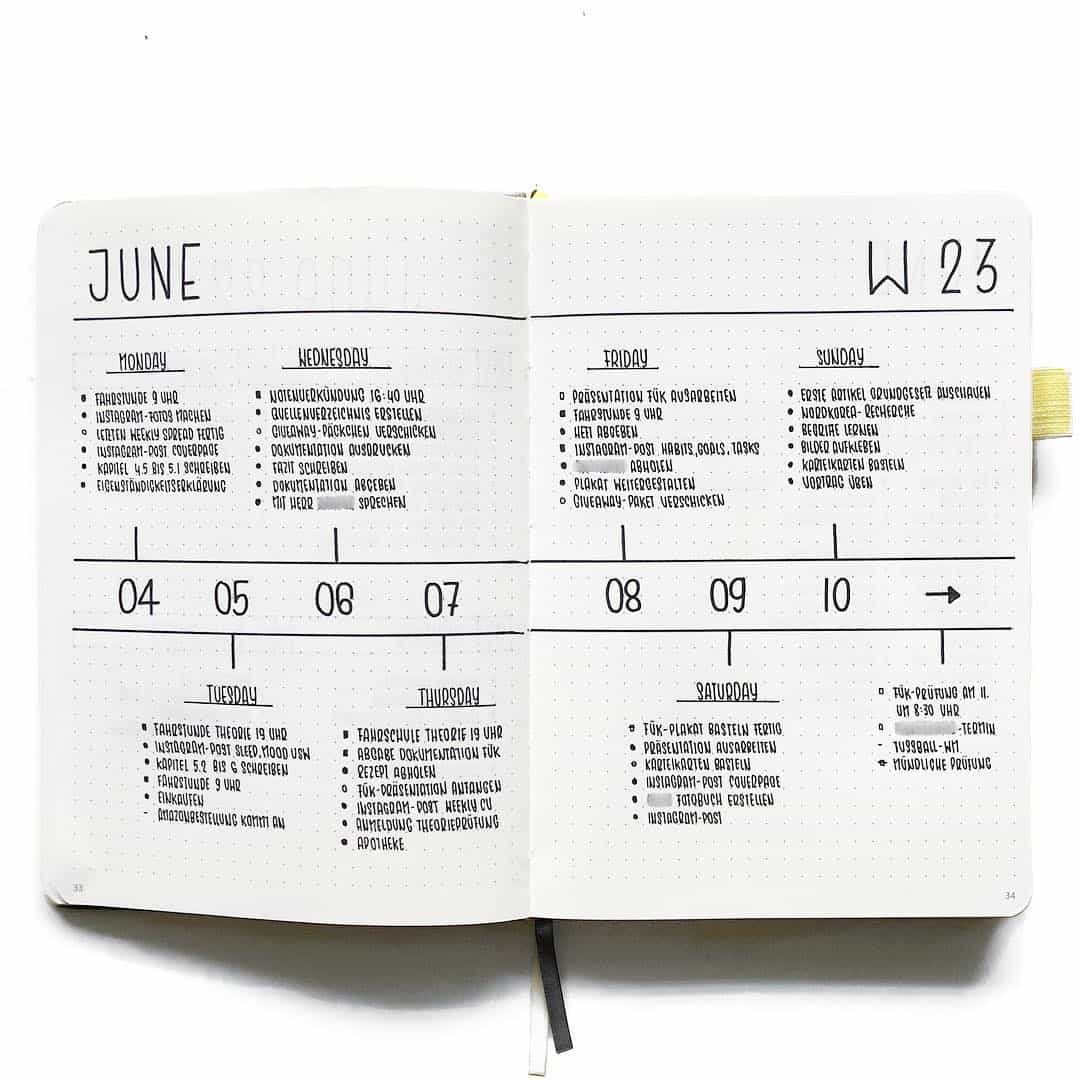 Supplies in image: Scribbles That Matter Dotted Notebook
I like the way the days of the week are written above and below the reference dateline in the center. A different one.
8. Source: Emilia @emiliajournals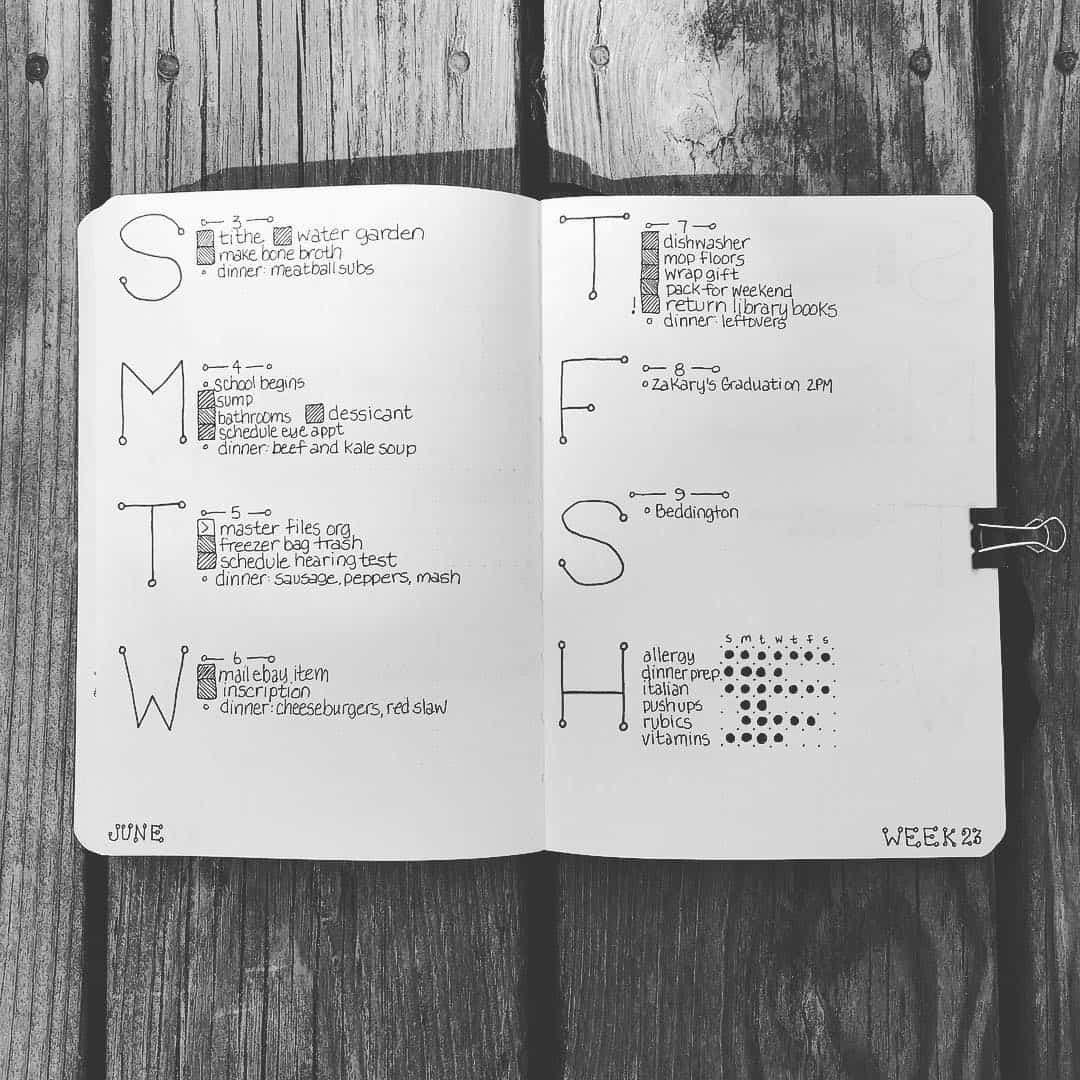 I absolutely love this weekly layout. It is what you call simple but elegant. I will definitely try this layout in my bullet journal because it is easy, minimalistic and less time consuming to create.
And what I love about this habit tracker is, you don't need to draw lines (sometimes, I am too lazy to do that). If you use a dotted notebook, it is easy to create this habit tracker.
9. Source: @letters.day.by.day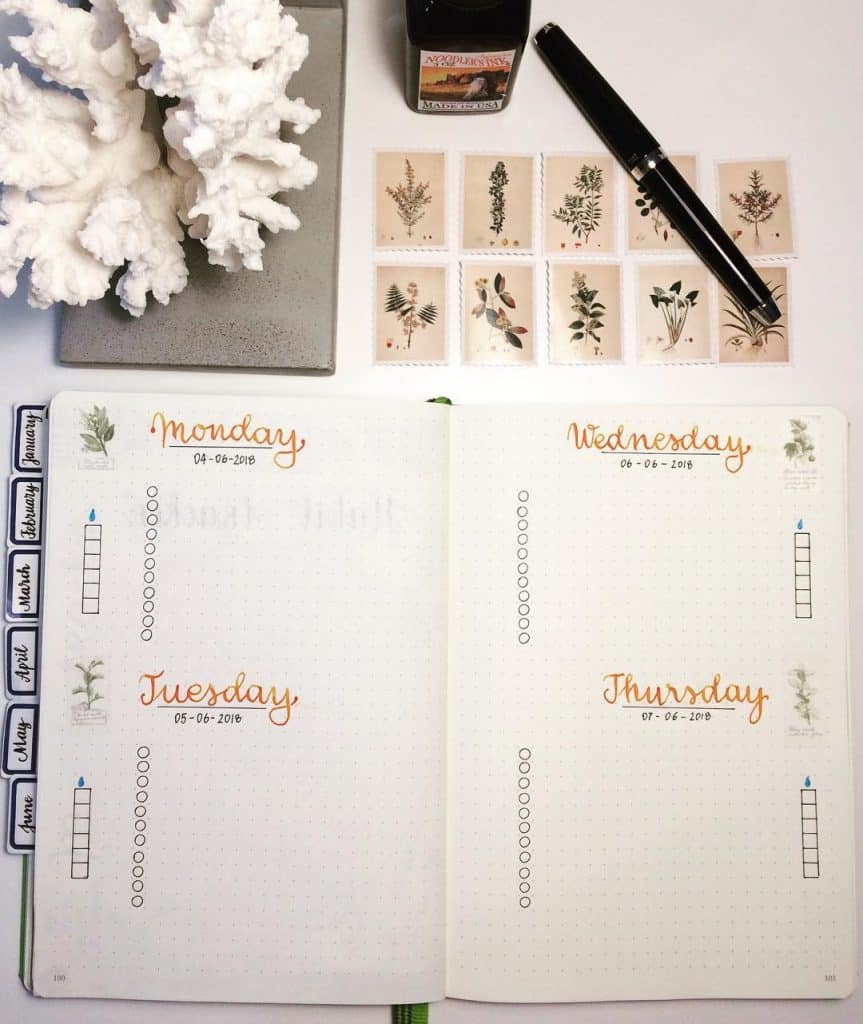 Supplies in image: Leuchtturm 1917 Dotted Notebook, Pilot Falcon Fountain Pen, Noodlers Ink Apache Sunset
Again a simple layout easy to construct. I like giving colours for headings as it stands out and is easy to read.
10. Source: Emily @studygr.em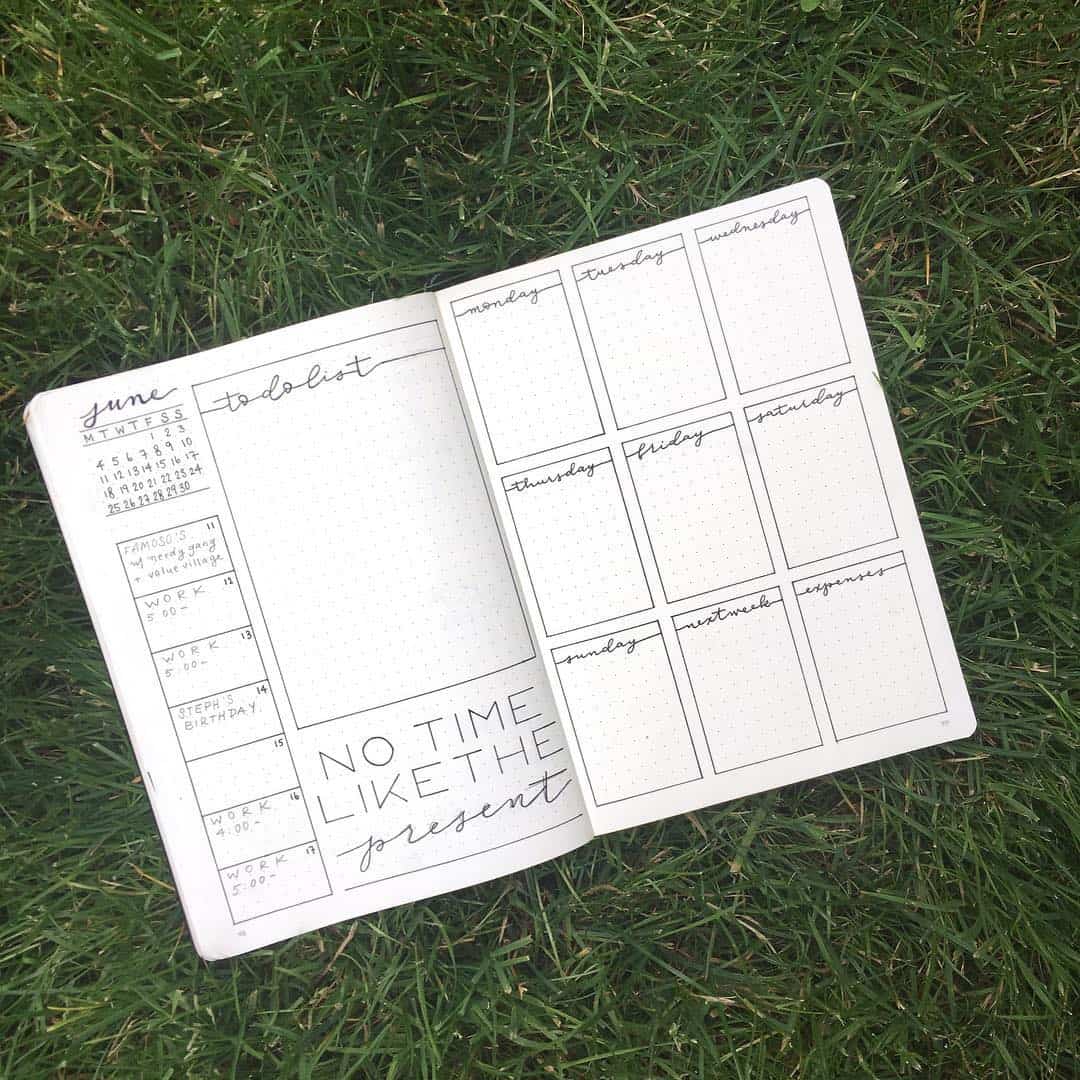 Supplies in image: Leuchtturm 1917 Dotted Notebook
In this layout, Emily has made use of boxes for days, to do list and notes.
11. Source: Sunisa May @lifearrangements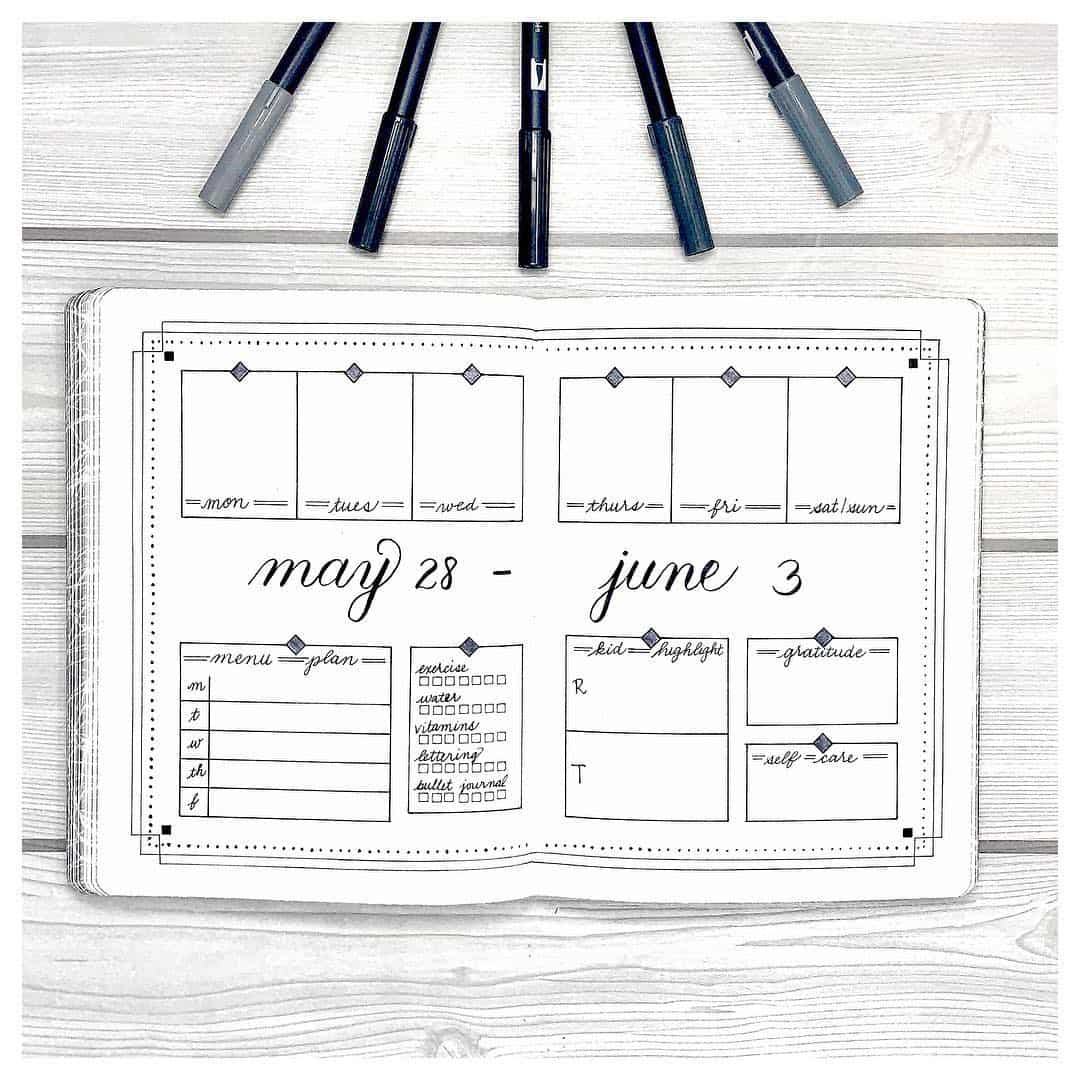 Supplies used: Nuuna Notebook L, Sakura Pigma Micron Size 03, Tombow Dual Brush Pen.
What I love about this minimalistic spread is, how she has organized all the trackers and logs along with the weekly log, beautifully.
12. Source: @nikjournals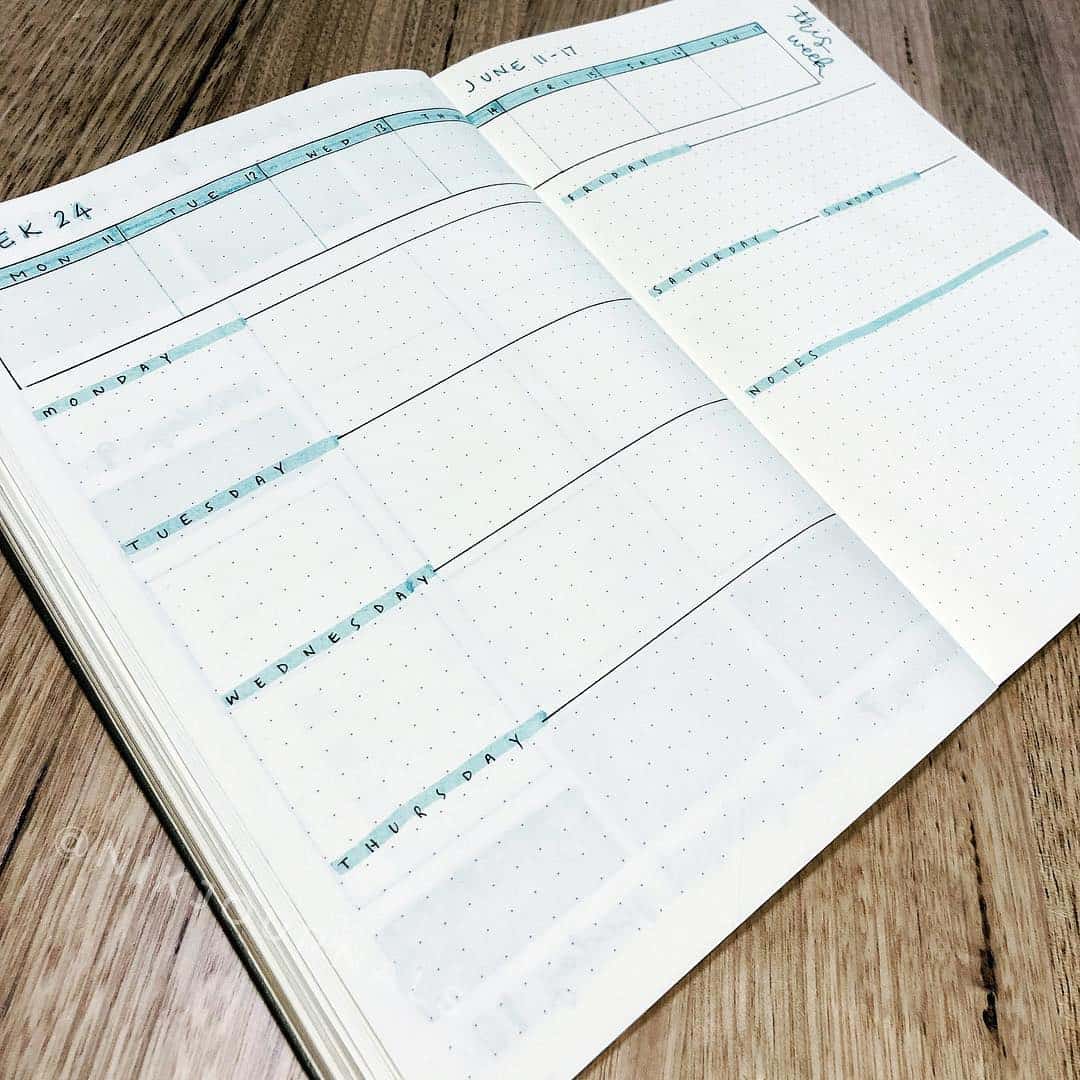 Supplies in image: Leuchtturm 1917 Dotted Notebook
A simple, but functional weekly layout.
13. Source: @notebookaddiction_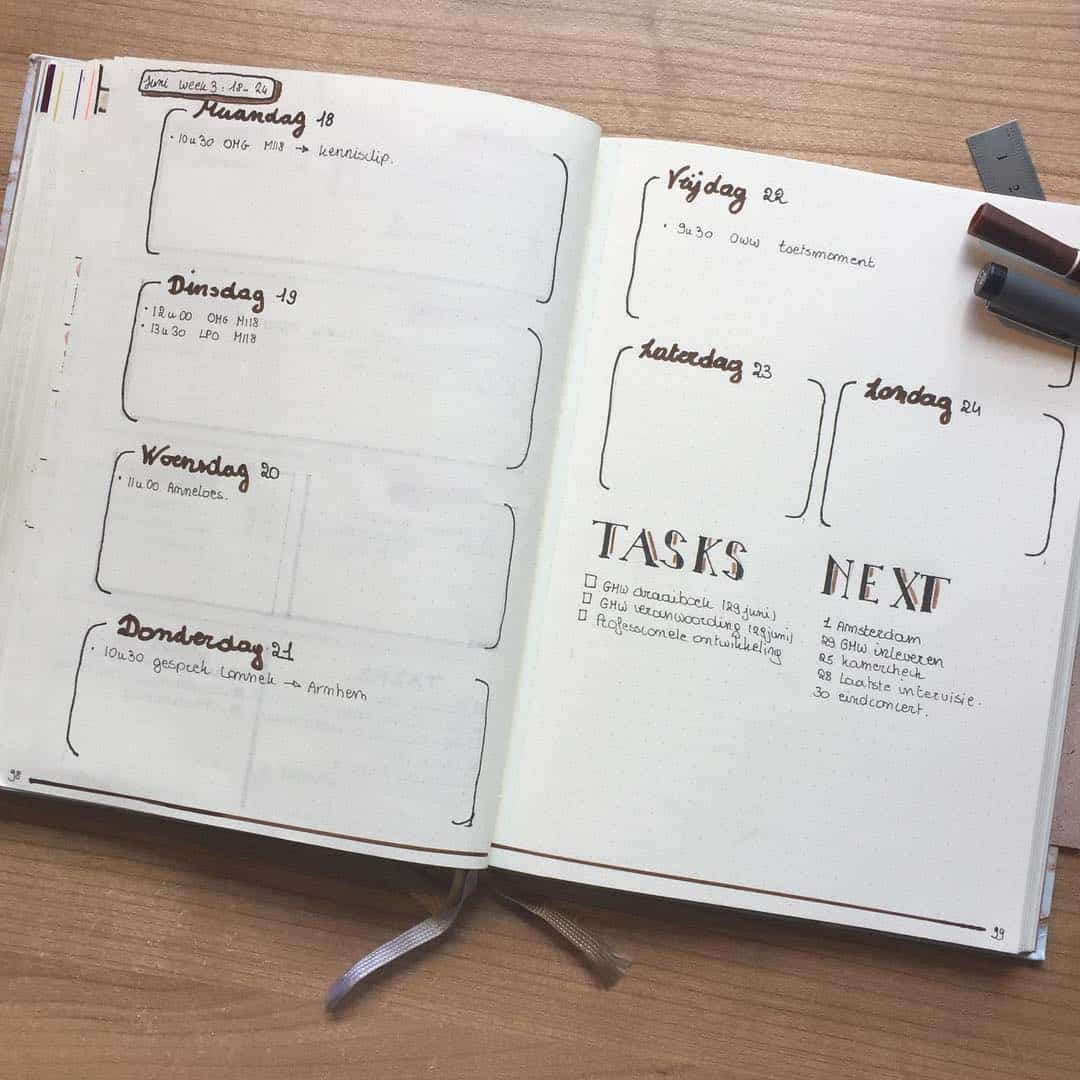 A minimalistic horizontal layout with hand-drawn brackets for each day of the week.
14. Source: @studyclinic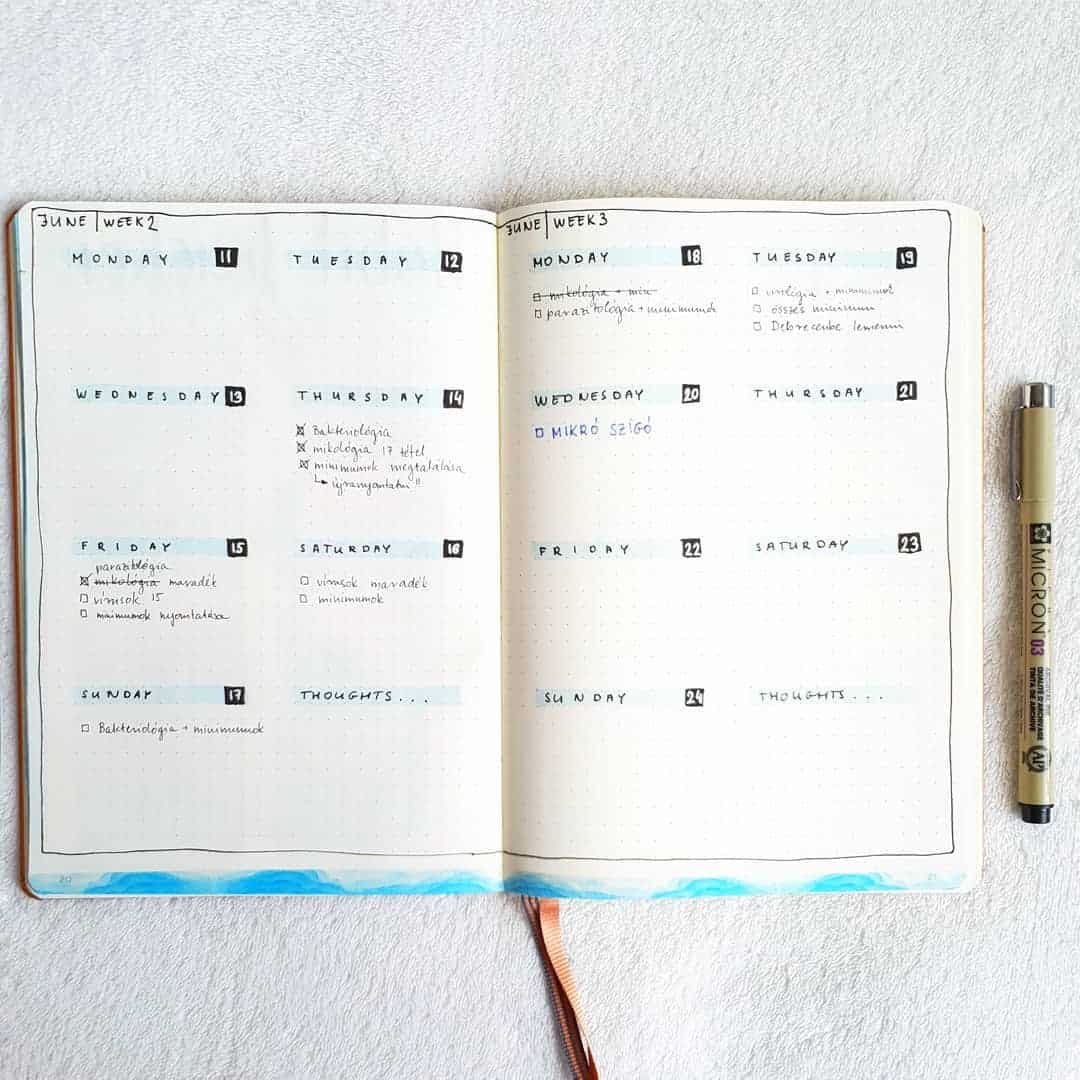 Supplies in image: Leuchtturm 1917 Copper Dotted Notebook, Sakura Pigma Micron 03 Pen.
Another weekly spread with minimal use of colors. And two weeks are drawn on side by side pages. I love how it helps to save your notebook pages and perfect for someone who has small to do lists.
15. Source: Elizabeth @jihielephant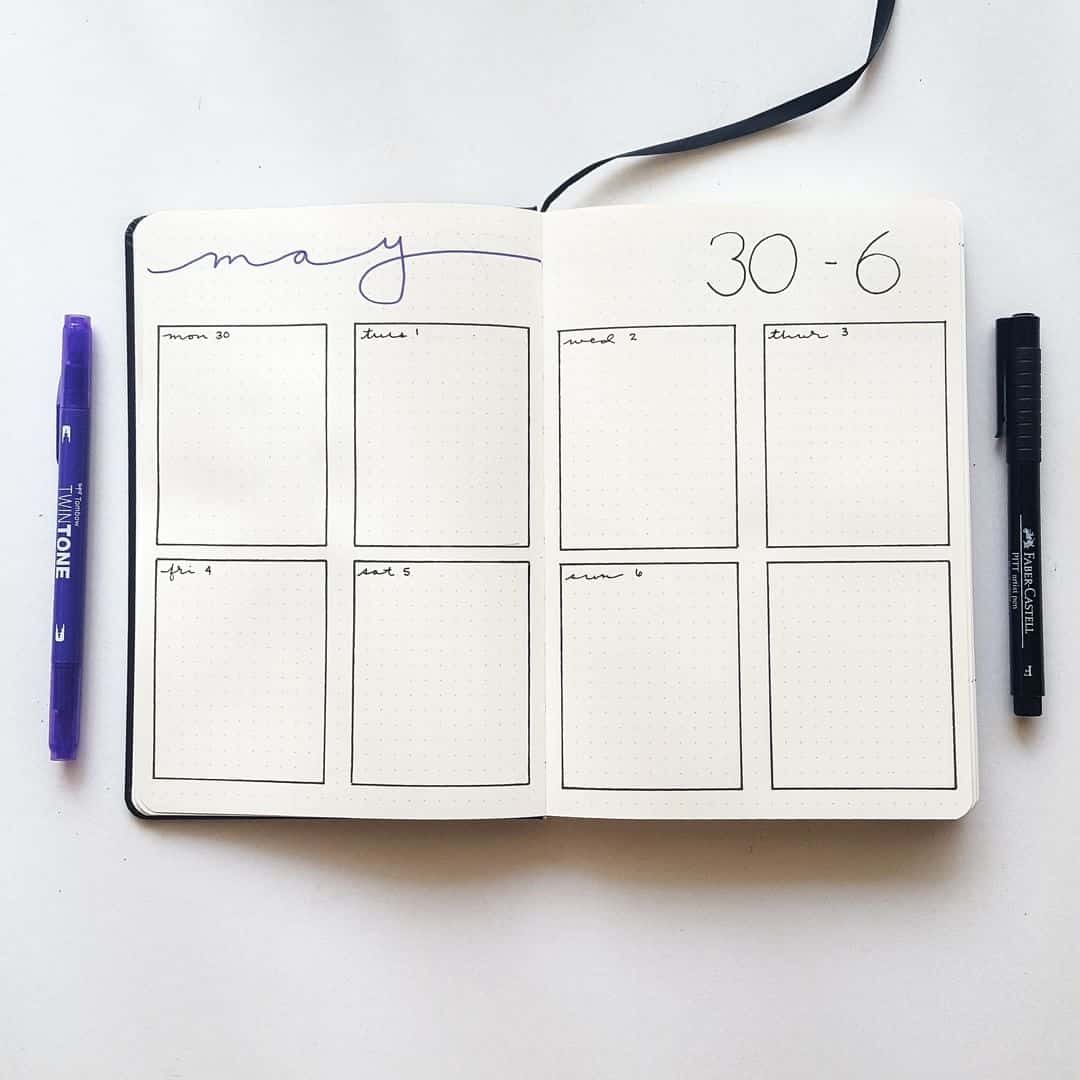 Supplies in image: Tombow Twin Tone Marker, Faber Castell Pitt Artist Pen
A simple vertical layout with neatly drawn boxes. There is an extra box you can use for writing notes, reminders or even for trackers.
Related: 22 bullet journal cleaning schedule trackers to keep your home squeaky clean
16. Source: @teacherwithaplan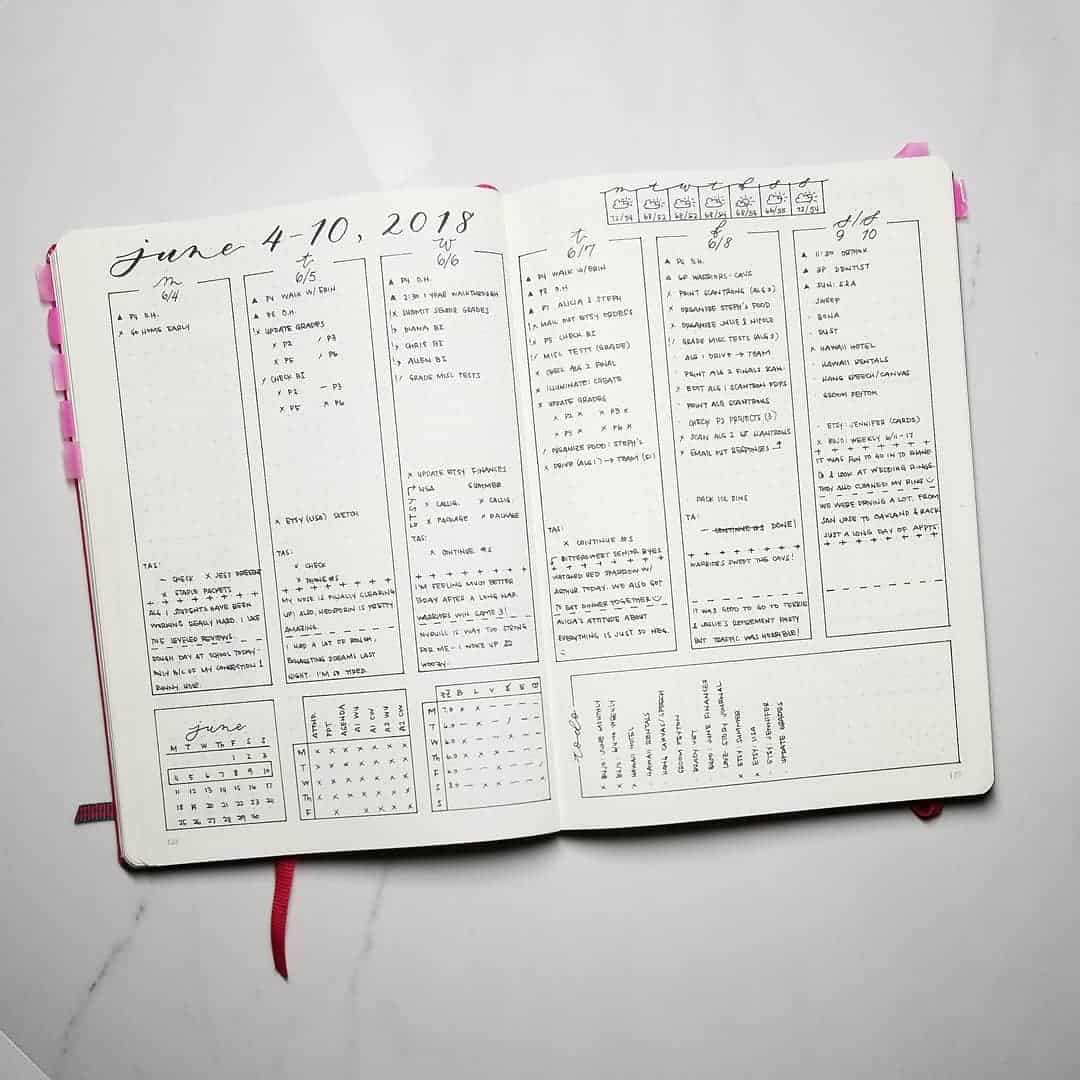 Supplies in image: Leuchtturm 1917 Dotted Notebook
What I love about this minimalistic spread is, how she has organized all the boxes, to do lists and trackers into two pages. The page space is used wisely and there is no wastage (I dislike wasting pages in a book).
17. Source: Jane @bujoist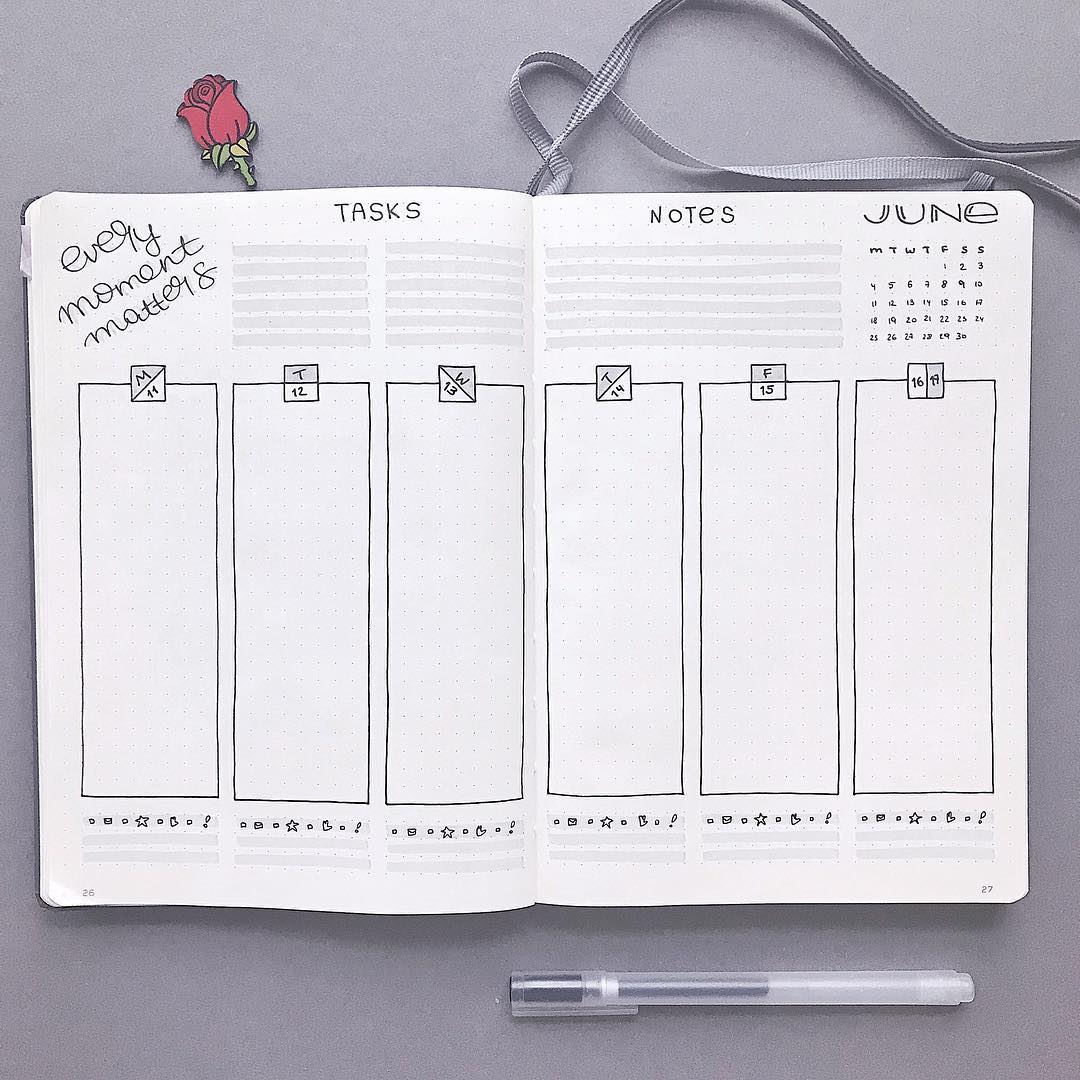 Simple vertical layout. I love the heading of each column, a box denoting the date and the day. There is also a footer space below each column to write notes. I have seen some people use this space to write gratitude log.
18. Source: Adrianna @adawadaa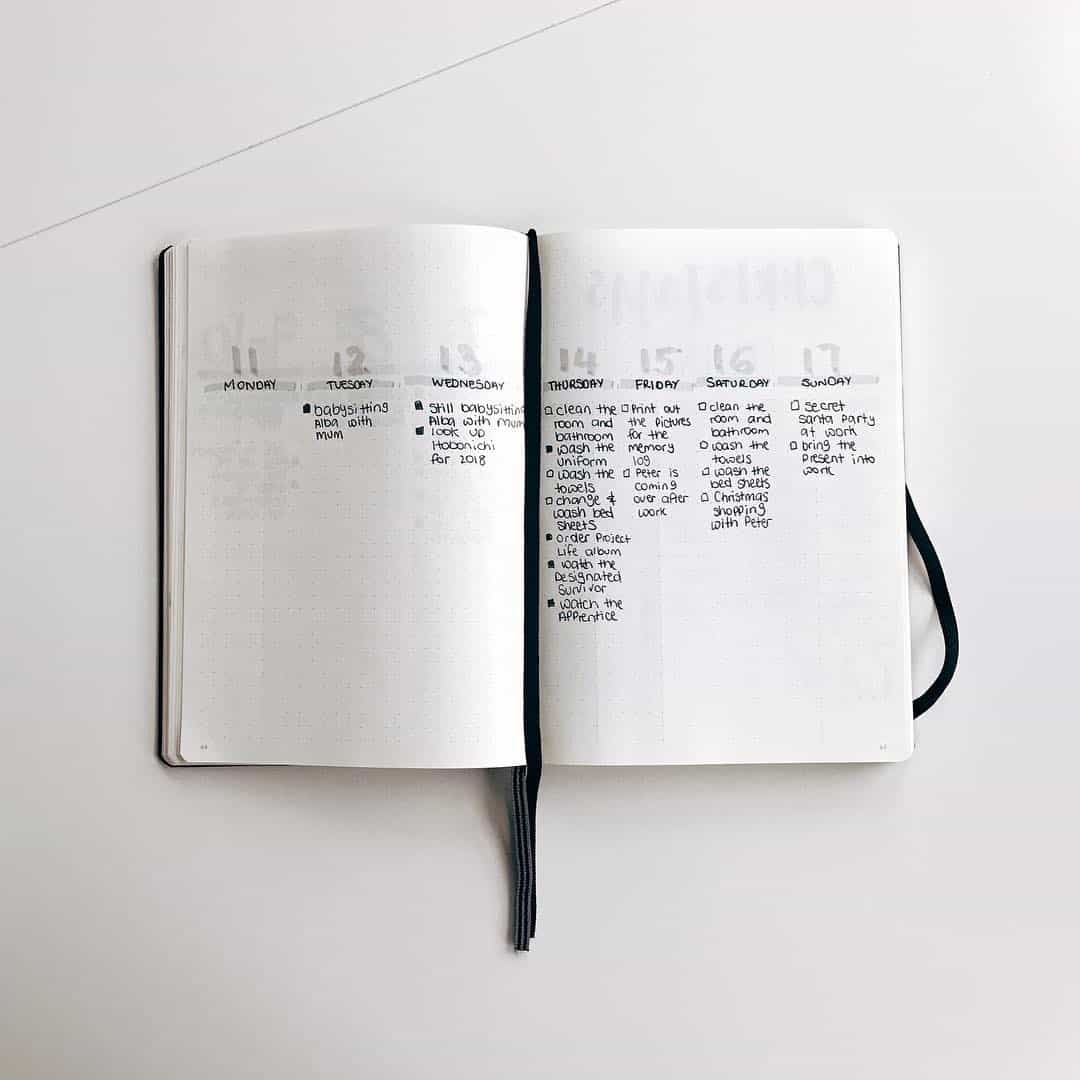 Supplies in image: Leuchtturm 1917 Dotted Notebook
A vertical weekly layout without lines. What I love about such layouts are, these are easy to set up because you don't have to spend time on drawing lines. But it still looks clean, doesn't it?
19. Source: @colorfulblackrose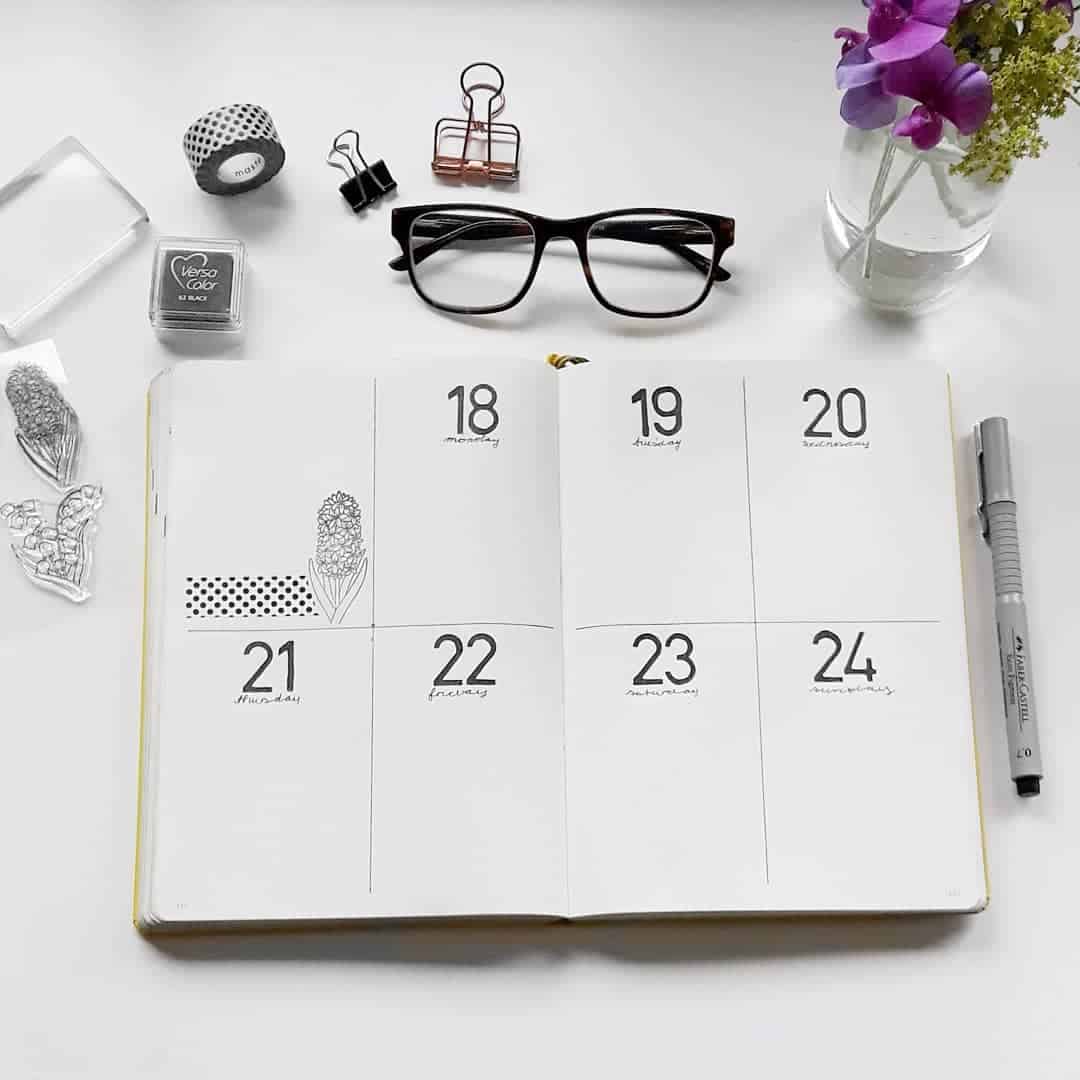 Supplies in image: Leuchtturm 1917 Dotted Notebook, Faber Castell Ecco Pigment Fineliner
This one pleases my eyes because of its simplicity. She has used a little space to be creative by using washing tape and sticker. Still minimal, right?
20. Source: @journalingonabudget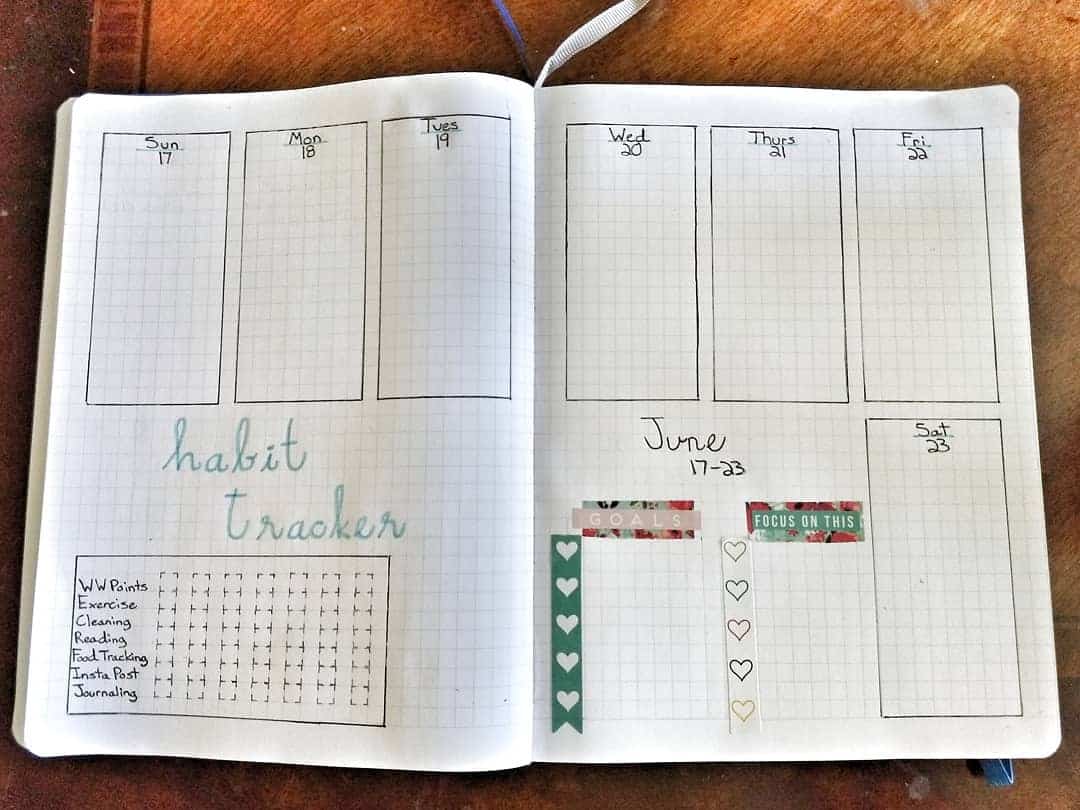 This layout is created on a grid paper notebook, ideal for beginners. The space below the weekly log is dedicated for goals, weekly focus and habit tracker.
21. Source: Laurianne @madebywriting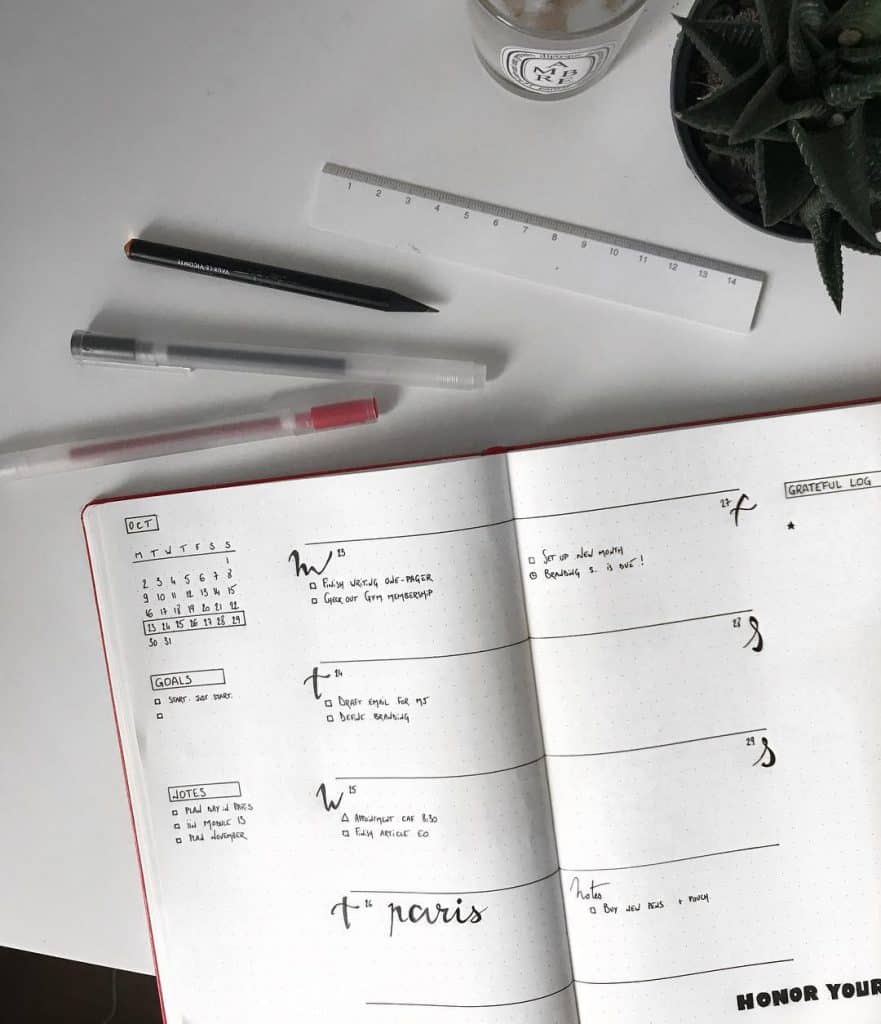 This is a different horizontal layout. The space for weekly tasks is aligned towards the centre of the book. The space on the side is utilised for calendar, goals, notes and gratitude log. I love this idea!
22. Source: Munira @atouchofstarlightblog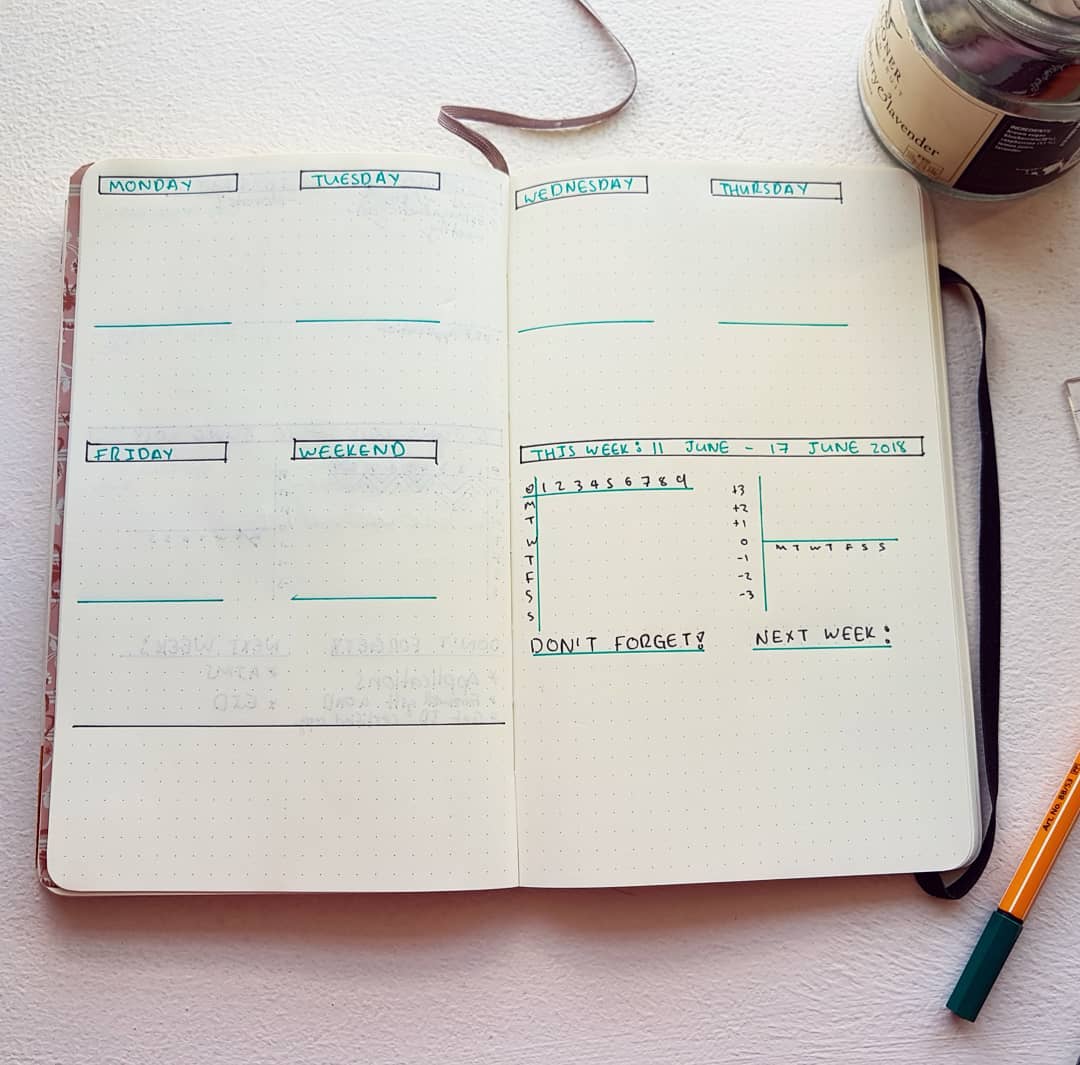 Supplies in image: Moleskine Dotted Notebook, Stabilo Fineliner Pen
This weekly layout uses fineliners to add color. I like how each day is divided into two using a line. I am guessing it is for two areas of your life like 'work' and 'home', or you can make it so.
23. Source: Rosana @thebujophase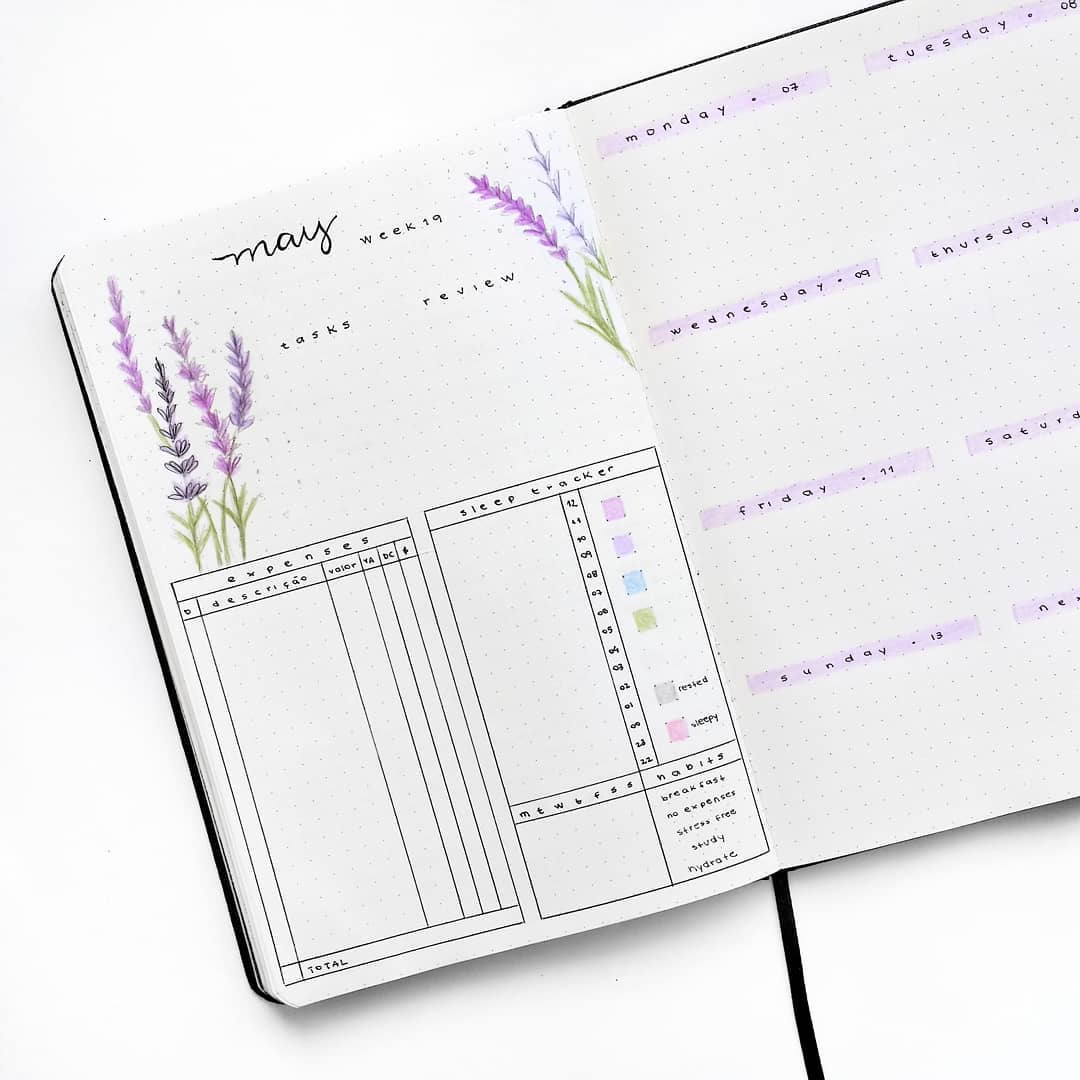 If you want to add a pinch of color to your bullet journal, you can draw simple cute pictures like this in the corners. It makes your journal colorful, yet minimal. Also, you can use mildliners for headings, like in this picture.
24. Source: @bibleandmybujo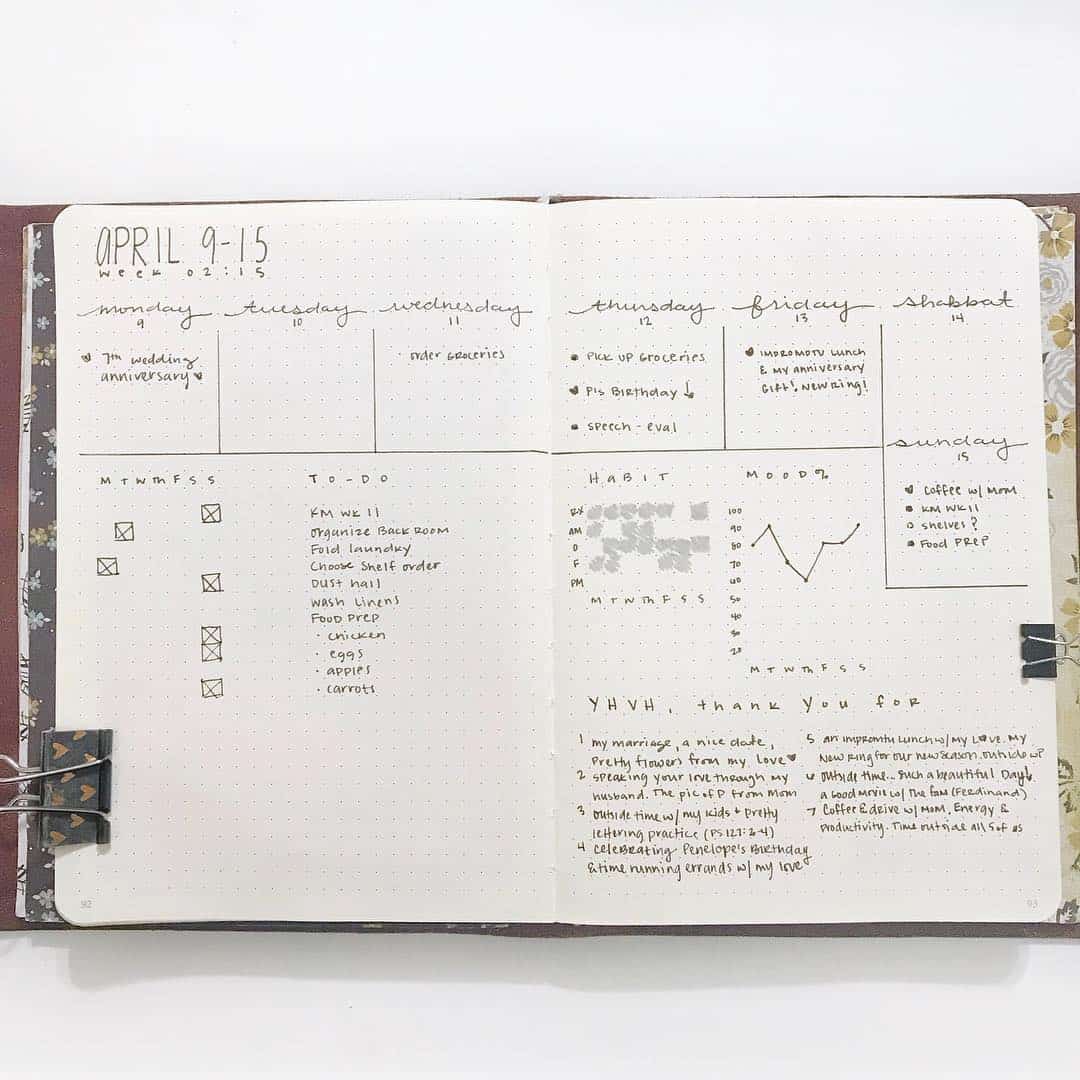 This is done on a travelers notebook. I love spreads like this, where everything you need to track in a week is incorporated in two pages. It gives an idea of your whole week in capsule form. Apart from the weekly tasks, this spread has a to-do list tracker, habit tracker, mood tracker and gratitude log. Cool, right?
25. Source: S.E Rose @s.e.rose_bujos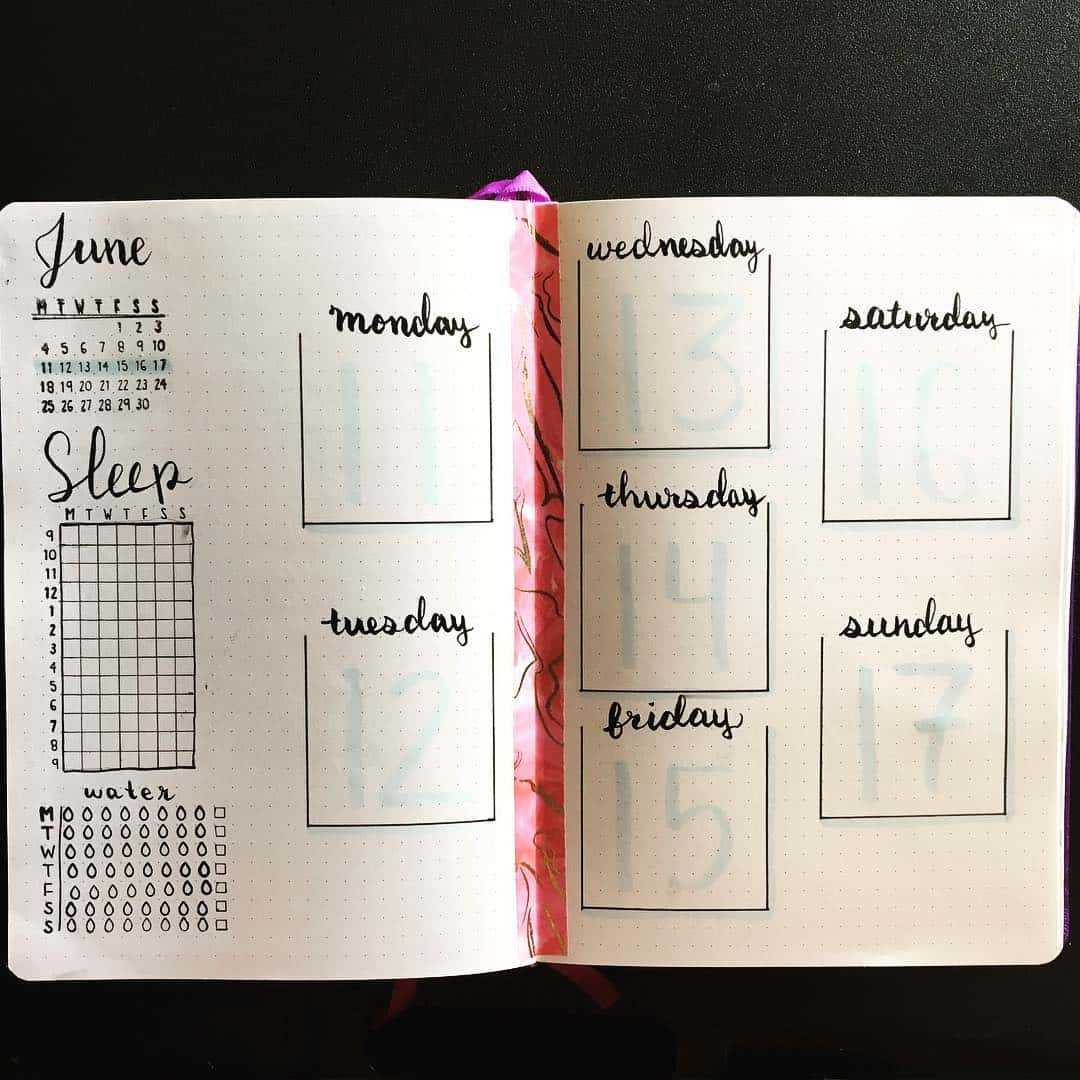 I love the boxes and how the dates are written inside each one. An innovative idea!
26. Source: @mrsmcbujo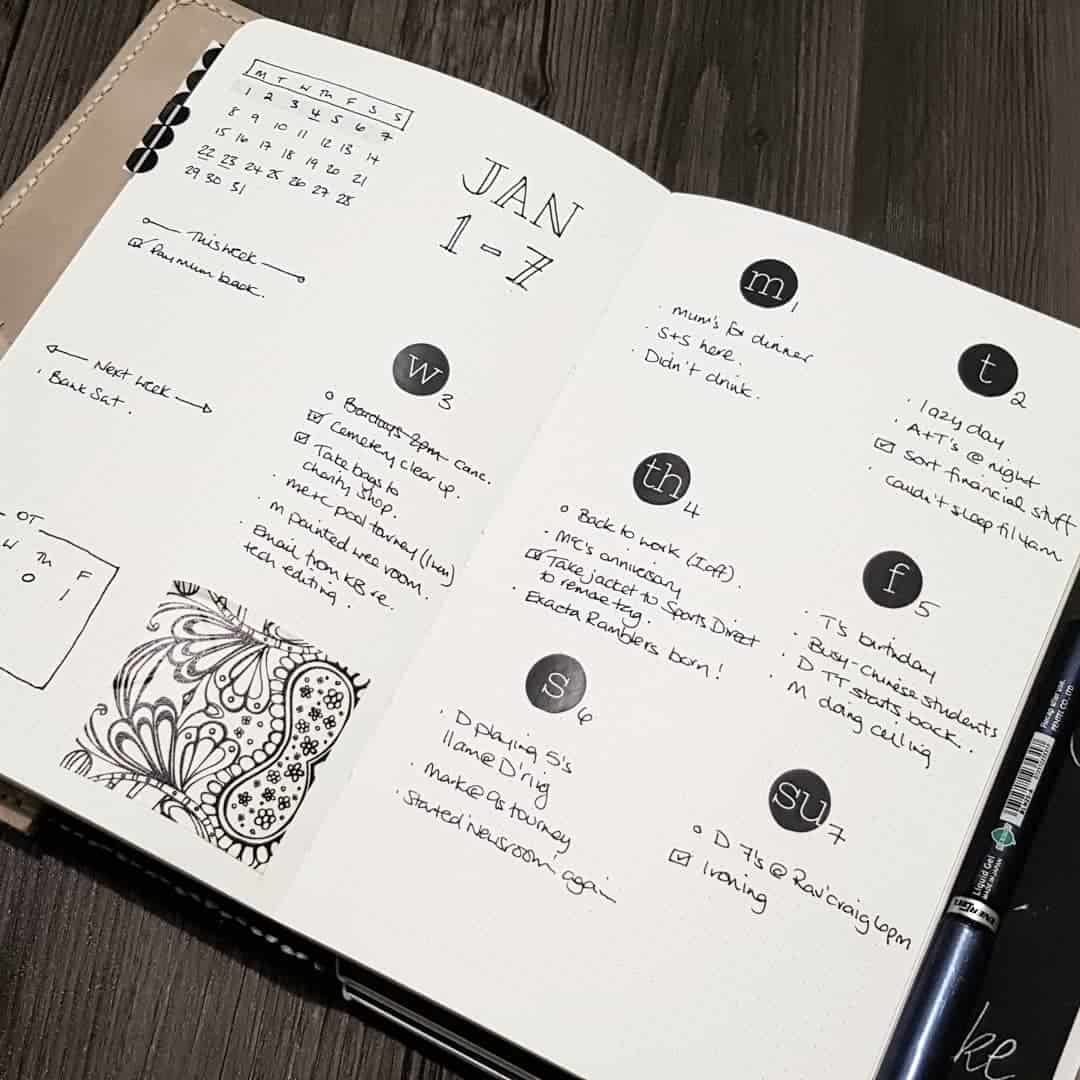 This one is embellished with black and white stickers. Who said you can't be creative in a minimalistic bullet journal?
27. Source: Laura @bujo.auslife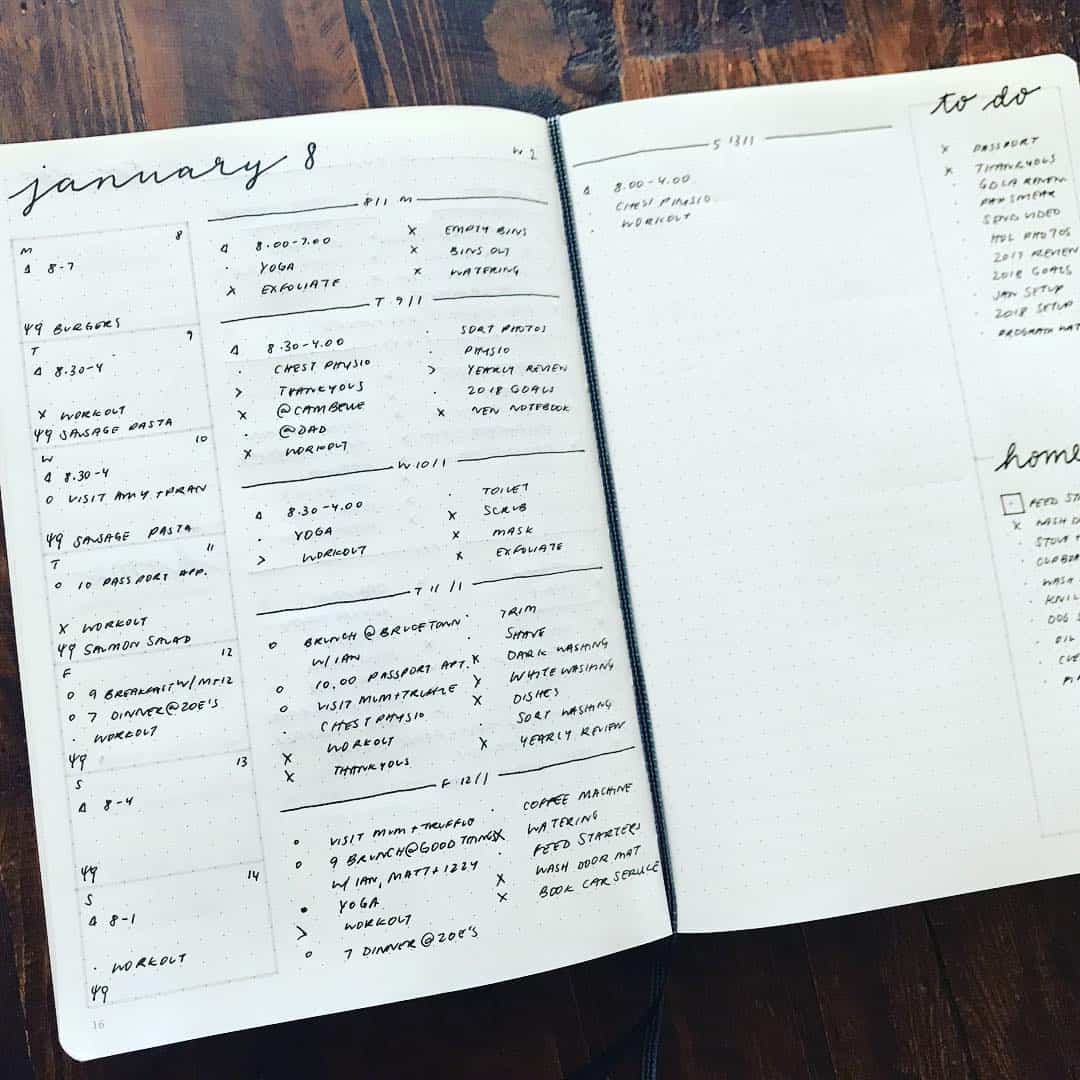 This weekly spread reminds me of the original style of the creator of the bullet journal, Ryder Carroll. The bullets used are exactly the ones he teaches and only hand drawn lines are used to divide the page. Appointments and events are written on the left side, and to do list on the right. A functional spread!
28. Source: Alexa @alexaarabejo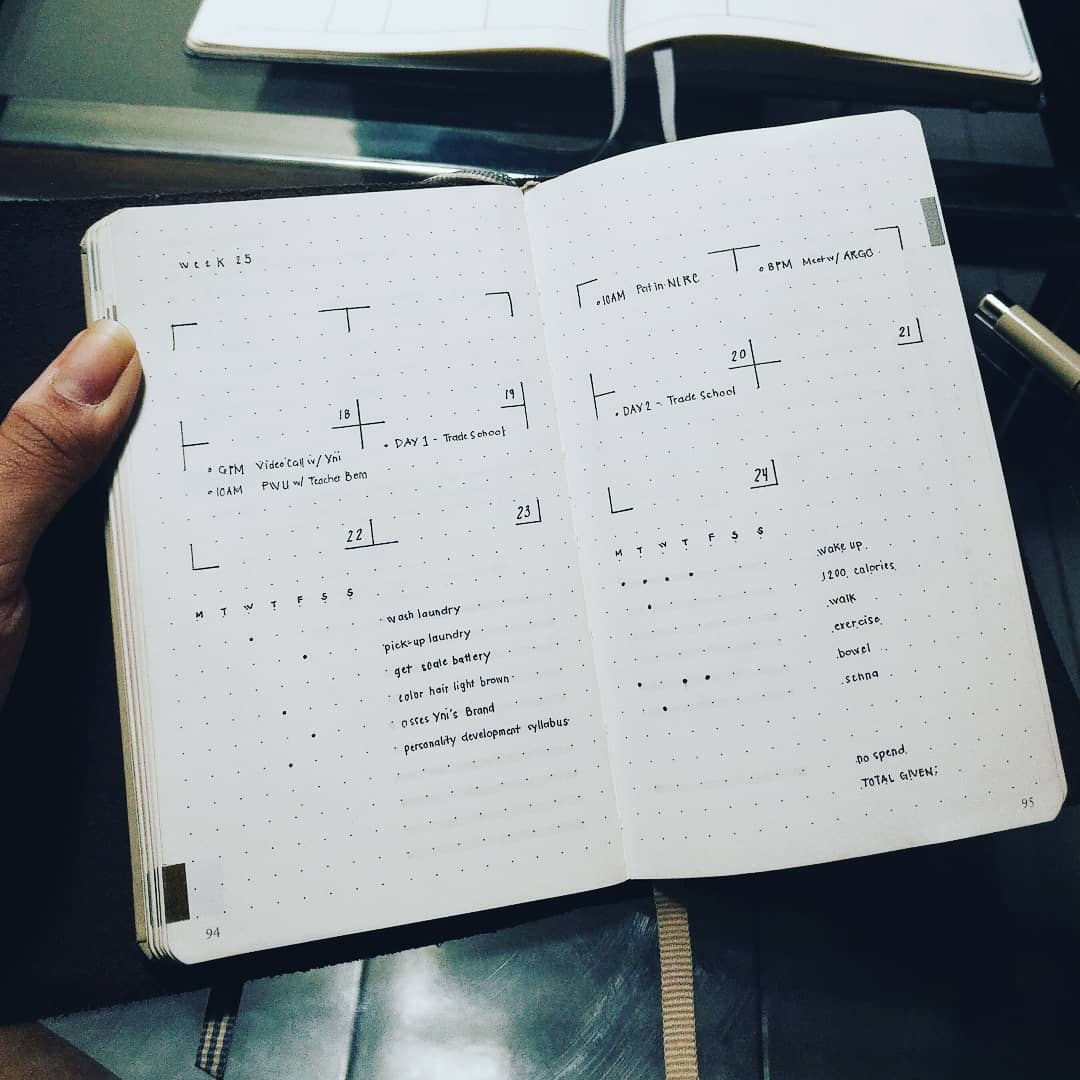 Supplies in image: Leuchtturm 1917 A6 Dotted Notebook
This minimalist weekly spread makes use of the dot grid paper to draw the weekly columns. I love the incomplete rectangles. A fresh idea!
29. Source: @astrofelix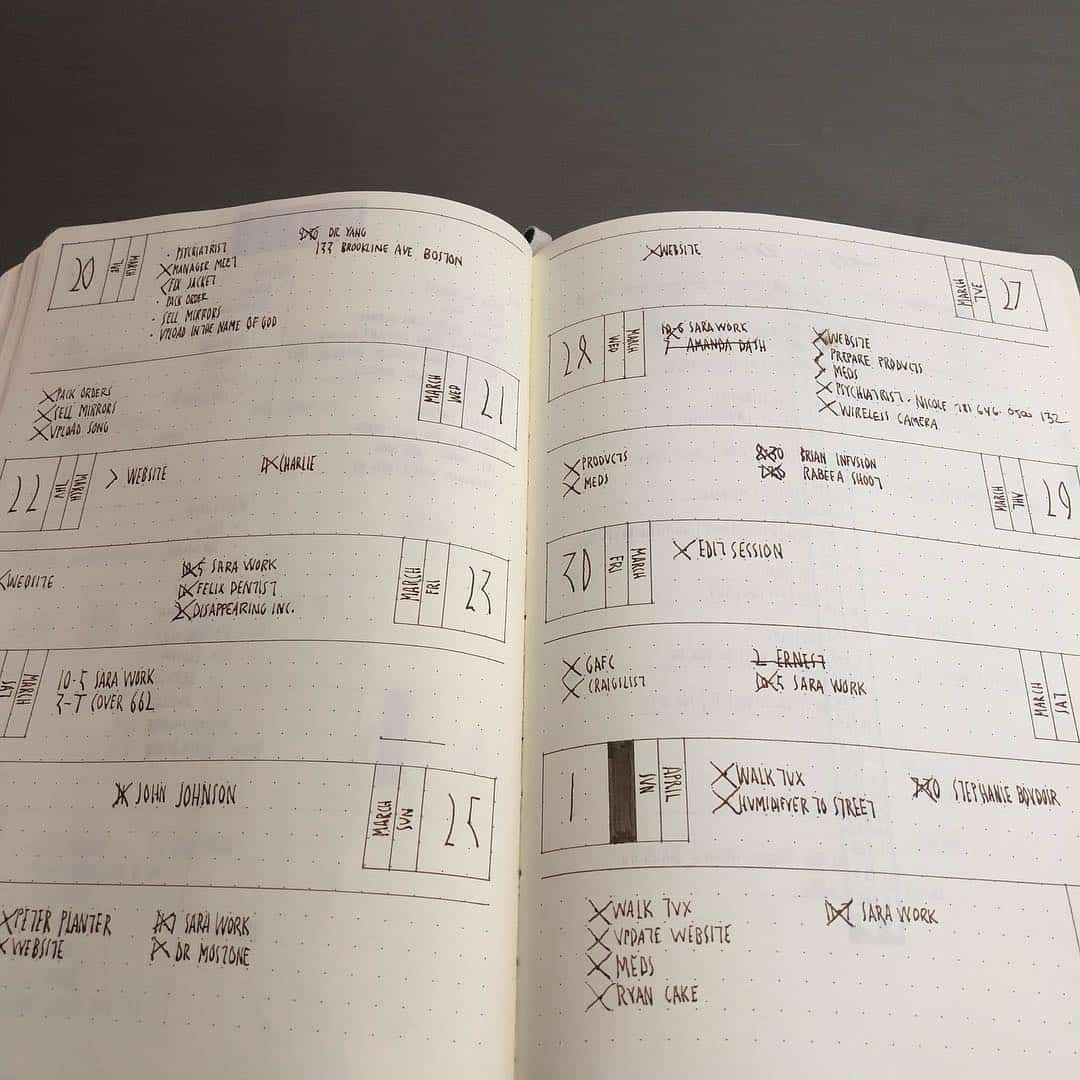 A horizontal weekly spread using lines. I like the way the dates are written alternatively on each side.
30. Source: Maria-Denice @simple_bujo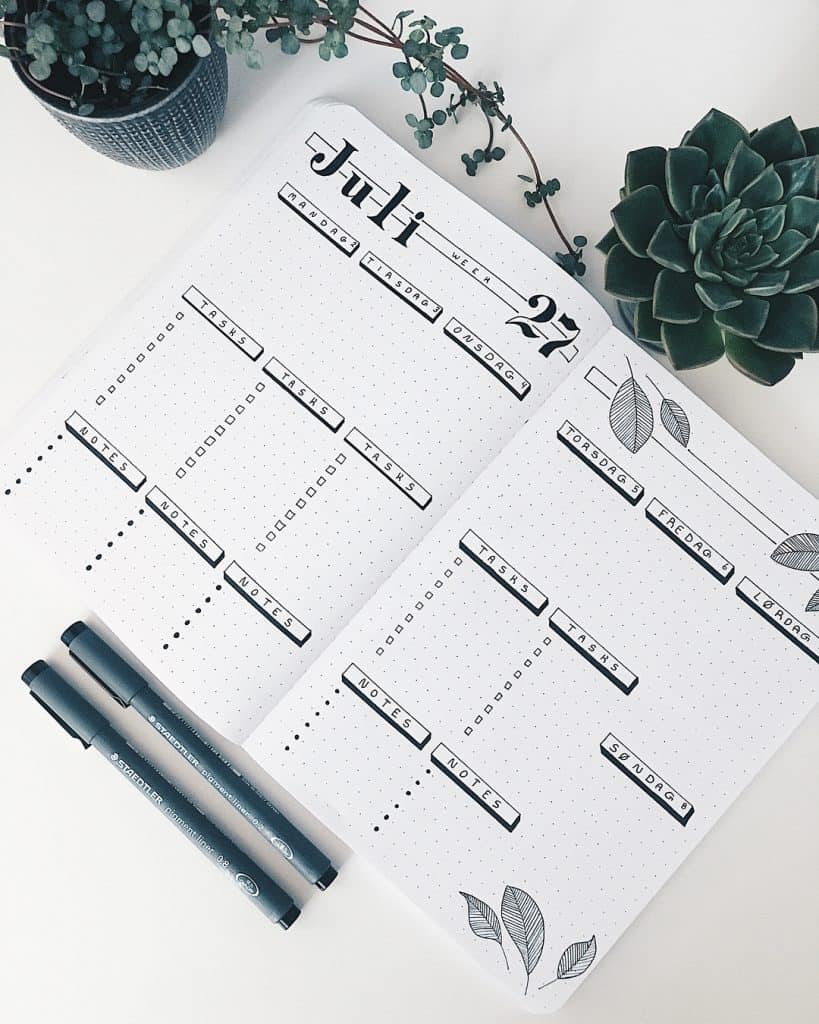 Supplies in image: Staedtler Pigment Liner
A simple one with leaf art in the corners.
31. Source: @not.another.bujo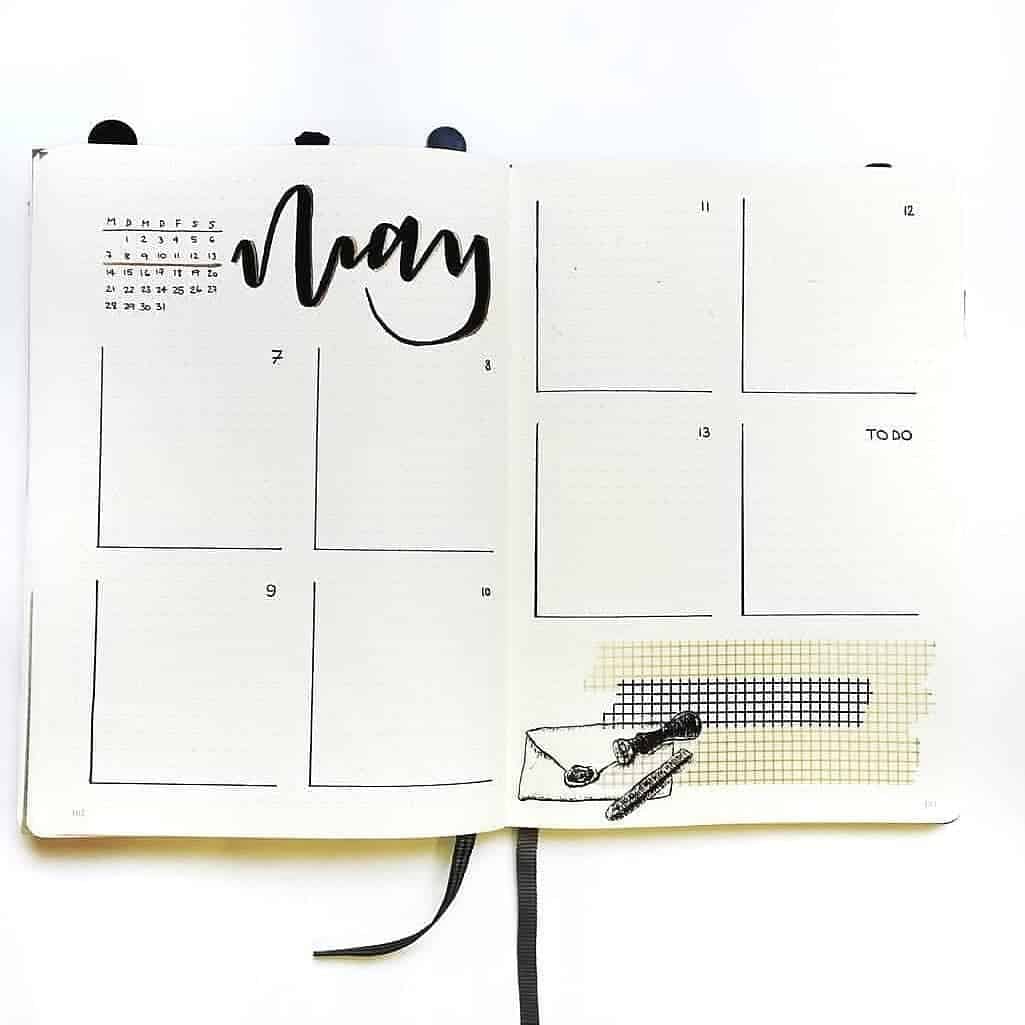 What do you think about this style? I like how the current week is highlighted in the calendar on top.
32. Source: Karoline @blackandwhitebullet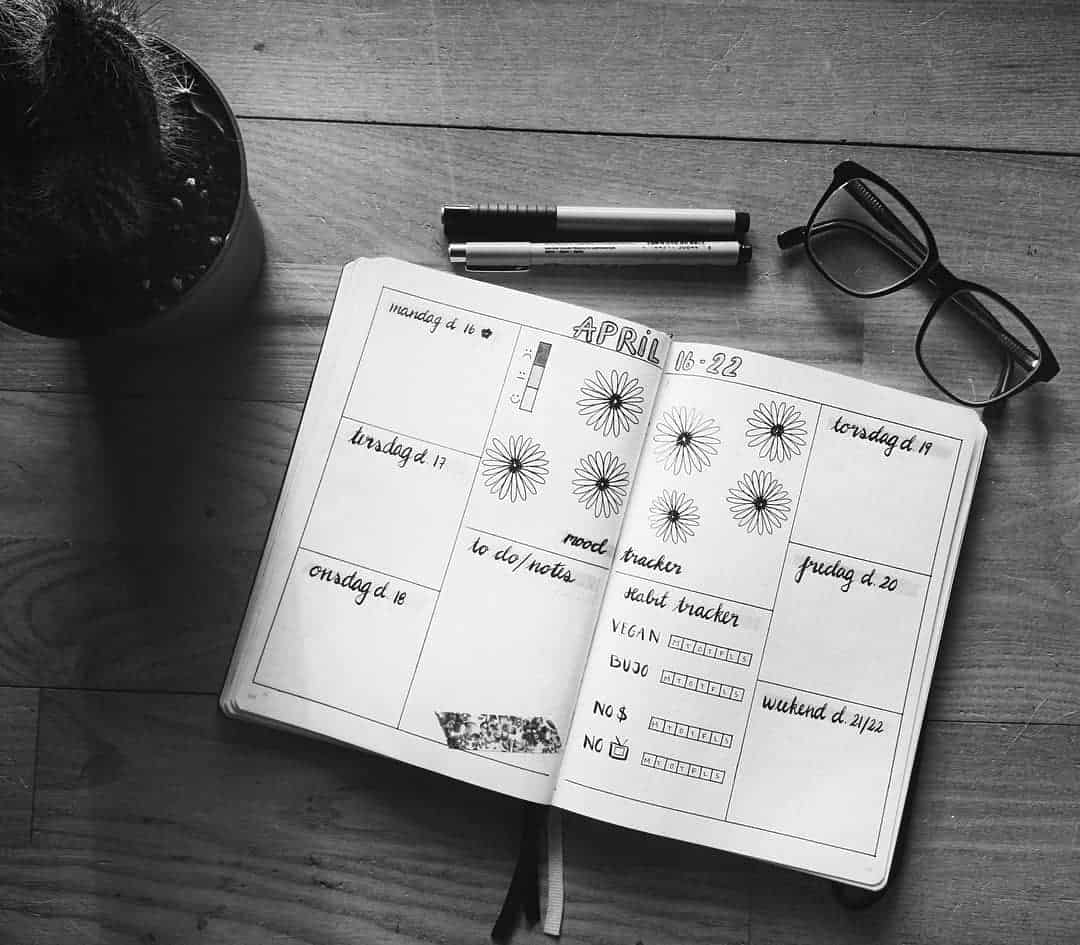 In this weekly spread, the days of the week are written on the sides of the page. And the center portion is devoted for list/notes, trackers and some flower doodles (which I love).
There you are! You have enough ideas to try in your bullet journal today.
More bullet journal posts:
PIN this post so that you can come back to it whenever you need inspiration!